Meet the Designing Women Behind House of Harris
Charlotte Lucas and Liz Carroll draw inspiration from their Southern roots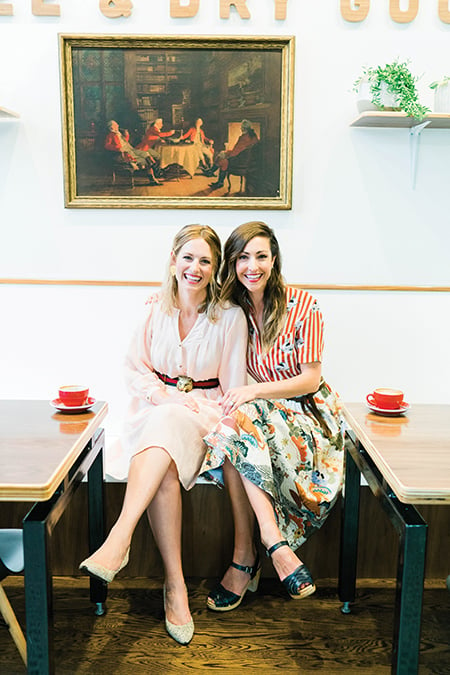 WHEN DESIGNER Charlotte Lucas purchased the website domain HouseOfHarris.com, her gut told her that one day she'd have the opportunity to use it, though she didn't know that the site—and the name—would come to represent one of her favorite projects to date. Together with her designer sister, Liz Carroll, the duo created House of Harris, a line of fabrics and wallcoverings that debuted in the fall.
The partnership was a natural progression for the sisters, who often bounce ideas for their interior design projects off one another. "The line is such an organic extension of both of our businesses," says Lucas, who is three years younger than Carroll.
House of Harris, which comes from the sisters' maiden name, is a true coupling of both designers' decidedly different aesthetics.
"Charlotte goes a lot bolder in pattern and design than I do, because my style on the coast has a lighter feeling," explains Wilmington-based Carroll. To create the line's first collection, the Avenue Collection, the sisters drew inspiration from what they know best: their Southern roots, including all the cities they have lived in across North Carolina. "It truly was about what was in our own backyards here in Charlotte and on the coast," Lucas says. "We would pull images that inspired us, and when we sat down to look at them all before we sketched anything, we realized that so much was from the Blue Ridge mountains or a sunset on the coast."
Named after the streets Carroll and Lucas grew up on throughout their North Carolina upbringing, Avenue is an eclectic mix of whimsical patterns in an array of vibrant colors that complement just about any style interior. "People who love color will love House of Harris," Carroll says. And the versatility. Each pattern in the Avenue Collection seamlessly works with another in the line, resulting in an effortless mix of pattern and color that feels elegant yet comfortable. "It's so easy to layer each pattern with another," says Carroll, who, along with Lucas, has already begun adding House of Harris pieces to clients' projects.
House of Harris' second, not-yet-released collection will build off the first. And though the original collection consists solely of textiles and wallcoverings, the sisters plan eventually to evolve into finished goods such as rugs, furniture, and lighting. "Now that we've gotten our feet wet," Lucas says, "it's exciting to see where we'll go from here."