Meet the Ghost of Stagioni
The home's former owner still makes her presence known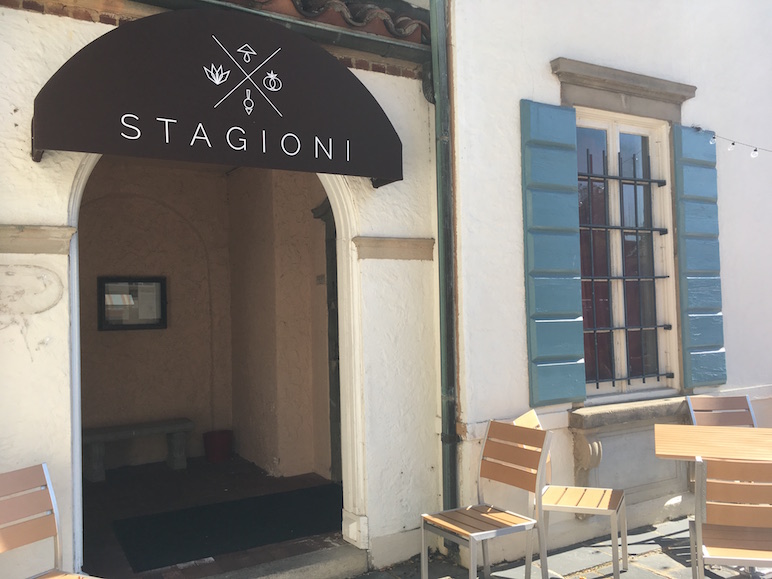 Drew Dodd was working alone in the kitchen at Stagioni, where he is executive chef, and sat his chef's notebook on a counter. It wasn't near the edge, he points out, it was in the middle of the counter. He turned away and heard a smack. His notebook had flown off the counter and was several feet away from where it was sitting.
He decided to go home. He'd met the Stagioni ghost.
Blanche Reynolds built the home that now houses restaurants and shops including Stagioni, RuRu's, Tiny, and Meredith A Jackson back in the early 1900s. She had a great sense of humor, according to Bruce Moffett, chef and owner of Stagioni, as well as Good Food on Montford and Barrington's. Moffett has gotten to know Reynolds' granddaughter, Rosalie, and heard stories of Blanche through her.
Reynolds used to throw parties where guests tossed bottles of champagne into the pool, or parties with a big surprise in store. One example, Moffett says, is a party that was billed as a poetry reading.
"All of the sudden a big booming voice comes out of nowhere and there's a guy up in one of the trees completely naked reading poetry," he says. "So, she liked to get a rise out of everyone."
Reynolds' granddaughter says Blanche still lives in the house, and Dodd and Moffett, along with the rest of the staff at Stagioni, agree. They've each had their own experience.
Moffett recalls checking in with Stagioni's general manager, Lee Ann Dolcetto, at the end of a shift one night.
"Have we had any Blanche sightings?" he asked.
"No, no not as far as I know," Dolcetto said.
As she responded, the hood system in the kitchen—which is heat activated—popped on, despite the fact that nothing was cooking. The lights came on, too.
They decided it was time to go home.
That's not to say they're scared of the ghost. She makes her presence known, continuing her prankster ways and keeping the guests in her home in check.
"I don't think she's mean, but I think this is her house and if you don't do things the way she thinks they should be done or treat it in a manner she thinks it should be treated…" Moffett says. She's simply an instigator.
You can see Blanche for yourself at Stagioni—there's a portrait of her hanging above the hostess station near the front door, as well as family photos on the wall and an image from Reynold's wedding to Alexis Gourmajenko. The images help guests feel connected to the building's past, but also help to keep the ghost happy.
And if you walk in and see the portrait hanging at an angle, don't blame the staff at Stagioni. It's just Blanche, saying hello, reminding guests that they're in her home—its parlor, to be exact.