Meet the Groups Breaking Barriers for Women in Construction
The industry offers big opportunities. Entities like She Built This City ensure women get access to those chances, too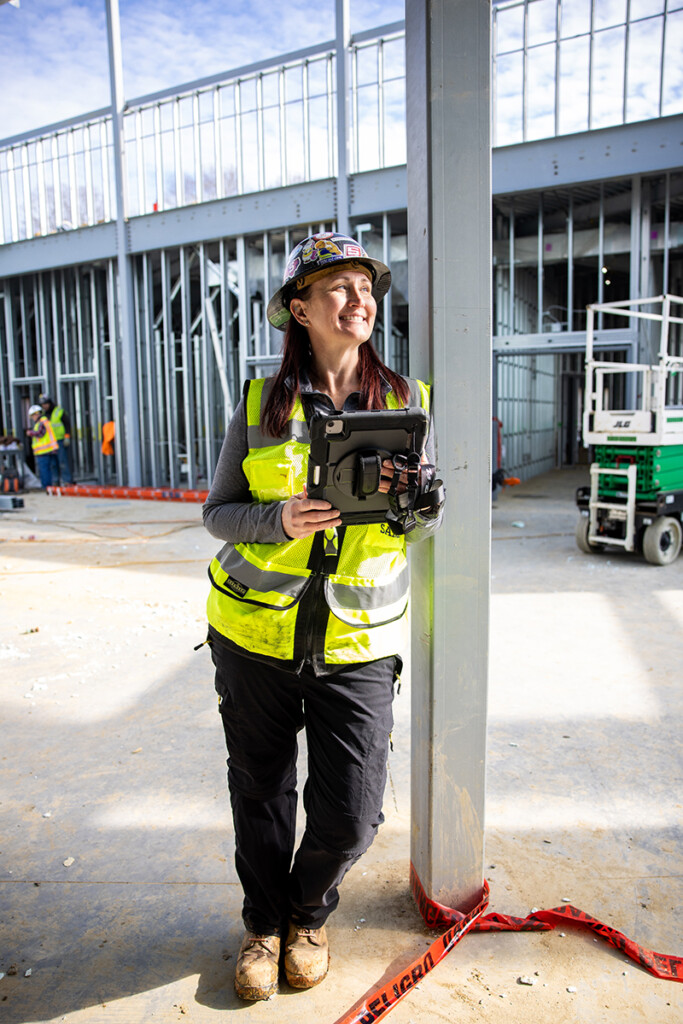 Jennifer Price remembers her first day working on a construction site, as anyone remembers the day a goal becomes reality. Price spent her childhood learning to build from her dad, a subcontractor who installed ATMs and bank vaults and brought her to job sites. The two worked together on home renovation projects. Price studied electrical trades in high school, and her dad cheered her on. It was finally Price's turn to be the pro: She was 21 and had an internship in New York as a construction materials tester. Price's construction superintendent, however, wasn't as happy about her presence.
"The superintendent—this big, burly guy—beelined out at me and was like, 'Get off my job! Women don't belong in construction! Who do you think you are?'" Price says. "That was my introduction to construction. He made me feel tiny."
Price called her boss, who encouraged her and reminded her that she was hired to do a job, no matter what that superintendent had to say. Price went back to work that day. And the next. And the next. That internship (ahem) cemented her interest in construction.
Guess who's a superintendent now? "I just fell in love with construction. I fell in love with seeing a beautiful building come from nothing," Price says. "There's a running joke in construction that when we're out with friends or family, we're like, 'I built that! And I built that!' There's a sense of pride."
Price, a superintendent at Samet Construction, says a lot has changed since that first day on the job in 2001. She has more women colleagues than ever. These women don't only support each other in a male-dominated field. They demand changes to help more women join them.
***
Opportunities await women in construction. Women earn 96 cents for every dollar a man makes, according to The National Association of Women in Construction—compared to the overall gap of 82 cents to a man's dollar. The median pay for senior-level plumbers in North Carolina is nearly $60,000, about $6,000 more than the state's median income. For electricians in supervisor roles, it's more than $90,000. Neither requires a college degree. In a city infamous for its 50th-of-50 ranking for social mobility, construction offers an opportunity to climb.
"The demand for construction workers is through the roof," says LaToya Faustin, executive director of She Built This City, a local organization that helps women enter the industry. "In North Carolina, there are thousands of open positions, and women are an untapped demographic."
These include trade positions—carpenters, electricians, welders—as well as project managers, designers, and superintendents. Workers who enter the field today will have more opportunities tomorrow: Within the next decade, retiring baby boomers will leave behind a wealth of supervisory and managerial positions in construction.
Yet women make up only 10.7% of our state's construction workforce. How does a male-dominated industry diversify? Start with education, says Jennifer Nichols, the founder of Aspire Carolinas Foundation. In August, the foundation will open Aspire Trade High School in Huntersville as the region's first charter trade school.
Aspire students will take an aptitude test to guide them toward fields that play to their strengths, including culinary arts, data science, medical assisting and coding, and construction. Students can try a few before they select one. When one father enrolled his daughters, he asked Nichols which of the programs would be open to girls.
"I told him that there isn't one thing in that building that girls can't do," Nichols says. "The aptitude test isn't going to be biased, because aptitude has no gender bias. Let's let them explore and let them choose."
Students will spend four years learning from trade professionals. They'll get hands-on experience during apprenticeships, and Nichols expects most students to have job offers before graduation. In addition, Aspire will offer financial education, such as lessons on how to apply for microloans, and driver's education to remove barriers between young people and new careers. About a third of students will come from lower-income families.
"I don't think many girls understand that they can go into the construction industry and make a really good living. Many of these kids going into trades can start their own companies within five or 10 years," Nichols says. "These are skills that are so sought after, and this is a prime opportunity for women to become business owners."
***
She Built This City works at several levels. It sparks young girls' interest through play and crafts. It shows teenage girls what construction jobs exist and why they matter. The "why" is the important part, Faustin says.
"If you walk into a room full of young people, girls in particular, and you ask, 'Who wants to learn to use a drill?' A few hands will go up," she says. "But if you ask, 'Who wants to build a solar-powered handwashing station for the homeless?' All hands go up."
For adults, She Built This City offers a pre-apprenticeship program to introduce women, especially lower-income women, to trades. Women learn the terminology, discover potential jobs, then get connected to local opportunities to work and further their training. Pre-apprenticeship enrollees get on-site child supervision, meals, and a $120 weekly stipend while they attend.
"There are very real barriers that women in particular have to overcome," Faustin says, "and just giving a girl a drill won't overcome those."
If construction companies hope to recruit more workers, they must offer the benefits women workers often need. It's one thing to hire a new mom, Faustin says. Giving a new mom access to somewhere other than a port-a-potty to pump is another.
Samet Construction understands this, Price says. Even when a woman is the only one on her site, she has a group of women colleagues who meet to support and advocate for each other. When they requested paid parental leave, Samet turned their proposal into policy: Samet now offers 12 weeks of paid maternity leave and two weeks of paid paternity leave, including for parents of adopted and foster children. Samet's workforce is nearly 20% women, almost twice the industry average.
***
It's December, and the walls of Aspire Trade School rise amid a plot of red clay mud off Beatties Ford Road. Nichols knew this was a groundbreaking project—literally and symbolically—so she requested that Price oversee its construction.
"Some projects really touch me, and this is definitely one. It's a special opportunity to see this land go from dirt to a school that will bring us the next generation of construction workers," Price says. "We can't do this industry without women, and I hope these girls know there's a huge support system for women now."
Price doesn't even remember the name of that first construction supervisor she worked for 22 years ago. As she looks out at the site, she smiles and admits she sometimes wishes she could call him and say, "Guess what I'm doing now?"
JEN TOTA McGIVNEY is a writer in Charlotte.