Meet the Woman Uniting Carolina Chefs
Kris Reid started Piedmont Culinary Guild to help chefs build a region's reputation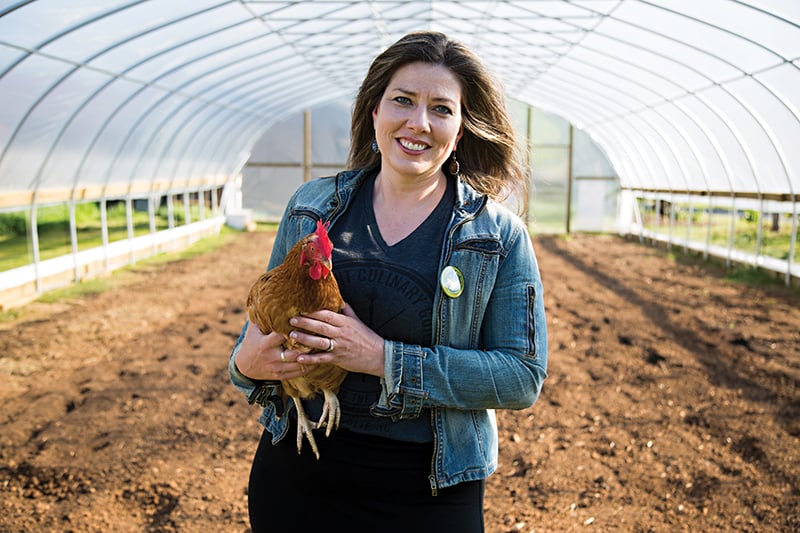 WHEN KRIS REID'S catering company went out of business eight years ago, she began volunteering at Hope Haven. The addiction recovery facility had a garden where Reid grew and harvested food that could be used to feed residents. The simplicity of gardening comforted her at a time when her culinary career was in flux.
One day, she asked a resident who volunteered in the garden to help pick snap peas along the fence. Reid encouraged her to taste one, too. And when the resident took a bite, pure joy spread across her face.
"I used to eat these in my grandmother's garden!" she said. "I used to pick these! I remember this!"
Reid recalled that exchange recently, and smiled.
"You can't have that connection out of macaroni and cheese out of a box," she says. "Maybe you can, but it's not going to be that deep."
Not long after that experience, Reid earned a degree in culinary arts and food service management in 2010, hoping to become a chef. She earned praise in her first job out of school as executive chef at Southminster Retirement Community, particularly for the community garden she started there in collaboration with Friendship Gardens. She has since moved on to ModPALEO, a meal delivery service, where she is director of operations.
Through it all, the memory of the resident in the garden stayed with her. Reid's passion always has been for locally produced, "clean" food, and she knew Charlotte needed more ways to connect those who produced it and the people who consumed it.
Reid teamed with Luca Annunziata, executive chef and owner of Passion8, and writer Cat Carter to form the Piedmont Culinary Guild in 2012.
The idea for the guild originally came when Reid and Annunziata wanted to set up a system to connect chefs. They realized others in the industry might like a similar resource to share labor and ideas, and they reached out to a group of about 30 Charlotte peers—primarily chefs and farmers, all of whom quickly agreed to the loose formation in March 2013.
At first, members just had access to a Facebook group where they could post needs and availability. Desperately need panna cotta cups? Post there, and someone else in the group can help. Want to sell a meat grinder? List its condition and toss up a photo, and it will be snapped up by someone within a day or so. Have some strawberries at the farm that are about to go bad? Let everyone know, so they can include them on that night's menu.
"I told [Reid] it was brilliant," says Ben Philpott, executive chef of Block & Grinder, of his reaction to the guild's invitation. He now is the chairman of PCG's board of directors. "Promoting local and connecting chefs with chefs, and the 'all ships rise' mentality, was really what struck me from the beginning. I'm a big believer in general that we're all competitors, but if we work together, we can all be better at what we do."
Reid and her co-founders saw potential for something bigger, and established a three-pillar focus for PCG: sharing resources, community education, and regional recognition for the Piedmont-area food scene.
The aim, primarily, is to connect producers of food (farms) to those who make the food (chefs) and those who consume it (diners).
But the vision has expanded, thanks in large part to Reid's energy. In 2015, PCG officially became a nonprofit organization. It has hosted a fund-raiser called CARVED the past three Halloweens, in which professional chefs carve intricate designs in pumpkins. The money raised goes toward scholarships for culinary students and students of agriculture, and to continuing education for members.
What many call the guild's greatest moment came last fall, when massive floods hit South Carolina. In an effort spearheaded by Annunziata, three chefs traveled to Columbia, South Carolina, with food donations—one farmer donated an entire hog—and for three days, cooked 1,700 meals for people with no power.
"It started as a group of friends, and now it's just grown into a really big family," Reid says.
The group now has 200 members and has expanded to include brewers and artisans, along with the chefs and farmers who started PCG.
Membership is by invitation only, and Reid says the exclusivity is part of what makes the group work.
PCG recently held its first day-long symposium, with the theme "Back to the Basics," that included sessions on butchery, cheese-making, yogurt-making, and business finance. It was such a hit that Reid expects to expand to a two-day format next year.
Other big plans are in the works for PCG for the upcoming year, including expanding the membership and forming "sister guilds" headquartered in other regional areas such as Raleigh-Durham, Asheville, Winston-Salem, coastal Carolina, and Greenville, South Carolina.
"If we extend that community too large, [when] Travis in Winston-Salem needs panna cotta cups, I can't help him because I'm an hour away," Reid says. "So, keeping it concentrated around resource-sharing is really important."
That was the original vision behind PCG, and it's still the most important part, according to Reid. But with her passion and energy steering the group as the executive director, the goals continue to grow.
"She's amazing," Philpott says. "She's extremely passionate about not just the Charlotte community, but food quality in general, and making sure people are educated about clean food and how to incorporate that in all facets of everyday life."
She's forming the kind of deep connections, with friends and food, that you can't get from eating meals out of a box.
Jodie Valade is a freelance journalist based in Charlotte. Follow her on Twitter @JodieValade, or contact her at jovalade@gmail.com.
---
This article appears in the June 2016 issue of Charlotte Magazine
Did you like what you read here? Subscribe to Charlotte Magazine »
---