Midwood Smokehouse Open in Ballantyne
New location keeps original feel in updated space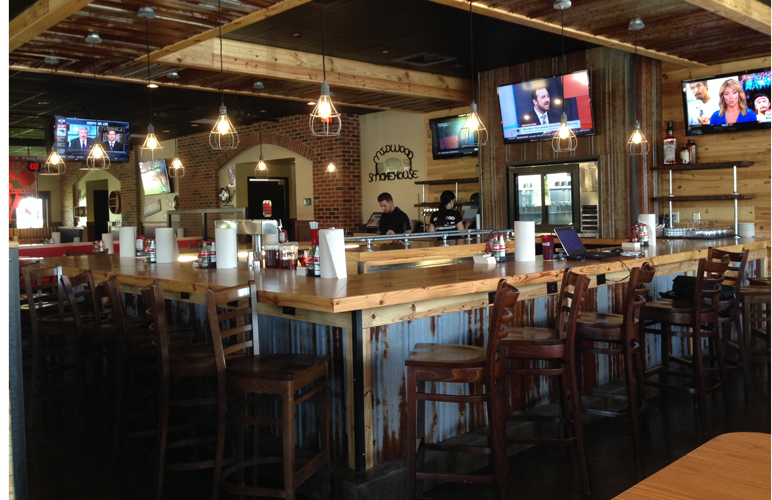 The Ballantyne location of Midwood Smokehouse is open for service at 12410 Johnson Rd. Though the restaurant hasn't received its alcohol license yet, meaning no beer, the smoker is smoking and diners are welcome. The liquor license is expected any day now.
The new Midwood stays true to the original Central Avenue location, with beer signs and similar decor along the walls, but a more modern vibe to it. Rounded bench seating is a new take on a booth, and barbecue- and beer-themed cut metal art, designed by a restaurant employee, splits two sections of the dining room. The bar surface is made of reclaimed pine, and old barn siding with signs of aging bring back a rustic touch to the front of the bar and the ceiling. Rustic, but not old-fashioned: along the bar, USB ports are tucked underneath for customers who need to charge their devices.
Owner Frank Scibelli, who also owns Mama Ricotta's and Paco's Tacos, as well as, until recently, Bad Daddy's Burger Bar, says he wanted a soft opening to help identify any issues before the restaurant gets too busy. Already, they've noticed the need to expand the table size between the circular seats, as well as fix some glare issues from the evening sun.
The restaurant's kitchen holds the same smoker as the Central Avenue location, so expect the same smoky goodness to come from the new one. And get there soon—once word gets out, it may have the same competition for tables and bar space, too.