Midwood Smokehouse Owner Opening Middle Eastern Concept
Frank Scibelli will bring new concept to SouthPark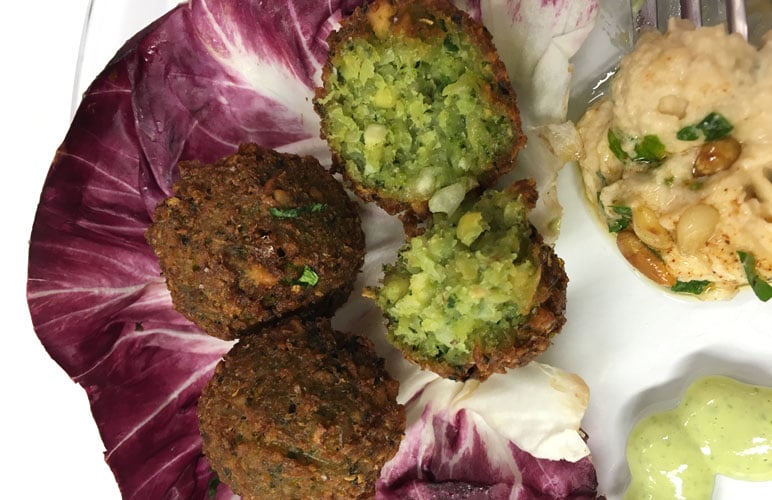 Restaurateur Frank Scibelli is trying out a new concept in SouthPark. Yafo—named after the multicultural European city Jaffa—will serve Mediterranean cuisine, with an emphasis on Israeli and Middle Eastern foods. Scibelli hired chef Shai Fargian to run the fast-casual restaurant's kitchen. Fargian, who was born in Israel to American and Iranian parents, most recently worked worked as a private chef.
"He grew up with this food," Scibelli says of his new hire. "He's been around New York kitchens, which I like; he understands it."
Scibelli signed a lease for the former Arooji's Wine Room Ristorante space in the Morrison shopping plaza, off of Sharon and Colony roads. The restaurant, which is nearly 3,000 square feet, is across from Yama Asian Fusion. The Yafo concept may seem like a departure from Scibelli's current restaurant portfolio, which includes Midwood Smokehouse, Paco's Taco's, Mama Ricotta's, and, until recently, Bad Daddy's Burger Bar, which he conceptualized, grew, and recently sold. Scibelli says a college roommate from his days at Wake Forest familiarized him with the cuisine.
"My mom would come and cook meatballs and pasta, and his mom would come and cook Persian food," he says. "That's part of where I got exposed to it."
That roommate is now a partner in the business; his mother will be sharing some family recipes with the kitchen.
The restaurant will be fast-casual, but once guests are seated, they'll have full table service and will serve beer and wine. Expect Middle Eastern classics on the menu, such as hummus, baba ghanoush, and shawarma, with several rotating specials.
"Most of it is going to be very classic, but we're going to bring in some modern stuff," Fargian says. "We're going to dress it up a little bit … It's going to be very heavy on the salads and vegetables—and that's something that this type of food usually is—but we're going to bring it one step forward."
They're working with Peter Reinhart, author of The Bread Baker's Apprentice, to find the right recipes for lafah, a Middle Eastern pita, which will be baked in house.
Scibelli and Fargian traveled to New York City earlier this month to work with Chef Einat Admony, owner of Balaboosta restaurant in New York City. There, Admony shared how to translate Middle Eastern cuisine to a large-scale kitchen, as well as some of her recipes and lessons learned.
We were invited to a tasting this afternoon to get an idea of what to expect from Fargian's menu (as a journalist, I should also mention that it was free, and not anonymous). Here are some of the dishes. Not pictured are the meats; they didn't photograph well in the low light. But that doesn't mean they didn't taste good: The chicken schnitzel was delicately crispy, and the chicken shawarma basically melted in my mouth. Dipped in the tahini, made with lemon, parsley, cilantro, and mint, it was even better.
Baba Ghanoush:
The baba ghanoush is just creamy enough, with a smoky hint that still allows you to taste the eggplant and lemon. Fargian says the eggplant is grilled to have a charred skin, which helps add to the flavor. "You literally have to burn the outside," he says. Some restaurants add mayonnaise to theirs. You won't find that here.
Hummus:
Scibelli says they're still working on perfecting the hummus' texture, but this recipe can already rival the best in Charlotte. With pine nuts on top adding an extra crunch and organic chickpeas, you can eat this hummus as a meal—which isn't uncommon in Israel, Fargian says. It's topped with paprika and olive oil.
Quinoa salad:
This was my favorite dish. It's balanced in both texture and flavors—you have salty, sweet, tender, and crunchy all in one beautiful bite. Fargian adds that this dish will change seasonally, with pomegranate seeds replacing cranberries in an earlier version. The crunchy shallots, preserved lemon, and sweet cranberries put this salad over the top (in a good way).
Pickled cauliflower:
This was the biggest surprise of the courses. The cauliflower is pickled, given its bright yellow color from tumeric. The often-overlooked vegetable is crunchy here, with a sweetness that's unexpected, and should change the way you feel about cauliflower. That sweetness comes from the amba spices, made from green mango.
Falafel:
When I lived in D.C., I ate a lot of falafel. But it was more often as something to soak up liquor late at night than a restaurant order. This falafel is light and fresh; fried quickly enough where it tastes like so much more than a ball of fried chickpeas. I brought these back for our art director to photograph; the herb-y insides needed a close-up.
If Scibelli and Fargian can keep these flavors up with the high demands at a fast-casual restaurant, we'll be there often. They're hoping open in January.