Modern. Southern. Baptists.
Park Road Baptist Church sits just one mile from where the world's most famous Southern Baptist grew up. But this isn't your usual Baptist church, and husband-and-wife duo Russ and Amy Jacks Dean aren't your usual Baptist ministers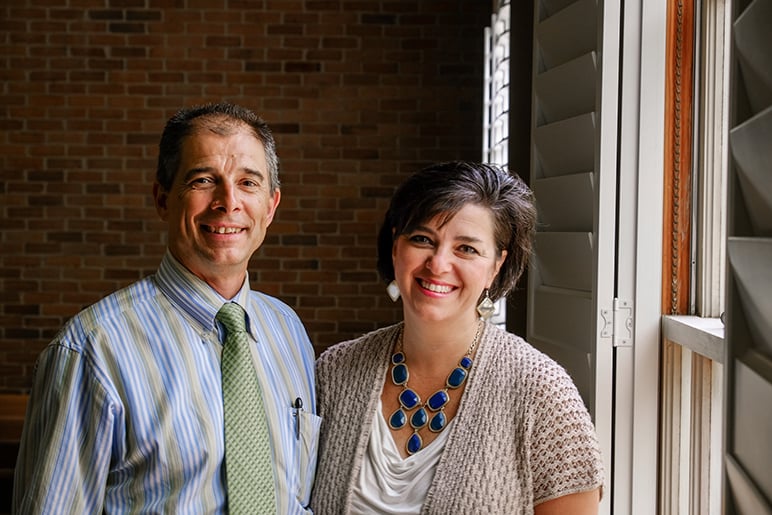 IN MARCH 2014, an urn sat outside Park Road Baptist Church, waiting for someone to find it. It was small, heartbreakingly small. Just a few inches tall. Beside it was a plastic toy dinosaur, unused. On the toy's box, a handwritten message: "No money for propper [sic] service. Please take care of me."
The co-pastors of the church, husband and wife Russ and Amy Jacks Dean, could only guess its origins. The most likely scenario, they figured, was that a woman who had a stillborn child needed their help. After worship service one Sunday, the Deans invited the congregation to a funeral in the columbarium, where they spread the ashes in the flower garden and mourned the unknown baby. The Deans then announced plans to order a plaque for the infant, and to place the plaque on the wall above the garden, joining the plaques of other deceased church members. This one would read: Infant Known Only To God.
Park Road Baptist has a precedent for this, amazingly. Several years ago, a homeless man died in Charlotte. He was identified and then cremated.
As his urn sat on the desk of a homeless shelter office, a man—the man bearing the very name on the urn—walked in the door. The identification had been incorrect. The deceased, homeless in life, became anonymous in death. A shelter employee, a member of Park Road Baptist, brought the man's cremains to Russ and Amy, believing that everyone deserves a kind word said about them in death.
After Sunday service that week, Amy and Russ invited the congregation to a funeral for this man. His ashes found a home in this columbarium garden; his plaque is on this wall, too, bearing the inscription: Known Only to God.
Each November on All Saints' Day, this congregation gathers to read the names of all church members who have died, to honor their memories. When they do, they include this infant and this man, two people who never sat in the pews at Park Road Baptist Church, but who will forever be tied to this place.
***
PARK ROAD BAPTIST CHURCH sits among large willow oak trees near the intersection of Park and Woodlawn roads, just one mile from where Billy Graham grew up. When it's coated in snow, it looks like the church of a Christmas card: the brick exterior, the steeple on top, the sign out front.
At a time when the fastest-growing church in Charlotte—Elevation Church—draws about 18,000 members to 13 sites with its contemporary, casual vibe, Park Road Baptist maintains a modest, traditional style. Instead of a rock band welcoming worshippers, here an organist plays Bach. Instead of a jeans-clad preacher with a wireless microphone, the Deans wear robes and preach from a pulpit. They don't have thousands gathering in off-site campuses watching the main sermon through television screens; these pews offer room for the 160 people or so who come on Sundays.
It feels old-fashioned. Quaint, even. It's easy to expect a little old-time religion coming from the pulpit. That, however, is a mistake. Beneath this traditional style is a church devoted to change.
When Russ and Amy arrived here 15 years ago, they inherited a church that was no stranger to a little religious rabblerousing. In the 1980s, the church was disassociated from the Metrolina Baptist Association because it allowed women to lead and unbaptized Christians to join. In the early 1970s, it opened Charlotte's first interracial church day care. And in the 1950s, the church made its debut with a controversial stand that leadership roles would be open to divorced members.
"There's something in the DNA of this church," Russ says. "There was a seed of openness and a very fundamental Baptist instinct there to offer a word of dissent."
Baptist churches have no hierarchy, no pope or bishops to set denominational dictates, allowing the tradition of dissent that Russ and Amy embrace.
Outwardly, the Deans don't seem like religious rebels. They speak with accents that reveal their Southern backgrounds: childhoods in Clinton, South Carolina (where they were high school sweethearts), seminary and early careers in Clemson, South Carolina, and Birmingham, Alabama. Their voices are warm. Both are big huggers; Russ admits to being the crier of the two. He tears up occasionally during sermons.
But talk to Russ and Amy, and they offer some surprises.
"My calling was to offer a church for people who have left the church because of the church," Russ says. Yet this calling has had a cost for Park Road Baptist.
In 2006, the Baptist State Convention of North Carolina proclaimed that a church could not welcome openly gay members unless it tried to change their sexual orientation. The convention even threatened to investigate and disassociate with churches displaying such unsanctioned acts of welcome.
"We just saved them that step," Amy says. "We took ourselves out." They disassociated from the North Carolina Baptist Convention to continue their policy that people can attend, join, or lead the church regardless of sexual orientation.
This Baptist church voted for the performance of gay unions in its sanctuary in 2007, seven years before North Carolina granted same-sex marriage rights. In 2014, Amy and Russ were among the plaintiffs in the lawsuit that overturned Amendment One, making the state's ban on gay marriage unconstitutional.
Not everyone was a fan of these decisions. Take, for instance, a man outside the church named Richard. Several years ago, lengthy voice mails from Richard greeted Russ and Amy, informing them that they were leading their flock to hell. After weeks of this, Richard and two men arrived at the church one Sunday with protest signs. If the protesters hoped for a confrontation with Park Road Baptist, they got it: Children of the church and the youth minister approached the protesters to invite them inside for coffee and Sunday school. The men declined.
On October 13, 2012, Debbie Brown and Dona Leonard walked down the aisle of Park Road Baptist, greeted by Russ and Amy at the altar. Here was the first gay union ceremony for Park Road Baptist, as well as for Russ and Amy. Russ began as he does any other wedding, "Dearly beloved, we are gathered here today … "
More than 250 people filled the church. They included families, seniors, children, and friends, both gay and straight. Much of the congregation from Park Road Baptist attended, too, including some who voted against gay unions in the church but came to support Debbie and Dona.
"We all sit in this room somewhere along the spectrum that ranges from 'this ain't right' to 'hallelujah,' " Amy said to the congregation. "And even though we're all along that spectrum, what we have said as a church is that we believe it is time for us to widen our understanding of marriage to include everyone. If everyone is welcome in this place, then everyone has the opportunity for blessing. … Love, joy— that's why we're all here."
Together they prayed, they laughed, and they sang the hymn, "All Are Welcome." Debbie and Dona exchanged vows and rings and left to a standing ovation and boisterous applause.
"It gives me tremendous hope for the world," Debbie says. "We can be different in our theological thinking, we can be different in our sexual orientation, we can be different in our politics, but we can still be community."
Yet the Deans know from experience what happens to those who are among the first to create change.
"We just narrowed our pool of places that we could ever think about serving," Amy says. "There aren't a ton of Baptist churches who are going to be interested in pastors that have done a gay marriage."
***
IN JANUARY, Duke University in Durham approved a request from Muslim students who used the campus chapel basement for prayers to use the bell tower instead. This decision elicited a strong protest from Franklin Graham, president and CEO of the Billy Graham Evangelistic Association. Graham called on donors to withdraw support from Duke, writing, "As Christianity is being excluded from the public square and followers of Islam are raping, butchering, and beheading Christians, Jews, and anyone who doesn't submit to their Sharia Islamic law, Duke is promoting this in the name of religious pluralism." Shortly after Graham's response, Duke reversed its position, citing security concerns. The next week, Muslim students shared pizza in the chapel basement after their prayers, this time with a police officer outside the door.
The younger Graham has a big voice in Charlotte and beyond. He's a familiar face on Fox News, he has a Facebook fan base of over a million and a half, and he leads the organization created by his father, Billy, who has been called the closest thing to a pope America could have. But this level of fame did not deter Russ and Amy from taking a stand against him.
Russ wrote a blog post titled, "Why Franklin Graham is Wrong: Duke's Actual Mistake Regarding Muslim Prayers." He argued for religious tolerance, writing, "How silly our arguments become, and how hypocritical they make us look, in the eyes of a world which needs faith at work and not religion defending its turf."
Russ's blog didn't change Duke's policy. It didn't elicit a response from Graham. But it did what Russ and Amy have set out to do: create dialogue over diatribe.
"We try to read the headlines," Amy says. "Franklin Graham is going to speak, and people think he speaks for all of us [Christians], and he does not. … I just feel like there's another word that should and can be spoken. And if churches like ours won't do it, who will?"
Russ and Amy encourage dissent within their pews, as well. Take John Paris, a Park Road Baptist member for 27 years. He describes his political views as being the polar opposite of Russ's, and he doesn't shy away from letting Russ know that. The two have long discussions over their disagreements, but there's never any tension. In fact, the discussions have made the men closer.
"I present my view and my reasons. And the next Sunday, we laugh and we joke together, and I tell him that I've never slept as good as I have during his last sermon," Paris says. "It's an easy relationship. I know who he is, he knows who I am, and we don't expect either one of us to be any different. We are who we are."
The value of inclusion over agreement is at the heart of Russ and Amy's leadership style. The last thing they want is a place where everyone thinks alike, where anyone feels unwelcome for his or her differences.
"We can't tell you what the Bible says. You're capable of reading that for yourself," Amy says. "There's freedom for you to interpret and for you to sit in the pew next to someone who has a different interpretation than you have. That kind of freedom is encouraged."
So in this Baptist church on Sundays are Democrats, Republicans, and Libertarians; church leaders who are male, female, gay, and straight; some visitors who are unitarian or agnostic; one faithful regular who also happens to be Buddhist; two female members wearing matching rings on their left hands; a longtime member who just might call the church office later with a point to contend; and a married couple up front, who use soft, Southern voices to make some pretty loud statements.
***
LAST OCTOBER, Russ walked into Amy's office, shut the door behind him, and cried.
It was seven months after the urn and the toy landed on the steps of his church, and he'd finally learned the identity of the unnamed infant.
A man had just told Russ that he was the father, that he was the one who left the urn. The baby lived only a few hours, he said, and neither he nor the baby's mother had the money for a funeral. The man's family had an association with the church, so he knew enough about the Deans to trust that they'd take care of the infant. Russ told the man about the funeral and showed him his baby's place in the columbarium. Before the man left, Russ asked for the baby's name.
As Russ stood in Amy's office, crying, he says he felt a sense of affirmation. The man knew of the church. The man trusted him and Amy to take care of the unknown baby as one of their own members.
There's something in this church's DNA, the Deans say. But there's something, too, about the Deans. They embrace tradition, but they are open to change. They welcome those excluded elsewhere, even at the cost of their own inclusion. They offer a small voice of dissent against much louder voices. And they create a space for those who need it, including a man who died without a home or an identity, and an hours-old infant boy, whose toy still sits in Amy's office and whose plaque now bears a name: Jordan Daniel.
Jen Tota McGivney is a freelance writer in Charlotte. Reach her at jennifer.mcgivney@gmail.com.