Monroe Record Store Owner Gives Talented Locals a Stage
Jampac Records has been open for more than three decades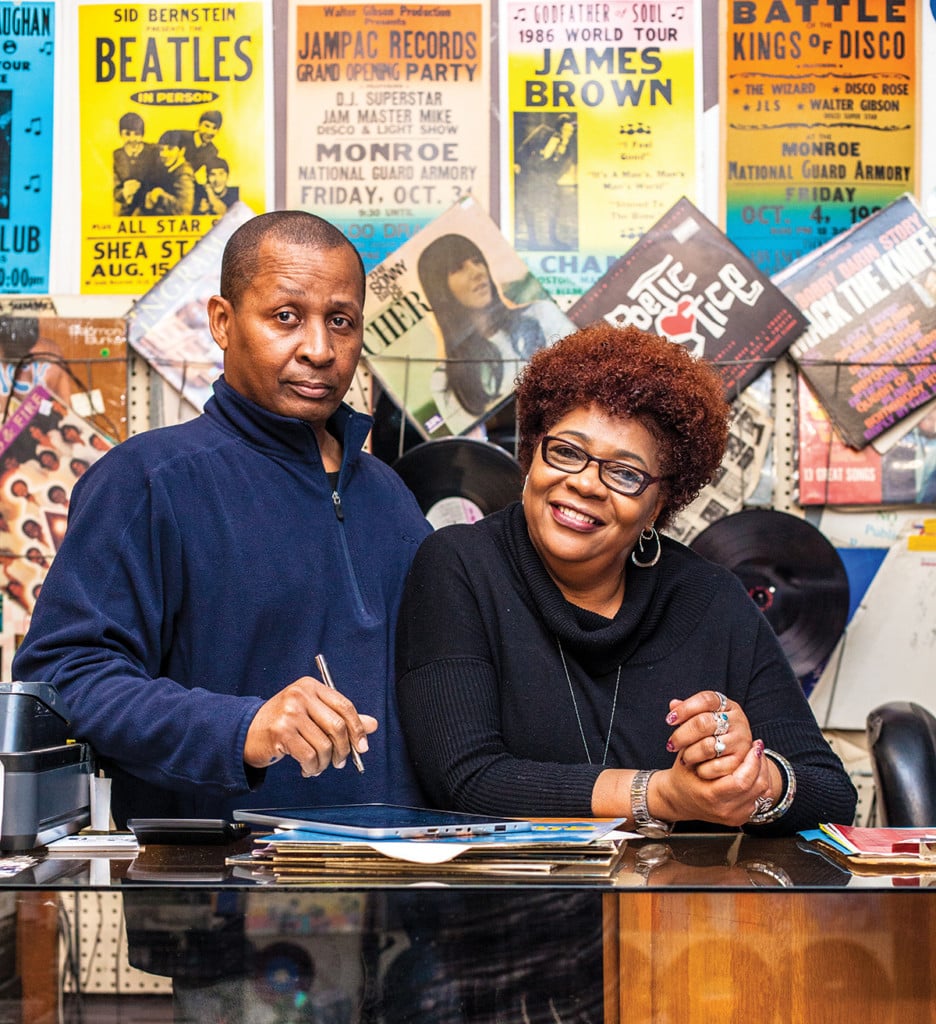 TWO SPEAKERS PROP OPEN the door to Jampac Records on Monroe's Main Street, blaring whatever Walter Gibson is in the mood for that day: the Jackson Five, U2, the Saturday Night Fever soundtrack. Inside the small storefront sits a treasure trove of CDs and cassette tapes, priced as low as $1, and black crates that hold hundreds of 12-inch records. A disco ball hangs from the ceiling.
Gibson, a Monroe native, owns the store. It's his third go at a career in the music industry. He played keyboards for an R&B band in the 1970s, but the group fizzled out, its ever-changing roster never committing to making music full-time. He turned to DJing. But spinning records didn't provide the job security he needed to support a family, so his career swerved once again. With only 25 cassettes, 50 records, and $1,000, Gibson and his wife, Flora, whom he calls "Flo," opened their first record store in Monroe in 1986.
"We started off in a building about as big as a closet, but the rent was $130 a month," Gibson says. "It was enough to do what we needed to do. The dream was bigger than our money."
Their current location opened in 1994. It's about five times as large as their first store and includes an entire second floor just for storage. I venture upstairs and can barely move; I'm surrounded by stacks of records Gibson has won from auctions or that customers have traded in over the years.
Gibson refers to Jampac as more than a record store. One evening in October, I find out what he means during Jampac's annual talent show—a night to commemorate the store's 32 years in business, held at the Union County Agricultural Center. Singers, rappers, and dancers (32 of them—a coincidence, Gibson tells me) are ready to perform. "We don't want to turn (anyone) away," he says. "(Anybody) that wants to come up and do something, we let them get up on that stage."
"I bust the windows out ya car," sings a woman onstage. "And no, it didn't mend my broken heart." Her reddish-brown afro sways as she two-steps in thigh-high glitter boots to the Jazmine Sullivan hit "Bust Your Windows." As the song concludes, the audience sings along, shouting, "hey, hey, hey." By the end of the night, the woman, who goes by Chela, has won the grand prize of $1,500 and the support of an overflowing crowd.
Gibson and his family started the talent show in 1990, when they held it at Forest Hills High School, to help local kids fulfill their dreams of performing. Hundreds of people attend each year, many dressed up as if a red carpet awaits.
"I've seen more people come together because of music," Gibson says. "My passion for music took me from one part of my life to the next by elevating me. I used it to open up doors for myself." And for others. It's as simple as keeping the doors to Jampac Records propped open, flooding Main Street Monroe with music.