More Than a Pub: Davidson Street Public House
Spot fits in just enough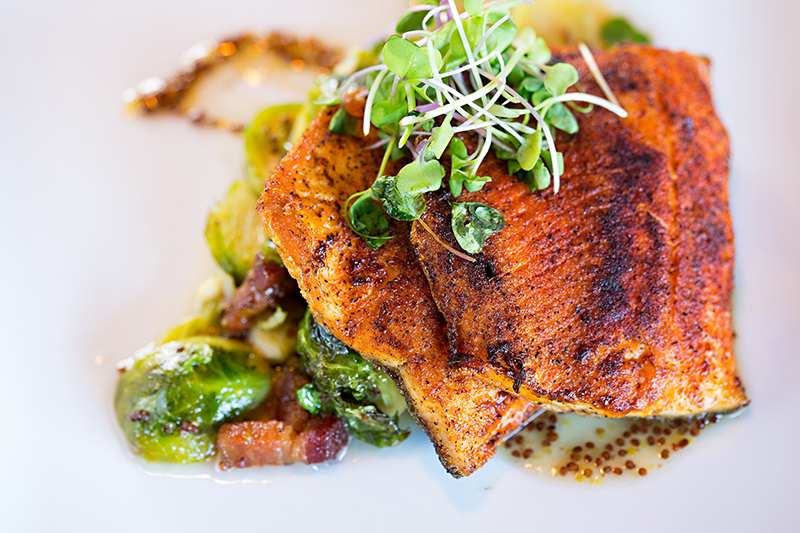 Davidson Street Public House lives up to its name. It's a little too fancy to be called simply a pub, and a little too gritty to be called just a restaurant.
The spot, from The Gin Mill's Chris Healy and chef Clayton Sanders, fits well in NoDa. It seems like a natural place to stop for a beer and a bite with friends before a show at the Neighborhood Theatre, a block up the road. The rotating craft beer selection is impressive, too, and includes brews from Asheville standout Wicked Weed, among other local favorites.
About half of Davidson Street Public House's menu consists of small plates designed to be shared among two or three people. Your best move is to order in waves, and let things come out from the kitchen when they're ready. We started with the corn and jalapeño fritters ($6.50), which are about the size of gum balls. They're crunchy on the outside, but the crispy crust wraps a creamy interior flecked with corn and cheese and Peppadew relish.
The Trout & Sprouts ($13) is an order of blackened North Carolina trout filets balanced on a hearty serving of grain mustard-glazed brussels sprouts and huge chunks of Benton's bacon, the best in America. My only gripe was with the slightly undercooked sprouts, which could have benefited from a good char in a hot cast iron skillet.
Don't miss the lamb lollipops ($15), which are dusted with espresso, drizzled with a pomegranate glaze, and served on a silky parsnip puree. The chops' seared and smoky exterior gives way to tender bites of meat. Normally, I'd attempt to be polite and cut the meat from the bone, but I just went for it, picking up the bone and taking a huge bite.
Although the food is well conceived, nothing on the menu is overly contrived or inaccessible to a casual diner. In deference to its location, Davidson Street Public House keeps everything— from its cocktail menu that features sidecars and other classic drinks, to the understated décor—edgy enough to feel at home in NoDa.
The night we visited, a rainy Tuesday in November, happened to be Trivia Night. Our tapas would feel out of place at most bars on trivia night; the tattooed woman shouting trivia questions would get strange looks at most restaurants serving trout and lamb. But it all fits here, helped along by another Wicked Weed IPA.
Davidson Street Public House
3220 N. Davidson St.
980-209-9992
Entrées: $11-$19
D, FSB, P