Musical Chairs at Bakersfield
It's all about the honky-tonk at this spot, now serving up Mexican food in Dilworth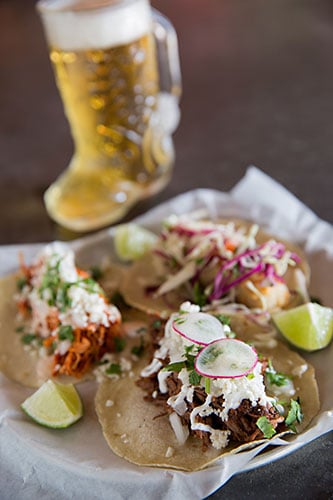 THE NEW BAR AND EATERY on East Boulevard is named for the Bakersfield sound movement, a genre of country music that started in the California city of the same name in the 1950s. Merle Haggard and Johnny Cash would feel right at home here—and that's the idea, says owner/operator Brian Riggenbach. "Those guys were big American whiskey drinkers," he says. "And you can't have good Mexican food without tequila."
The menu centers on Mexican street food, with a large selection of tequilas and whiskeys. Tacos are the specialty. Fillings range from marinated pork with pineapple, pickled onions, and cilantro ($3), to short rib ($4), mahi ($4), and corn truffles ($4). The tortillas are made in house every day. The queso ($5) gets a spin in a blender, making it velvety and smooth, without chunks of chorizo or beef. A go-to: The house margarita ($7) is made with fresh lemon and lime juice.
Bakersfield opened on August 18, taking over the longtime Picasso's location (most recently, the building housed Longboard's Tacos and Tequila). Now cedar slat awnings, wooden roll-up doors, and a large, U-shaped bar define the space. Old Westerns frequently play on the television screens.
During its first few months, the restaurant was open only for dinner and late night, but the owners plan to start serving lunch six days a week, along with Sunday brunch.
Bakersfield
1301 East Blvd.
980-938-8565