Must-See Holiday Light Shows Across North Carolina: 2020
These extravaganzas are being held this year across the state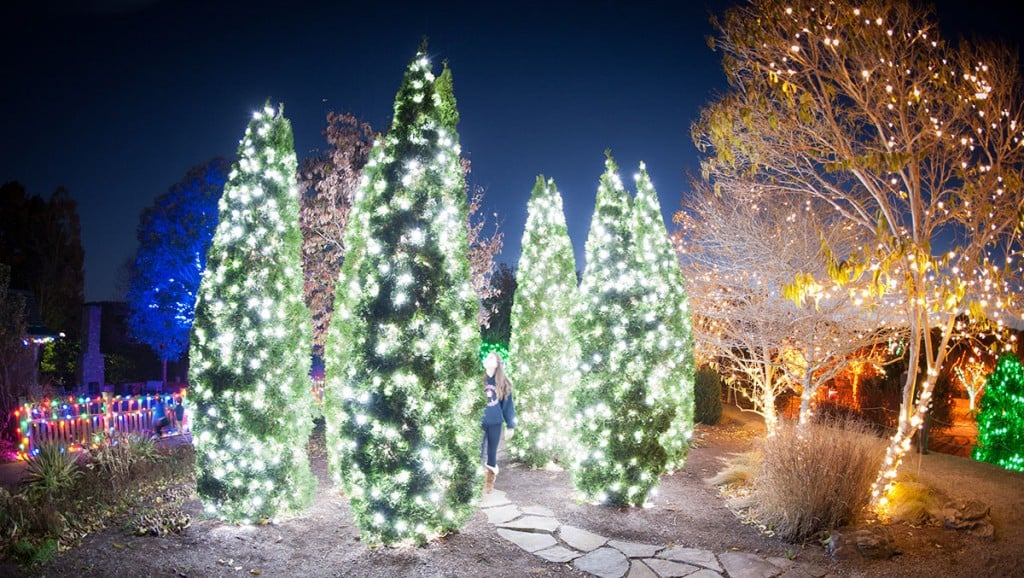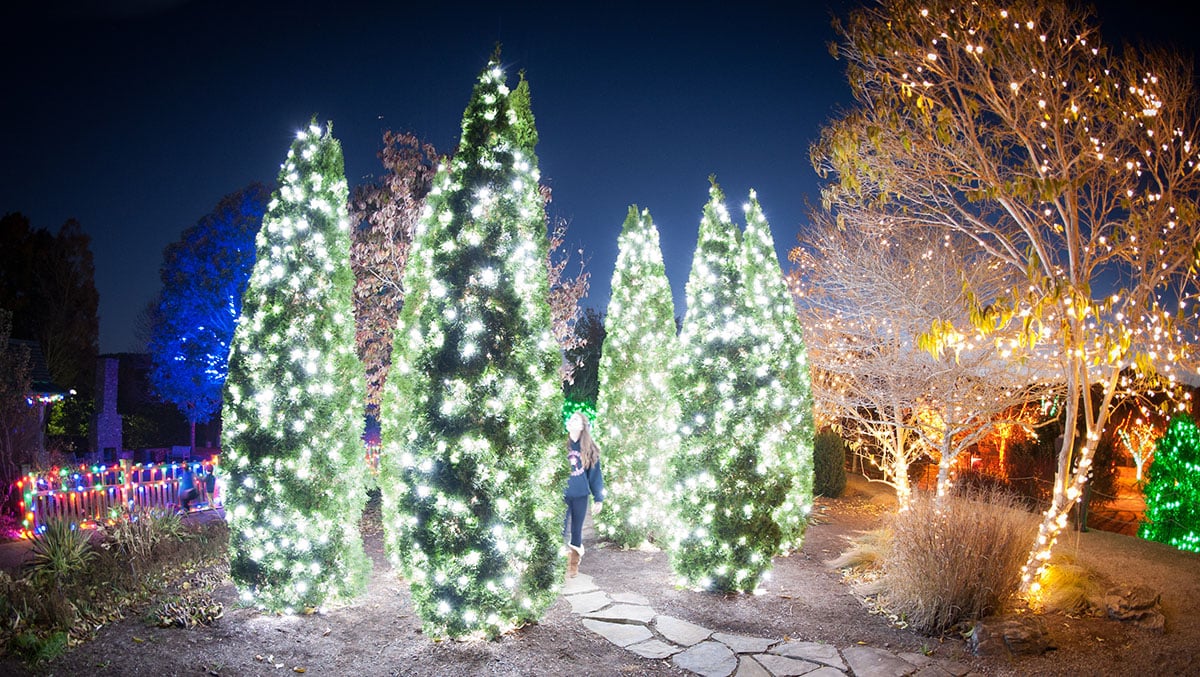 UPDATED: NOV. 4, 2020
---
'Tis the season for dazzling light displays. These annual sparkling and twinkling displays are a great way to celebrate festive fun with the family. Here are our top picks of holiday light shows across the state to help bring out your family's holiday spirit. Shows are listed in alphabetical order. Scroll through the slides or jump to specific light shows below:
One Lodge St., Asheville, North Carolina
Admission: Daytime or evening admission (experiences vary): $84-$114; free for ages 9 and younger. Buy your ticket seven or more days in advance and save $10 on each admission. Purchase tickets online.
Dates: Nov. 6-Jan. 9, 2021
See the Biltmore Estate adorned in its holiday splendor during an evening visit. A lit towering Norway spruce decorates the grand front lawn. Enjoy the many decorated Christmas trees inside the Biltmore House. In addition, there are 135,000 LED and mini lights sparkling around the estate. Visit Antler Hill Village and Winery, included with admission, for an extraordinary display of holiday lights and wine tastings.
---
Enter at 4259 Handy Road, Denton, North Carolina
Admission: Cars/Mini Vans: $20; Commercial Vans/Mini-Buses: $25; and Motorcoaches/Buses: $100
Dates: November: 27, 28, 29 & December: 4, 5, 6, 10, 11, 12, 13, 18, 19, 20, 21, 22, 23, 26, 27. Friday-Saturday, 4:30-11 p.m.; other nights 4:30-10 p.m.
This event has changed to a drive-through instead of a walking tour, to comply with state guidelines. "Drive through a Christmas light extravaganza, see live nativity scenes, stop by our Craft Barn to browse hand-crafted treasures, or pick up a snack, and enjoy food and refreshments from our on-site food truck, all while celebrating the true meaning of Christmas!"

Photo courtesy of Denton Farm Park
---
300 Airlie Road, Wilmington, North Carolina
Admission: $30 per car/standard truck/SUV/minivans; $55 for passenger or conversion vans
Dates: Nov. 27-29 and Dec. 4-22. 1-Hour Timed Tickets: 5:30 p.m., 6:30 p.m., 7:30 p.m. or 8:30 p.m.
Take in the sparkling sights and festive sounds of the holiday season. Stroll through the garden on a self-guided tour of holiday lights, music and displays. Also in attendance each night, Santa Claus himself! Tickets will sell out in advance, so reserve yours early.
---
185 Chetola Lake Drive, Blowing Rock, North Carolina
Admission: Free
Dates: Nov. 29-Jan. 31
Chetola Resort is known for its sparkling display of lights each winter season. The "Festival of Lights" is free and open to the public, and you are invited to enjoy thousands of dazzling illuminations throughout the resort.  As you drive or stroll around Chetola Lake, view glittering ice skaters, "Rudolph" reeling in a big fish, strolling carolers and many more captivating holiday scenes.
---
703 Tarboro Rd., Youngsville, North Carolina
Admission: $20 per vehicle
Dates: Nov. 26-Dec. 27. Times vary.
This event in 2020 is a drive-through affair: "We have made the display bigger and better than ever for 2020! Immerse yourself through over a mile long trail of magical Christmas lights and displays."
---
Daniel Stowe Botanical Garden, 6500 S. New Hope Road, Belmont
Admission: Adults: $14.95; seniors: $12.95; children 2-12: $7.95; children under 2: free. Advance tickets will be available for 5, 6:30 and 8 p.m. arrival times.
Dates:Nov. 27 – Jan. 3
Delight in a stroll through the shimmering Mile of a Million Lights this holiday season! Along your journey, discover the colorful lights of the topiaries dancing to merry tunes, LED cherry trees glowing along Canal Garden, waves of color glittering in the Piedmont Prairie, enchanting fairy villages and model trains flourishing in the Orchid Conservatory, and so much more. Roast a marshmallow, take a horse-drawn carriage ride, enjoy music and sip a warm beverage as you tour the displays, visit with Santa and more.
---
Cape Fear Botanical Garden, 536 N. Eastern Blvd., Fayetteville
Admission: Non-member adult: $12 and non-member child: $7; member adult: $8 and member child: $5. Add-on packages available.
Dates:Dec. 3-Dec. 23 (times vary)
The Garden is aglow with almost 1 million lights. Santa Claus, S'mores, hot cocoa and more, with children's activities and family hayride.
---
Riverbanks Zoo and Garden, 500 Wildlife Pkwy., Columbia, South Carolina
Admission: $12 adults, $10 children ages 2-12, children younger than 2 admitted free.
Dates:Select evenings in November and December at 5 p.m.–9 p.m.
Enjoy nearly 1 million lights, animated images, visits with Santa, a bonfire, hot cocoa and s'mores.
---
Boyette Family Farms, 1620 Loop Road, Clayton, North Carolina
Admission: $10 for ages 3 and older; free for ages 2 and younger. Tickets can be purchased online.
Dates: Select nights Nov. 27-Dec. 24. Hours vary depending on day.
Take a 1-mile, 30-minute tractor-pulled hayride through a beautiful lights extravaganza to see more than 1 million lights that line the way to the banks of the Neuse River. Enjoy concessions, a socially distanced visit with Santa, and more.
---
Downtown McAdenville, North Carolina
Admission: Free
Dates:The nightly lighting schedule is truncated to 5:30 p.m.-10 p.m., Dec. 1-26.
Experience the wonder of the season in Gaston County's Christmas Town USA, a tradition since 1956. Walk or drive by the awe-inspiring displays of more than 375 decorated trees, 200 lit lamp-post wreaths, 160 decorated homes, music, a life-size Nativity scene, a lake fountain and more. You can read about their COVID-19 changes here.
Photo courtesy of Steve Rankin
---
5555 Concord Pkwy. S., Concord, North Carolina
Admission: Mon-Thurs: $25 per car and $50 per van; Fri-Sat: $30 per car and $50 per van.
Dates: Nov. 21-Jan. 17. Times vary.
Experience more than 4 million lights synced to music while driving the 3.75-mile track at Charlotte Motor Speedway. You can also enjoy watching holiday movie classics drive-in style on a 16,000-square-foot screen every Thursday-Sunday when Christmas Village is open.
---
4061 Clemmons Road, Clemmons
Admission: $15 per vehicle
Dates: Nov. 13-Jan. 1, 2020. 6 p.m.-11 p.m.
To see one of the largest and most spectacular light shows in the Southeast, drive through Tanglewood's rolling countryside, which is transformed into a winter wonderland. Be sure to stop at the Gift Village to roast marshmallows at S'moresville. See the website for more information about horse-drawn carriage rides, tractor-pulled hayrides, and visits with Santa and Mrs. Claus.
Photo courtesy of Tim McCulloh Photography
---
100 Frederick Law Olmsted Way, Asheville, North Carolina
Admission: $25 per vehicle
Dates:Nov. 20-Jan. 10; 5:30 p.m.-10:30 p.m.
This year's event has been converted to a drive-through: "This year, guests are invited to take a dreamy ride through the Arboretum's enchanted forest and attend Winter Lights safely within their own vehicles."
Photo courtesy of the North Carolina Arboretum
---
385 Ostwalt Amity Road, Troutman, North Carolina
Admission: Details for this year forthcoming.
Dates: Details for this year forthcoming.
Drive through the reindeer forest, the Christmas Wonderland of Lights, watch the light show dance to music, and walk around part of the zoo. Additional cost activities include tiger feedings, giraffe feedings, carousel rides, train rides, s'mores, and more.
---
Myra Wright is a North Carolina-based freelance writer. She enjoys traveling and finding educational opportunities for her three kids.