Must-Visit Wine and Cocktail Bars in Charlotte: 2022
Start (or end) the night with a drink and small plate at these popular spots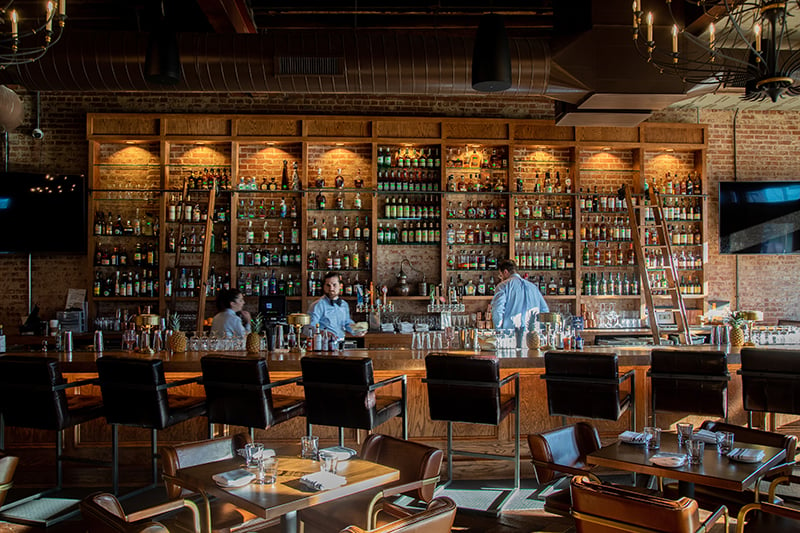 From tasting rooms to speakeasies, the city has a range of nightspots that serve signature cocktails, rare wines, and curated food options to pair with them. Savor your sips beside a koi pond, on a rooftop, or in a garden, and share a few tapas or a charcuterie board with friends.
UPTOWN
FEATURED RESTAURANT
Cicchetti
100 N. Tryon St.
980-299-0039
Come for the drinks and stay for the food at this wine bar, restaurant, and retail shop. Cicchetti (pronounced "chee-KEH-tee") means "small dishes" in Italian; they're like Venice's version of Spanish tapas. The restaurant's design and layout is a nod to a bacaro, a neighborhood gathering spot in Venice where locals enjoy glasses of wine and small bites in the late afternoon. The small plates, which include Polpette (meatballs) and Lattine e Patatine (tinned wild mussels), are meant to be savored—and shared. So order another glass and linger as long as you'd like.
Merchant and Trade
303 S. Church St.
704-445-2550
Enjoy rooftop views, colorful cocktails, and elevated bar bites atop Kimpton Tryon Park Hotel.
Novelty House
123 E. 5th St., Ste. 500
980-498-5750
This Instagrammable rooftop cocktail bar has a floral theme and serves specialty cocktails, wine, beer, and Champagne.
Aura Rooftop
124 E. Brooklyn Village Ave.
704-499-6645
Sip botanical-inspired cocktails and enjoy small plates at JW Marriott's rooftop bar.
Búho Bar
201 W. Trade St.
980-999-5510
Ride the elevator to Búho (Spanish for "owl"), the Grand Bohemian's rooftop bar, and enjoy a cocktail or small plate by the fire pit.
The Cellar at Duckworth's
330 N. Tryon St.
980-349-4078
This underground space built in 1912 serves gastropub fare, specialty and rare beers, and craft cocktails.
---
SOUTH END
The Wine Loft
2201 South Blvd., Ste. 120
704-919-0222
Order a craft cocktail, beer, or wine by the glass or bottle, and nibble on eclectic tapas in this upscale South End spot.
Barcelona Wine Bar
101 W. Worthington Ave., Ste. 110
704-741-0300
Choose from more than 400 wines and nosh on Spanish and Mediterranean-inspired tapas and charcuterie boards.
Lincoln Street Kitchen & Cocktails
1320 S. Church St., Ste. 400
980-207-4494
This restaurant and cocktail bar in South End's Gold District has seasonal small plates, barrel-aged cocktails, and a curated wine list.
Backstage Lounge
2433 South Blvd.
704-705-8447
This lounge is tucked behind a taco and tequila joint on South Boulevard. To enter, pick up a phone that's hidden behind a red curtain and say the password from their latest Instagram post. The menu includes classic, signature, and house barrel-aged cocktails and a selection of small bites.
---
DILWORTH
Foxcroft Wine Co.
Multiple locations
What pairs well with a glass of wine? Foxcroft Wine Co.'s signature burger and a side of truffle fries.
Dilworth Tasting Room
300 E. Tremont Ave.
704-595-3337
Snag a seat by the koi pond out back, and savor a glass of chardonnay and a charcuterie board. Find a second location in SouthPark.
---
NODA
Idlewild
424 E. 36th St., Ste. 2
704-572-8678
Tell your bartender your favorite liquor. He or she will concoct a unique potion that'll be your new favorite drink.
The Artisan's Palate
1218 E. 36th St., Ste. A
980-209-9168
Part art gallery, part restaurant, this NoDa spot serves locally roasted coffee, cocktails, craft beer, and unique wines by the glass or bottle alongside shareable comfort food.
---
OPTIMIST PARK + BELMONT
Rosie's Wine Garden
940 N. Davidson St.
704-604-8975
It's a tranquil escape to savor a glass of rosé and wander the paths of the McGill Rose Garden.
The Royal Tot
933 Louise Ave., Ste. 350
704-906-7208
This two-story "urban oasis" in the Belmont neighborhood serves tropical food and cocktails and has the largest rum collection in Charlotte.
---
PLAZA MIDWOOD
The Bohemian: A Wine Bar
1319 Pecan Ave.
980-207-2062
This intimate bar has 18 rotating wines by the glass and a custom 12-tap Cruvinet wine dispensing system.
---
MYERS PARK
Petit Philippe
2820 Selwyn Ave., Ste. 160
704-332-9910
This wine and chocolate shop has a tasting room with boutique wines from California, the Pacific Northwest, and European wine regions, plus artisan chocolates made in-house.
Dot Dot Dot
4237 Park Road, Ste. B
704-817-3710
Stefan Huebner's cocktails may be the main attraction at this members-only speakeasy, but the Pork Belly with corn mousse will convince you to stay for dinner.

---
ELIZABETH
The Crunkleton
1957 E. 7th St.
704-919-0104
Visit the best spirit library in Charlotte to splurge on a $15 cocktail and feast on a Wagyu Burger with a side of Parmesan Garlic & Herb Fries.
---
DAVIDSON
Davidson Wine Co.
121 Depot St., Davidson
704-997-5332
Davidson's first "urban winery" sells more than 35 varieties, plus local brews on tap, bistro-style appetizers, and a rotation of desserts.