Nature's Home
The outdoorsy Icards bring the outside into their Elizabeth home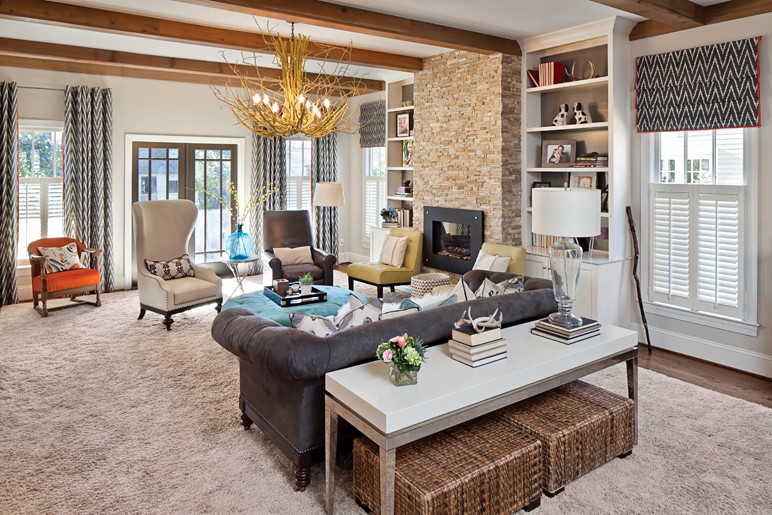 THE ICARDS' HOME on Fifth Street in Elizabeth is painted a mossy green, with dark brown, heavy doors. Among the bungalows, duplexes, and brick, it seems like an old tree standing amid the bright light of an open field. Walking up to the front door, longboards rest along the railing of the front porch, a hint at the family inside the home that reflects the outdoors they love so much.
Kara and Brad Icard moved into this home nearly 10 years ago, three months after their son, Nate, was born. They were looking for a neighborhood that fit the family, and found it in Elizabeth.
"It doesn't all look the same and it's not manicured," Kara explains. "It's just very real, and it's a great place for kids. Our street is just full of kids. Our house is like a revolving door—there's a kid coming in and out—and it's just wonderful for a family."
She recalls living with her parents in Myers Park as the home was built, picking out fixtures at Restoration Hardware and Blackhawk Hardware. With a newborn and a six-year old, Brad's son Noah, to care for, furnishing the home meant pulling together furniture from their old home in Cotswold to fill the new house.
"It was just kind of like a hodgepodge of different things," Kara says. After five years of living with the hodgepodge, she "got over it and decided to do something different."
She called in designer Aida Saul, then of Aida Interiors, to help her freshen the home. Saul helped bring Kara's taste and the family's love of the outdoors together to create a space that's stylish, yet comfortable.
Wallpaper along the entry hallway adorns the space in a pattern of irregular silver triangles on a pearlescent surface. An open wall with Tuscan-inspired columns leads to the dining room, its slate walls highlighting the pale blue pieces in the room. A light fixture above the table, a rustic cage chandelier, takes on a more modern twist with light blue paint. Kara inherited a set of classic dining chairs from her parents, who love to redecorate frequently. To make the traditional wood chairs fit with the room, Saul suggested having them painted the same blue as the light. She also had the chairs reupholstered, and a soft, off-white fur covers the seats.
"This room to me feels serene," Kara says, her eyes resting on the hallway across from her. "Then my wallpaper, to me, I look at that and I see mountains. It's that outdoorsy kind of thing."
The earthy theme continues throughout the house in nuanced ways. In the kitchen, two wooden globe chandeliers hang above the kitchen island, and white curtains printed with trees hang in the window between pristine white cabinets and black countertops. Three barstools with ballet tie accents are most often seats for Noah, 15, Nate, 9, and Lilly, 7.
The younger kids will sit there to do their homework after school while Kara cooks dinner. The family gathers most often in the center of the kitchen, even after homework is put away. Despite having two tables, dinner is also eaten there; the three kids will sit while Kara and Brad stand and eat.
"We spend a lot of time around that island," Kara says.
A breakfast room off of the kitchen is decorated with a black-and-white floral wallpaper, a green fabric light fixture printed with leaves hanging in the middle it.
Kara's favorite room and favorite feature of Saul's design, however, is in the family room. A yellow chandelier made of branches hangs from a ceiling striped with wooden beams. Stones surround the fireplace, and a walking stick rests on a built-in bookshelf.
"I looked through a lot of magazines and I ended up wanting what I call a rustic modern," Kara says. "The wood beams and the branchy fixture —I like bringing that element of the outside in."
Even Pete, the family's two-year-old silver lab named for basketball legend Pete Maravich, seems to go with the décor.
"I like her color because she sort of blends with the house," Kara says with a laugh. "She doesn't shed much, and when she does, it literally matches the house."
The family's four bedrooms are on the second floor, with a master suite for Kara and Brad. The third floor was a project of Brad's: He turned it into a CrossFit gym, complete with padded flooring and equipment.
Brad, who has his CrossFit training certification and sometimes trains friends when he's not at work as an attorney, even creates modified workouts for Nate and Lilly. Noah, 15, runs on his school's track team, and uses the training room as often as his dad.
Outside, a CrossFit climbing rope hangs from a large tree. It hides behind a large stone fireplace and chimney, built by Segue Builders' Grady Moseley. When the weather's warm, the family sits outside to enjoy the fireplace and roast marshmallows about once a week. Holds for rock climbing dot the treehouse, and a target for archery practice is often set up, too.
"I would call us outdoorsy people," Kara says. "We like to hike and go to the mountains."
Noah and Nate often prefer to sleep outside. Each of them has a hammock to set up on the back porch for those warm nights. And on the cold ones, pieces of the outside are all around them, even when they're inside their heated home.