New Burger and Beer Joint Opening In Plaza Midwood
Moo & Brew, a popular Charlotte festival, will become a brick-and-mortar restaurant in former Joe Hooper's space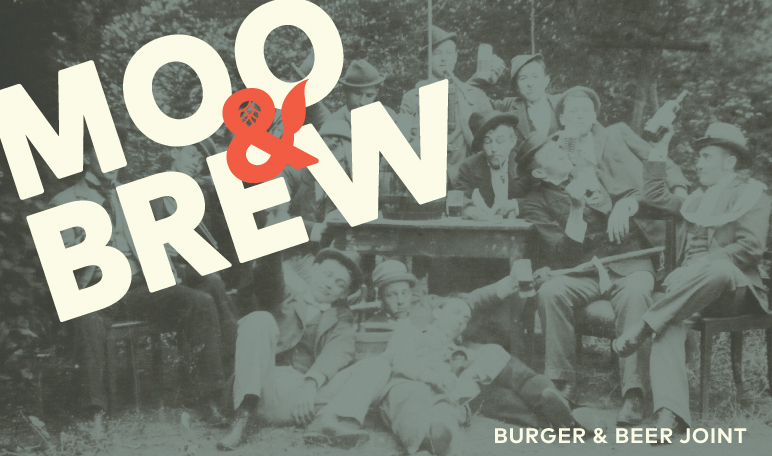 Several months ago, observant Plaza Midwood residents noticed a change at Joe Hooper's restaurant, near where the train tracks cross Central Avenue. The Joe Hooper's sign came down, and in the window, a sign with the website "itsnotacondo.com" went up.
If, out of curiosity, you popped in to the restaurant to see what "not a condo" could be, you'd likely come across owners Zach Current and Ken Thomas. Zach, who helped grow Charlotte-based chain Fuel Pizza, is easily recognizable by his modern-day hippy look and "come on in" personality, while Ken seems to their flow of ideas into a manageable task list. While I'm chatting with them about this new project, Zach heads to the end of the bar to make Bloody Marys for himself and Ken.
They've been quiet about what their plans are for the space, but are finally ready to answer that question. The restaurant will be closed for the next four weeks, and in early March, Moo & Brew will open in the renovated space.
Moo & Brew will be a brick-and-mortar version of the festival Ken helped start, with a menu of burgers, wings, and sandwiches and at least 30 beers on tap.The restaurant will also serve vegetarian options, salads, and a kids menu (which is, as of now, being called "Mini Moo"). Local branding agency Plaid Penguin is helping with the concept, while Cesar Levya is on board to help oversee the beer selections—some local, but the list will expand beyond North Carolina.
"We just want to have the best 30 beers we can have at that given time," they agree.
The burgers will be made with black Angus ground beef, and Zach says they're looking to local bakers to supply their bread. King's Bakery is already on board for pumpernickel and rye breads for sandwiches, which will all reflect the owner's favorite childhood varieties.
Zach and Ken are adamant that everything about this restaurant will reflect themselves—just two "Charlotte guys doing Charlotte shit," as Zach likes to say. It will be a Panthers bar—and already has been, with word-of-mouth neighborhood gatherings during this past season—as well as a UNC Chapel Hill bar, because Ken went to school there. They plan to have a blue cup night like the one at "He's Not Here" in Chapel Hill, and vinyl nights where visitors can sip beers while enjoying a record from start to finish. "Name that tune" trivia is also a possibility.
Their goal is to create a neighborhood hangout in a neighborhood where they feel one is missing. To do that, they know they need to make their restaurant affordable with an atmosphere that makes you want to stay a while. They considered using grass-fed beef on their burgers, for example, but to keep things affordable, they decided to go with high-quality black angus beef instead (though a grass-fed variety may still make it on the menu at a higher price). They'll have a bourbon selection, which they say makes sense with burgers, but will only sell one label of the other spirits to keep their overhead lower and pass those savings on to the customer. You can order a vodka tonic, but it will have to be Tito's vodka. There will also be a signature cocktail list.
"We want to really just make this a hub of this part of town for good times," Ken says.
To help with the interior side of that, Ken and Zach brought on Cluck Design Collaborative to work on the space, which will undergo significant changes. Once brown paper goes up in the windows, the booths will be recovered, walls will be added, and the bar will get a new tap system. The kitchen will expand, and outside, the parking lot will be shifted back and a courtyard will be created. A window will open from the inside bar to the courtyard, allowing guests to order from outside. Joe Hooper's large front patio will also get a renovation; Zach and Ken are helping to create a more welcoming space while adding a covered roof. Beyond filling a void in the neighborhood, they believe it will fill a void in the broader Charlotte market, and hope Plaza Midwood's Moo & Brew will be the first of many in neighborhoods across the city.
"We feel like we're in our prime," Zach says. "Our brains have been developed for this moment."
The last part of the restaurant to come into existence may very well be one of the most important: its staff. With 30 beers on tap, Zach and Ken know they need to make sure their staff is knowledgeable of every one, as well as their menu, to give guests a good experience. They plan to help give their servers—who may be called Moorus, or Moo Gurus—more time to interact and explain their selections to customers by having a secondary staff that only fills and delivers beers to tables.
They hope construction will take four weeks, and to open again in early March, officially, as Moo & Brew.
"It's been an interesting and pretty fast journey," Ken says.