New Hotel Bar Makes a Name for Itself
Drink specials, live music, and a great location have made the new H Bar at Hotel Sierra popular for both visitors and locals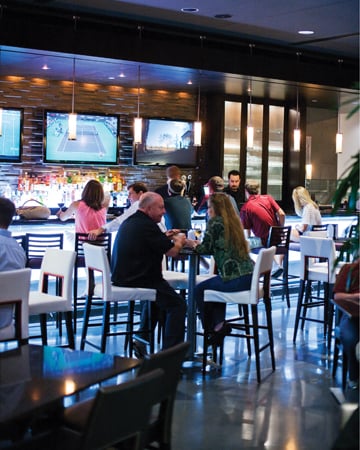 Uptown has seen the opening of several lively hotel bars over the past few years. Aloft and its wxyz bar was followed by the Ritz-Carlton and its Lobby Lounge, each one modern, sleek, and instantly popular. Now, the new Hotel Sierra's H Bar is quickly becoming the city's next spot to see and be seen.
The bar is spacious and colorful, with warm lighting reflecting off dark woods and stainless steel lining the walls. Drink specials—two wines, a beer, and a liquor—change monthly, and while the specialty cocktail list isn't lengthy, it offers excellent choices like the Dark and Stormy (Pusser's Navy Rum, Barret's Ginger Beer, fresh lime juice, and sugar in the raw).
Its location next to Time Warner Cable Arena—and the occasional specials for fans who come in with a ticket stub—have drawn many customers. "We're starting to get regular clientele at the bar," says lead bartender Paul Bovenzi. "Typically that 6-to-7 p.m. crowd, and then a later crowd from 9:30 to 11 p.m." The social events held at H Bar by local companies and organizations have been big draws. Its convenient uptown location and cozy interior have made this a popular destination for young professionals seeking to network. To check out its most popular night, go on Fridays, when local acoustic artists attract crowds from 7 to 10 p.m.
H Bar
Inside Hotel Sierra
435 E. Trade St.
704-373-9700
hotelsierracharlottecentercity.hyatt.com