NoDa's Mac Tabby Cat Café: Part Coffee Shop, Part Rescue Mission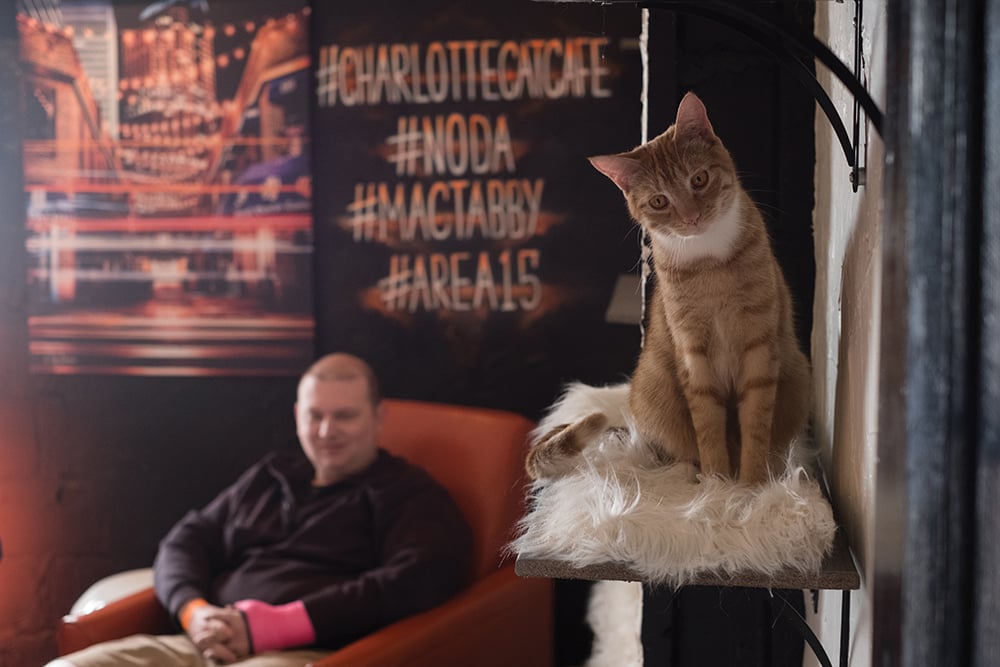 WHEN I TURN to Jackson to remark how cold it is outside, he seems suddenly uninterested. He looks, squinting against the winter sun, at the parking lot outside as a group of visitors comes up the steps. I move on to other topics, but Jackson catches movement out of the corner of his eye and darts away to chase a felt mouse on a stick, leaving me to look for another cat to snuggle.
Another is not hard to find. Jackson is one of 12 adoptable cats here at Mac Tabby cat café in NoDa, and today's roster includes a cat for all kinds of humans. One-third of them are raucous hunters, their pupils wide and butts wiggling as they prepare their attack on a newly-installed hanging felt worm. Others are content to find a warm lap on which to snooze, including a tubby tabby named Raelyn who became my favorite of the day. A few, such as Gretchen the gray shorthair, are cautious wallflowers who prefer hiding in corners or under tables, skeptical of these large, furless creatures with iPhone cameras.
Mac Tabby, Charlotte's first cat café, is the realized dream of owner and lifetime cat lover Lori Konawalik and her husband, Nick. The name is a tribute to the first kitten they adopted together, a mackerel tabby. They maintain a cast of 12, fostering new kitties from local shelters as the café cats find their homes. Despite the fact that the café just opened this past December, the cat business is booming. Forty-five cats and counting have already been adopted, and sessions are regularly selling out. A reservation is a good idea to guarantee your spot in the cat room, but the coffee is so good that it's worth a drop-in, even if you're watching the fun from the hallway.
"There's so much positive energy in this space," Lori says. "People smile for the whole hour they're here, so being given the opportunity to create joy for people has been one of my favorite parts."
You get one hour in the cat room for $12, and it's immediately apparent that the space is designed for both its cat residents and human guests. It's full of natural light, which means lots of happy kitties lounging belly-up in a patch of sunshine. Plush rugs and pillows make it easy to curl up with a new, four-legged friend. Perhaps most miraculously of all, the room smells more like fresh-roasted coffee than litter. While the cats are the stars here, the walls are nothing to turn your nose (or tail) up at—they are covered in works by local artists, all for sale, with proceeds going back to the creator.
To call Mac Tabby just a cat café would be selling it short. What started as a venture to help adoptable cats quickly evolved into much more; even the kitschy coffee sleeves ("Relationship status: cats") contribute to a sustainability program to plant trees in distressed communities. There are weekly yoga classes, paint nights, story time sessions for kids, and live music—all amongst more than a dozen new furry friends. Lori's goal when visualizing Mac Tabby was not only to help find furever homes, but also to create a purrfectly inclusive space for artists and musicians. (Did you think I'd make it to the end without at least one cat pun?)
My hour comes to a close just as my allergy medication begins to wear off. Jackson strides by with his tail held high as he carries his prey, a shiny foil ball, across the room. He doesn't know it yet, but today is his last day at Mac Tabby. Tomorrow he'll go home with his forever family and be introduced to a house full of new smells and toys. But for now, he still reigns triumphantly as King of the Cat Room.
All 12 cats are adoptable, and they are spayed or neutered, microchipped, and up to date on shots. If your heart breaks to leave a particular cat behind, the adoption fee is $125 and local nonprofit Catering to Cats and Dogs will coordinate the adoption. Mac Tabby is open Wednesday-Saturday from 12-7, and Sunday from 12-5. Reservations for snuggles and beverages can be made at mactabby.com.
Tonya Malinowski is a producer for ESPN by day, writer and haphazard home cook by night. You can send recipes, cat pics, or just say hello at @TonyaMalinowski on Twitter.