North End Communities Remember Darryl Gaston
The pastor and community advocate, who died in February, devoted himself to Druid Hills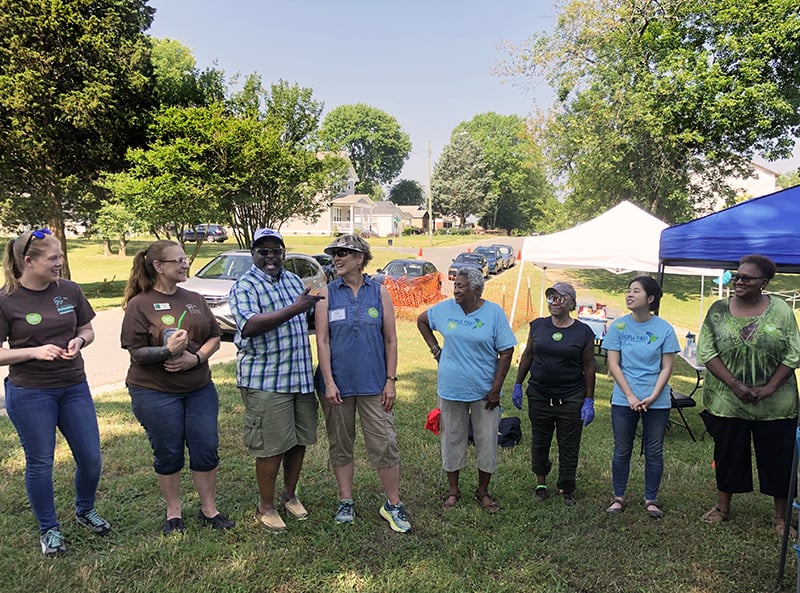 Darryl Gaston smiled at the crowd as he made his way from a blue canopy tent to the center of a crowd of volunteers. It was a sunny Saturday in May 2019 at Druid Hills Neighborhood Park, and the occasion was the Birds, Nature, and Community Festival—the first-ever festival in the historically Black neighborhood off North Graham Street northeast of uptown, organized by Gaston and the Mecklenburg Audubon Society. Gaston, a pastor and community advocate, paused now and then to marvel at the beauty of the park and the people. When visitors thanked and complimented him for his work, he had a standard response, says his widow, Melissa: "To God be the glory."
Druid Hills is one of a cluster of predominantly Black neighborhoods north of uptown along the Graham and Statesville Avenue corridors, and Gaston lived there, in a house on Edison Street that his grandparents had bought, for all of his 59 years. He eventually came to lead the neighborhood association—a position that by 2014 gave him a clear understanding that Charlotte's real estate market was primed to explode. Neighborhoods like Druid Hills were ripe for developers who wanted to buy land cheap, rebuild, and resell—in the process hiking land values and forcing longtime residents out.
That year, Gaston and leaders in seven other historically Black neighborhoods—including Graham Heights, The Park at Oaklawn, Greenville, and Genesis Park—founded an organization rare in a city high on its own growth: the North End Community Coalition, a partnership with a mission to "preserve, protect, and persevere." The area's surge toward gentrification really picked up two years later, when the real estate development company ATCO bought a 76-acre former industrial site off Graham and began to plan the Camp North End mixed-use complex. When Gaston died unexpectedly on Feb. 20, he left behind a legacy of community leadership that helped balance the developers' expansion plans against the needs and desires of North End residents whose roots, like Gaston's, went back generations.
"Though he had a good relationship with my predecessor, who I was running against, he was still very welcoming and warm to me," says City Council member Larken Egleston, whose District 1 includes the North End, and who considered Gaston a friend. Two days after his death, Mayor Vi Lyles signed a city proclamation in Gaston's honor, and Egleston read it aloud from the dais. "You could not have an interaction with Darryl and not leave in a better mood."
Darryl and Melissa met when both were planning a community event and married in 2014; their advocacy led North End residents to affectionately refer to them as "Team Gaston." (As of this writing, Melissa Gaston had not made public his cause of death.) The two believed strongly in interaction with people and companies who eyed North End neighborhoods for development, and they didn't hesitate when ATCO bought the Camp North End property in December 2016.
"One of the first things we did was reach out to them to get to know them and their plans for the community," Melissa says. "Darryl was big on relationship-building, and even with gentrification going on, gentrification was going to bring resources to the community that we don't currently have, from a grocery store to a bank." ATCO, a New York-based company that stresses community involvement in its plans, listened to North End residents' concerns about affordable housing, which influenced the firm's plans for apartments at the complex.
"To the extent that we've been successful with community engagement, I really credit Darryl," says Varian Shrum, Camp North End's community manager. "We're redeveloping buildings in a traditionally Black neighborhood, and so of course we are conscientious about that. We want to connect with the community genuinely, and he was a leader in the community wanting to reach out and connect with projects in his neighborhood genuinely so he could help shape the future of his neighborhood."
One of Gaston's strengths was his ability to connect the various leaders of North End organizations—he wasn't satisfied with advocacy just for his native Druid Hills. He understood the value of the North End coalition as a group that could wield more power than neighborhood associations would on their own.
"He created more structure by bringing some stronger organizations to the neighborhoods and gave them more collective influence on the things that were taking place along the North End, whether it was redevelopment or government investment," Egleston says. Gaston made sure North End residents knew about the city's Aging in Place program, established in 2019 to help low-income seniors stay in their homes after a Mecklenburg County revaluation resulted in a steep increase to property tax bills. When COVID struck, Gaston helped lead North End Coalition efforts to provide computers and internet access and arrange for a mobile food market to sell fresh produce in an area short of grocery stores.
Gaston fostered one-on-one connections, too. In addition to his community work and his pastorship at Smallwood Presbyterian Church, he worked for 23 years as an instructor at the now-closed Hairstyling Institute of Charlotte. Justin Markel was a regular client. "I was homeless for about four years, and while I was living at the Men's Shelter, there was a barber school over on Kings Drive, and I was like a guinea pig for the students," Markel says. "Darryl was one of the instructors there, and I always knew him as Mr. G." Once he found housing, Markel began attending neighborhood association meetings and eventually became its vice president.
"I think Darryl has represented the city well, and I just want his work to continue," Melissa says. "I want people to realize that they are visible, vital, and valuable, and to keep doing what they do to make Druid Hills a better place for everybody."