Now Open: The Improper Pig
Taking the place of Mama Fu's in Cotswold is a barbecue restaurant with an international flair.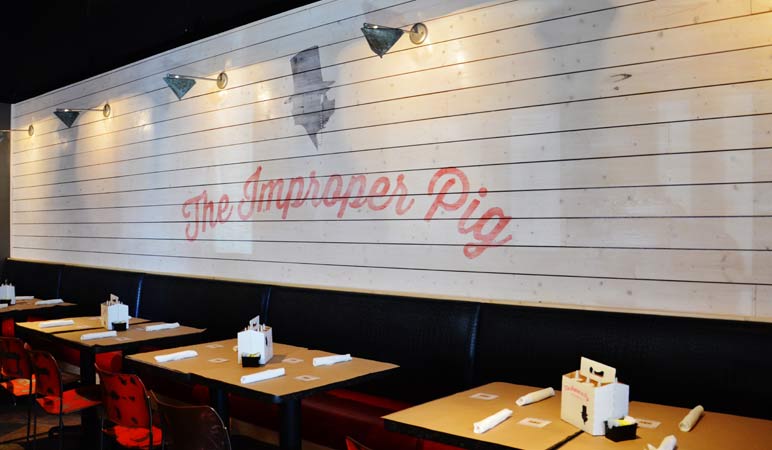 The Improper Pig opened this week in Cotswold Village, turning what used to be Mama Fu's into a barbecue joint. The restaurant is currently operating on a light schedule due to a meat smoker that awaits inspection, but plans to have an official grand opening in the coming days.
Owner and Johnson & Wales graduate Will Bigham grew up in Charlotte and loved barbecue, as any good Southerner should. He's also the name behind Pizza Peel, with locations in both Plaza Midwood and Cotswold. But Bigham felt it was time to do barbecue, and The Improper Pig was born, though his menu features an international twist.
Some highlights from the menu include the Southern Egg Roll, served with horseradish mustard. The egg roll's stuffing of a sweet potato hash makes for a heavier take on the appetizer, but the innovative Southern version on the Asian dish is one you'll want to try again. Well-seasoned kale chips balance out the greasier options, like the Improper Nachos, house-made potato chips with pimento cheese. Even the chicken wings are smoked and finished off on the grill.
The entrees include your standard smoked meat spread, with chicken, ribs, pork and brisket. The brisket, which Bigham said he hadn't cooked before this endeavor, is a tender, flavorful standout with just the right amount of fat. All meats are served with a dry rub, and a collection of sauces sits in the center of the table for diners to customize their meal. A smoked tofu makes the menu vegetarian-friendly.
With quirks like a patio featuring old pews as seating and a barbecue menu that features Asian shrimp tacos, The Improper Pig is far from a classic barbecue joint – just don't tell the meat. The restaurant, located at 110 S. Sharon Amity Rd., is now open Sunday through Tuesday from 5 p.m. to 10 p.m. and Wednesday through Saturday from 5 p.m. to 11 p.m. Look for a full review of the Improper Pig in the coming issues of Charlotte magazine.