Now Open: The Right Time for Rai Lay
South End gets a gem with sister restaurant to Deejai Thai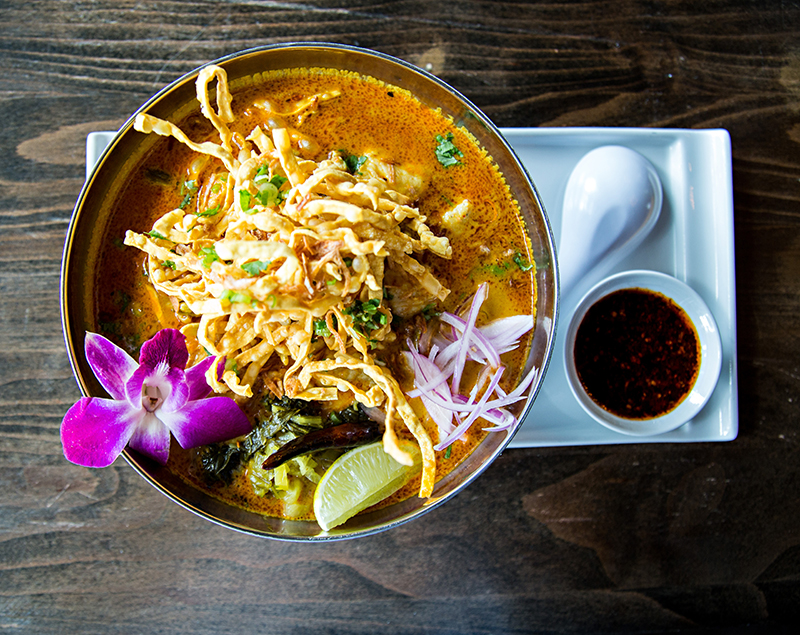 "WOULD IT BE POSSIBLE to get that without cilantro?" I embarrassedly, almost inaudibly, mumble to our server at Rai Lay Thai Cuisine on South Boulevard.
I hate requesting changes to dishes. Chefs don't put anything in a dish without reason, and who am I to think I can make it taste better by forgoing an ingredient? I know, though, that I don't enjoy dishes with cilantro—to my taste buds, it resembles soap. I've practiced eating the herb, hoping it's an acquired taste. It's not.
Howdy, our server, looks down at me.
"I hate it, too," she says, before heading off to put in our order, easing my guilt.
From the service to the interior to the menu, Rai Lay feels like a restaurant that belongs in a bigger city, where international cuisine can be served at the price of fancy restaurants and no one will scoff at the menu.
The interior is moody yet high-energy, with black ceilings, stone accents, and worn, dark wooden tables. Water is served in mason jar mugs, and chalk writing on a black wall with shelves holding the restaurant's wine options acts as a visual wine list. Black, starburst chandeliers fade into the ceiling, giving an appearance that the light bulbs extending from them are floating.
The restaurant is small, allowing the kitchen to make elegant tweaks to the Thai cuisine thrown together in takeout kitchens. Carrot shreds and flowers brighten the plates of the fresh sushi rolls. The chicken pad Thai ($12 lunch, $14 dinner) somehow tastes more elegant when served in a large, white bowl with a bright pink and white orchid on the side. The menu uses a five-star rating system to articulate how spicy dishes are (five is the hottest), making ordering easier for those unfamiliar with Thai cuisine.
Today, I order the kao soy, a sweeter curry noodle dish that wakes up your taste buds with a bit of spice every now and then.
We've already finished our standard, complementary appetizer of edamame when our server comes back. As she waits to pick up our dishes, she tells us, she noticed a chef, out of habit, throw cilantro onto my dish. She asked the chef to fix it. Our meal would be right out.
A few minutes later, there is my kao soy, steaming hot and beautifully presented on a tray with a red chili sauce for bumping up the heat and a spoon to ladle up the curry broth. I taste no hint of cilantro, have no sense that the noodles were washed with soap.
The kao soy is $14 for a lunch plate, $16 for dinner. This restaurant, sister to the beloved Deejai Thai on Providence Road, is not cheap international cuisine. It's a restaurant where you'll settle in, want to stay awhile, and enjoy a nice glass of wine with your meal.
It's a restaurant where a chef misreads the order note, and your server makes it right. And by the way, that didn't mean simply pulling the cilantro off the plate; the server asked for the whole dish to be remade. That's hospitality worth paying for.
Rai Lay Thai Cuisine
1520 South Blvd., Ste. 130
980-207-0991
Entrées: $10-$17
Kristen Wile is senior editor of this magazine. Reach her at kristen.wile@charlottemagazine.com or on Twitter: @kristenwile.
---
This article appears in the November 2016 issue of Charlotte Magazine
Did you like what you read here? Subscribe to Charlotte Magazine »
---