Nowhere Better Than This Place
Dominique and Andrew DeLaney's Huntersville home tells a story with every room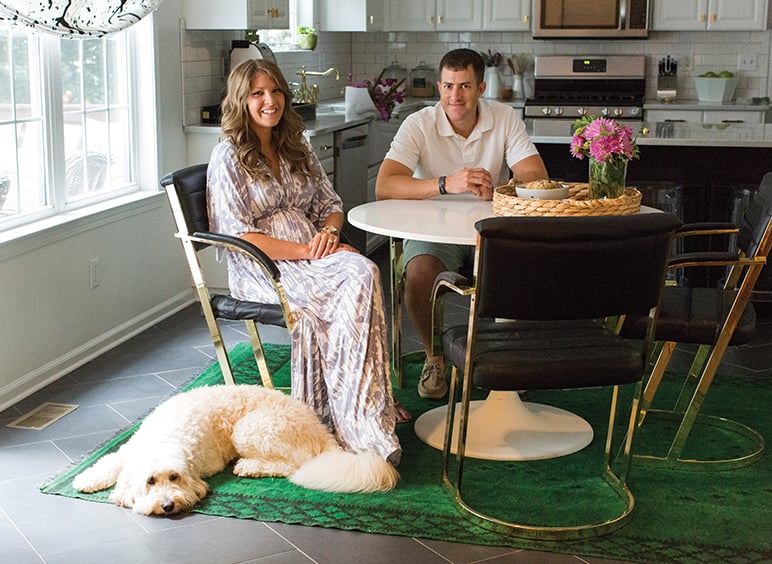 There was a lot not to like. The kitchen looked like a Griswold Christmas, with burgundy walls, green laminate countertops, and white vinyl flooring peppered with green diamonds. The wet bar featured more laminate countertops and a 1980s mirror that looked like it belonged on the Dynasty set. Then there were the hardwood floors—a dated blond oak.
Other potential homeowners, including one couple that looked at the house via HGTV's House Hunters, couldn't see past the kitchen, but Dominique and Andrew DeLaney could. "As soon as we walked into this house, it just had this warmth about it," recalls Dominique. "It felt like home."
Two years later, the two-story Huntersville house is the DeLaneys' home and a showplace of Dominique's creativity and vision.
The Milo Baughman chairs in the DeLaneys' family room are vintage.
Comfy, cozy career
Dominique and Andrew met as students at North Carolina State University, where Dominique studied biology. After graduation she worked as a medical assistant while applying to graduate school. "I kept not getting in, and then I was relieved I didn't get in," says Dominique, a Concord native. "Finally, I was like, this is a sign that this is not what I'm supposed to do."
What she enjoyed doing was interior design, so she started a blog, ComfyCozyCouture.com, while living in Gainesville, Florida. "I didn't really know anyone, so it was kind of my little thing to stay connected, and it's just grown since then," explains Dominique. "People have seen me decorate my house and do all of these do-it-yourself projects. I ended up loving it."
A magical mix
Dominique mixes high-end and affordable furnishings, and she likes for her interiors to have a collected, meaningful feel. For example, in her formal living room, two 50-by-40-inch framed photographs of a Florida swamp hang side by side. Dig a little deeper and you'll discover that they are photographs by Jeff Ripple, a landscape photographer based in Florida, her husband's native state. Andrew's mother works for the Samuel P. Harn Museum at the University of Florida and gave them to the couple.
Custom draperies in a Duralee fabric designed by Tilton Fenwick serve as the backdrop to a dark blue velvet sofa with a scalloped back that Dominique scored at Habitat ReStore. "It [the sofa] was $100. I had it reupholstered," she says. "People thought I was crazy. My husband was like, 'I can't believe you're making me pick this up. It's horrible.'" Now everyone, including the couple's Goldendoodle, Harper, loves it.
In the formal living room, Dominique hung a chandelier she found on Etsy, which she got for a steal because it's missing a few pieces. .
Another favorite piece is the vintage card catalog Dominique found at The Depot in Concord. Its distressed aqua patina works perfectly with the room's pale-blue walls. Friends constantly ask her where they can get a card catalog of their own, and she simply tells them they have to keep looking—everywhere. "There's not one place I go," she says. "You have to look all the time."
The dining room mixes white IKEA draperies with a farmhouse dining-room table and chairs from Restoration Hardware—an anniversary gift from Andrew. A photograph by Max Wanger of people frolicking in ocean waves perfectly blends with the White Mint walls (Sherwin Williams). A chandelier reminiscent of Scandinavian ship lights by Serena & Lily lends just enough light to the space. "I like that it's not super bright in here," says Dominique. "It makes it feel cozier for dinner."
Light isn't the only element that brings warmth to her home. It's the little touches that surprise along the way, illustrating the couple's interests and love of family. A small bowl of matches in the foyer pays homage to Andrew's late grandmother. "She had this huge collection of matches from all of these different places. The family was going to throw them out," recalls Dominique. "I was the only person that wanted them, so now we just have little containers of them all around the house."
In the family room, complete with cathedral ceilings and refinished hardwoods, Dominique has a small bowl of Instagram photos she printed out through Social Print Shop. "No one ever prints photos anymore," she says. Resting on a vintage coffee table from New York featuring white lacquered legs adorned with brass lion heads, the photos serve as a conversation piece. But what really gets guests talking are the two prints hanging above her charcoal velvet sofa from Lee Industries.
Captured in black frames, Dominique has two famous prints by Cuban-exile artist Félix González-Torres. One reads in a tiny black courier font, "Somewhere better than this place." The other reads, "Nowhere better than this place."
"I just think they're cool. They make you think," says Dominique. "They're simple and understated, but I love them."
A fresh start
The biggest renovation involved the kitchen. Dominique and Andrew ripped out the floor and had their cabinets painted in a high-gloss white, which exudes a lacquered look. Carrera marble replaced the green laminate countertops. Charcoal porcelain tile now serves as the floor, and the backsplash features white subway tile. Lucky for them, the appliances were upgraded to stainless after the home's turn on House Hunters.
Lucite ghost stools, pendant lights from Ballard, and a farm sink crowned with brass hardware complete the fresh overhaul. The space draws a touch of whimsy from the white and back draperies hand-painted by Hollie Cooper, an artist based in Canada.
"There is this fabric by Pierre Frey. It's insanely expensive," explains Dominique. "Hollie hand-painted these to look like that fabric."
The design highlights the base of the kitchen island, which is painted black, as well as the vintage brass cantilever chairs surrounding a white IKEA tulip table in the breakfast area. Dominique bought all four chairs at The Depot for $50.
"I walked in [The Depot], and they were right there in the front. I saw the price and asked if that was per chair, and they said it was for the set," remembers Dominique, still excited about the find. "I said, 'I need you to go ahead and tag those because I'm going to be taking those home with me.'
"That's the fun part of decorating: finding everything. I always tell people it's a work in progress," she says.
"It's a lot more fun when you can tell a story about everything. Then your house doesn't look like everyone else's."