O-Ku's Service, Details Reflect Lowcountry Roots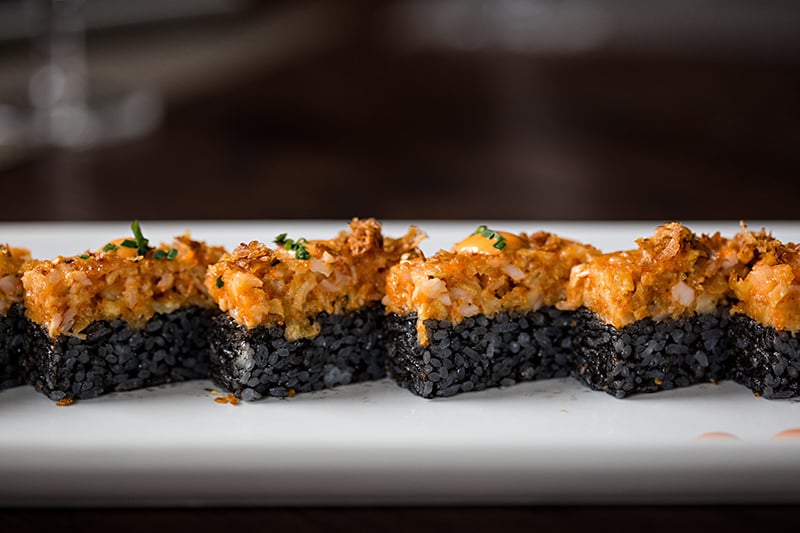 Top: Server Alex Johnson holds the Lobster Temaki, a cone of poached lobster with rice, asparagus, chives, cilantro aioli, and black volcanic salt.
Bottom: The white fish crudo is seasoned with lime zest, lemon juice, olive oil, microgreens, and pesto.
THERE'S A REASON Charlotte foodies ogle Charleston restaurants. They have something we don't. That's changing, sure, but it's been a slow process.
Charleston is the South's hospitality industry mecca. There's a higher standard there for service and décor, as well as for what's coming out of the kitchen. As we've seen more Charleston restaurants expand and open locations here, that balanced focus on food, ambiance, and service comes with them. We're starting to realize what great service looks like, and the difference it can make.
When you dine at O-Ku, a sushi spot from the Charleston-based Indigo Road restaurant group, it's apparent that this is a concept born in a place that does hospitality right. Whether you're on the phone hoping for a last-minute table (the restaurant books up quickly on weekends), or darting inside from the cold toward the hostess stand, you're greeted with kindness and professionalism.
The Atherton Mill space has an interior of calming, purple tones accented by dark, more moody wooden ceiling beams and tables. The industrial backdrop of the old mill is part of the setting; metal support beams in the middle of the dining room blend into the surroundings with the addition of metal tree branches.
Recently, I made the mistake of waiting until after lunch to make a reservation for two that evening. This was a Tuesday, and still the restaurant was booked. The sushi bar, the hostess suggested, is reserved for first-come, first-served seating. A friend and I thought we'd give it a shot.
At 5:30 p.m., seats were still available, but filled up not long after we sat down. We immediately ordered the white fish crudo ($12). The fish changes based on availability (a locally sourced tilefish this day), but the beautifully plated dish always gives a bright burst of citrus.
We ordered another personal favorite, the Black Magic pressed sushi ($21). The small rectangles of rice are coated in squid ink and topped with a lobster salad and crunchy fried scallions. The textures are layered, creating a complex bite, though the rectangles can be a bit difficult to grab for the chopstick novice. We picked a few more sushi rolls, then shouted over the glass divider to ask our sushi chef if he had a favorite roll.
"Definitely the spider roll," he shouted back.
The spider roll, $12.50, with softshell crab, avocado, cucumber, and eel sauce topped with dots of spicy mayo, became our favorite, too. It was sweet, sour, spicy, crunchy, creamy, and sat on a black plate for a sophisticated presentation. We sent our compliments across the counter, and the chef thanked us, then introduced himself and each of the other sushi chefs that night.
We left feeling full, but there was something else, another feeling that one usually gets from dinner at friend's home. Instead of enjoying a meal, we felt we'd experienced a gift from our hosts. It was the gift of unwavering hospitality, here in Charlotte.
Kristen Wile is senior editor of this magazine. Reach her at kristen.wile@charlottemagazine.com or on Twitter: @kristenwile.
---
O-KU
2000 South Blvd.
Ste. 510, in Atherton Mill
704-594-1922