Oakhurst Turns 100
The east Charlotte neighborhood has new homes, a new school, and a sense of history in its burgers with chili and slaw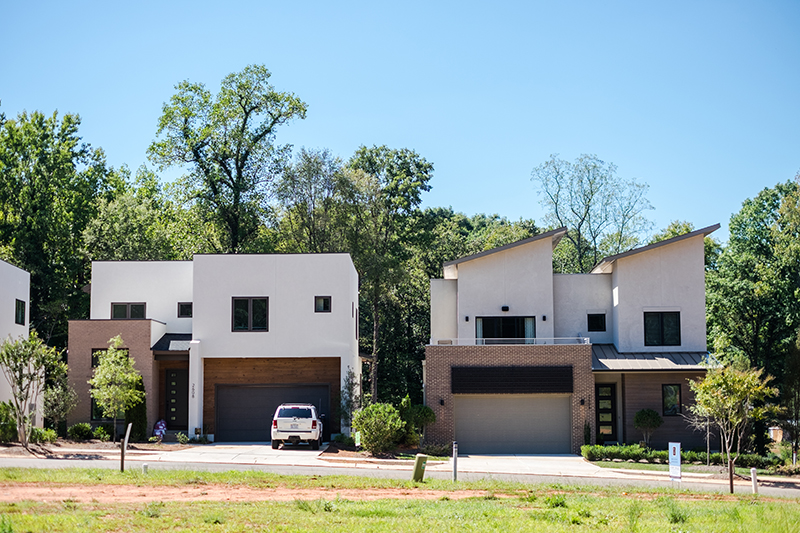 OAKHURST GRILL'S new sign tops a fading brick façade that's sandwiched between a computer repair shop and a store that sells organic frozen foods on Monroe road. A handwritten "specials" board hangs from the window inside. It's the kind of place where you can order a cooked vegetable plate or an old-fashioned burger with chili and slaw and spend less than eight bucks. Today's special, owner Angelo Polonyfis says, is baked chicken over rice, an Oakhurst favorite.
Polonyfis and his wife, Stephanie, have been running the small takeout restaurant since 1988. Longtime residents still refer to the grill by its original name, Mr. C's, named for George Couchell, founder of the local chain Showmars. Couchell owned the restaurant until 1973, when Angelo's father took over. At the time, one of the only other businesses on the block was Gus' Sir Beef, another home-cooked diner.
Today, Angelo and Stephanie live in Matthews, but the business owners both grew up in the Oakhurst area. This is where they met.
***
OAKHURST IS a quiet neighborhood, with its namesake oaks shading modest midcentury homes. Businesses reflect the area's diversity, from African hair-braiding shops to Morris Costumes, several day spas and salons, and an Indian-Nepali convenience store that stocks everything from hookah gear to food and booze.
For the most part, residents take pride in their property. At the corner of Chippendale Street and Mantle Court, tall tomato vines and bright-yellow flowers burst out of small plots in the Oakhurst Community Garden, located behind Oakhurst STEAM Academy. The school opened just this fall as a partial magnet school for science, technology, engineering, art, and math. Previously, the building housed Oakhurst Elementary, but that closed in 2011 due to budget cuts. "When they closed the school down, hardly any young people were moving in," says Gayle Hales, past president of the Oakhurst Community Neighborhood Association. "Hopefully, now that we have a partial STEAM academy, we'll get some more children back in the area."
Oakhurst first began growing after the Hudson Hosiery Company opened a mill on Monroe Road in the mid-1930s. a small mill village eventually developed, surrounded by fields and woodlands. Women who lived nearby could walk to work and earn $12 a week stitching together the delicate toe section of hosiery.
The mill was demolished in 2000, and today the lot is overgrown with grass and weeds, awaiting its transformation into a large, yet-to-be-named, mixed-use residential and retail center.
Hales has lived in the area for nearly 20 years. She was part of the group responsible for putting up the new historic markers that top Oakhurst street signs. Each green-and-white sign reads "Oakhurst 1915" and prominently displays the icon of an oak tree, which is fitting, because Oakhurst has one of the lushest tree canopies in Charlotte. The year on the signs, 1915, is a nod to the year county deeds indicate the oldest house in the neighborhood was built, Hales says. Or rather, it was the oldest house in the neighborhood. "It was a craftsman home over off Commonwealth, but it doesn't matter anymore because it was torn down for Moderna."
She's referring to the new high-end residential development just finishing its first phase of construction around the corner from Oakhurst Grill.
***
ON A CLEAR EVENING in late August, Polonyfis is anxious about an event the restaurant is catering. It's a neighborhood block party hosted by Moderna. "They asked for enough food for 100 people," he says. "I hope everything's going all right."
That's 100 people expected to preview the new 26-home community, where prices for roughly 2,500-square-foot homes are creeping toward half a million dollars. The homes look like something imported from Southern California or Spain—white, stucco-like exteriors with flat roofs and floating staircases. At the time of the event, nine homes had already been sold.
---
OAKHURST: FAST FACTS
Established in 1915
• Median Home Sales Price: $125,429
• School: Oakhurst STEAM Academy, a public, partial magnet K-8 school focused on science, technology, engineering, art, and math
• Location: East Charlotte between Wendover and Sharon Amity roads
---
This article appears in the November 2015 issue of Charlotte Magazine
Did you like what you read here? Subscribe to Charlotte Magazine »
---