On Flat Rock
From the Carl Sandburg house to Flat Rock Playhouse to the great food in the village, this tiny town packs a lot into a small space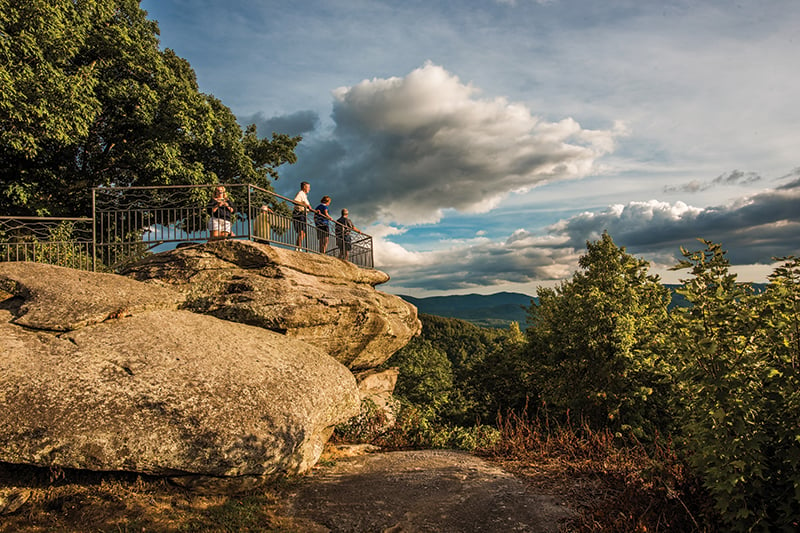 IN AN UPSTAIRS bedroom in one of the most famous houses in these hills, the great poet and writer tried to work at a desk by the window. But Carl Sandburg couldn't get anything done here. His wife didn't care for blinds and curtains because, as she put it, windows frame nature. Sandburg was a grinding worker who called television a "thief of time," but even his concentration was no match for the nature framed by this window: the Appalachian mountains, rolling one after the other, as far as he could see.
Of course Sandburg, who produced some of the landmark works of the 20th century, including a Pulitzer Prize-winning biography of Abraham Lincoln, found another room. He pounded out a third of his life's work in the 22 years he lived in this house called Connemara, now a museum and a National Historic Site.
You could call what Sandburg experienced in that upstairs room the spell of the mountains: If you look hard enough, you'll find something else, and if you look hard enough at that, you'll find another something else.
On some summer nights late in life, Sandburg walked down the hill from his home and sat by a campfire with the cast and crew from Flat Rock Playhouse. These two forces living across the street from each other—the great writer and the State Theatre of North Carolina—made tiny Flat Rock one of the centers of creativity in the South in the 1950s and 1960s.
Sandburg died in 1967, but the playhouse is as lively as ever. The 10-building campus buzzes with people from all over the country. In one building on a recent afternoon, apprentices sang "Jailhouse Rock" to prepare for their final exam. In another, sawdust hung in the air as set designers worked on the next production. In the main theater, the set for the night's show, Gypsy, sat ready on two sliding slip stages. A kitchen that appeared in just one scene was fully decorated, down to a flyswatter hanging from the sink. Backstage, coffeepots and candy dishes were everywhere, and a gray wig hung on a line to dry.
Built on the actual rock that gave the town its name, Flat Rock Playhouse has 11 productions on the schedule this year between its main stage and downtown stage. That's 11 casts, 11 sets of costumes, 11 set designs. For Gypsy alone, the crew created 180 full costumes, and like everything up here, you had to look closely to appreciate them all.
"Some pieces might've taken two days to build," says Paul Feraldi, the props master, "but the audience only sees it for five seconds."
---
IF YOU GO EAT
Hubba Hubba Smokehouse
Chickens roaming the parking lot greet you first. The smell of hickory wood hits you next. The wooden sign that says "Low and Slow" comes after that. Then a window slides open and a woman asks, "Can I help you, honey?" And if you're wise and hungry, the next thing you'll meet is a $16.95 half-rack ribs plate that comes with cornbread and your choice of two sides (go collards and deviled eggs). After that, good luck saying goodbye. 2724 Greenville Hwy., Flat Rock, 828-694-3551
Season's Restaurant
Last year, executive chef Michelle Bailey won Competition Dining's Fire on the Rock championship. Although she moved to a new job in Asheville this spring, acting executive chef Peter Fassbender and his team still make Season's the premier fine dining experience in Flat Rock. Have a meal, then go outside and smell the campfires. 86 Lily Pad Ln., Flat Rock, 828-696-9094
SHOP
The Wrinkled Egg
A dog bowl with a "Life is Good" label is full of water next to a rocking chair with a pacifier, remnants of the most recent people to sit here and watch the world go by on the front porch of The Wrinkled Egg. Inside, one side of the store has work from local artists, and the other side has gifts that range from Mad Libs to puzzles to toy trucks meant for care packages for young people at any of the nearby camps. You can see directions to those camps on the porch: There's Arrowhead, 6.5 miles to the south; Blue Star, 7.2 miles to the north; and there's Bonclarken and Falling Creek and Green Cove and Kanuga and so many places for care in a package to go. 2710 Greenville Hwy., Flat Rock, 828-696-3998
---
This article appears in the October 2015 issue of Charlotte Magazine
Did you like what you read here? Subscribe to Charlotte Magazine »
---