On The Line with Chef Andres Moncayo
Executive Chef at Dean & Deluca SouthPark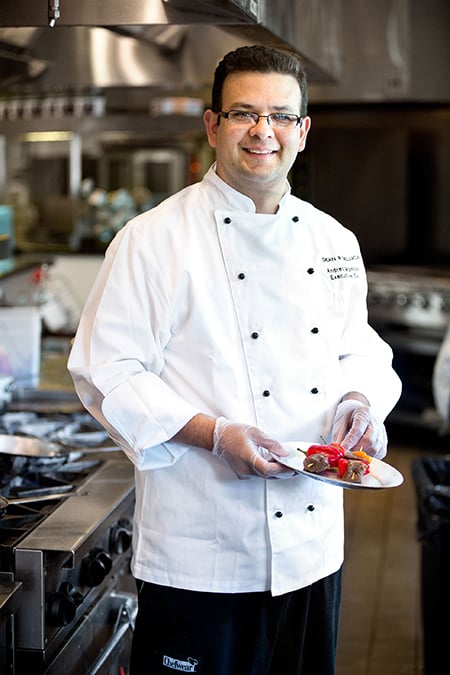 You may know him from: Dean & Deluca (15 years), Toscana, Luce
Hometown: Guayaquil, Ecuador
Charlottean since: 2000
Relationship Status: Married with children
Favorite sports teams: Panthers, Hornets
Favorite place to eat: Capital Grille—"their service is outstanding"
I understand that you worked your way up from being a dishwasher, and that you are self-taught. Is this true?
It is true. I came to Charlotte in 2000. When I applied for a job at Dean & Deluca, at the time they offered me the job of dishwasher. I was very proud and humble to take the job. I was new in the country and it was my first job in the United States. From there, I started working with different executive chefs, started learning the language, and started learning the lifestyle. After a couple (of) years, I left to open Luce. Then I went to Toscana, and came back to Dean & Deluca in 2005 as executive sous chef. In 2006, up to today, I've been the executive chef—and proud to say the longest chef at the company.
Has your career path shaped your leadership style?
When you start from the bottom, it becomes easier to understand employees' feelings and needs, and how the job has to be done. Because I've touched every recipe with my hands, down to every single herb, I know the recipes. I know every detail. So with my eyes, I can tell you when the recipe is done with respect and love. Nobody can take a shortcut.
Dean & Deluca expanded to include catering this spring. How do you think food influences the tone of an event?
Food is a part of your life; it's very emotional. And with this menu, we try to fit in every single special occasion: weddings, brunch, rehearsal dinners—any event. Everything starts with the presentation, the way the food looks. When you try the food, you can feel and you can taste all these celebrations.
What is a common misconception about catering and the type of food caterers offer?
People think of catering as a drop-off service. Dean & Deluca is way more involved. We focus on every single detail. It's about the food, it's about the flowers, it's about the music, it's about making sure we have the right wine to pair with the food, making sure we have the right cheese. So, it's all about matching food with everything else to provide an experience.
Sometimes the logistics of preparing food for large groups can stifle culinary creativity. How do you work through that challenge?
Each event, each customer is different. The menu does not have to be black and white. I can create my own menu and present it to the customers and they love it. And that's the beauty of the store, and that's why I'm proud and love coming to Dean & Deluca every single day.
How do recipes come to you?
Different ways. Sometimes I go to my cooler (at Dean & Deluca) and I see baby zucchinis, I see baby carrots, I see radicchios, and I see different beautiful produce. Then I start creating a new recipe. And sometimes it becomes a great recipe and I have to write it down, because it becomes popular in the prepared foods case. Sometimes, when I'm at home drinking a glass of wine, spending time with my kids, I start thinking about food. I start with the artichokes, and then I start writing a few more ingredients down, and it becomes a beautiful recipe. I remember seven or eight years ago, someone said you have to make a sun-dried tomato dip, and I developed the recipe. It became really popular and we have it almost every day now in the store.
It sounds like you think of food all the time.
Food is in my blood; it's in my heart, so it's very easy to enjoy my job every day.
What is one of your favorite things to make?
Dinner to feed my kids every night. I make sliders, spaghetti, carbonara, filet mignon, and mashed potatoes.
What's one food that continually challenges you? Are there any foods you have a love/hate relationship with?
I just try to do my best and give the best love. To me, finding the right ingredient of the best quality makes everything easier and taste better. You don't have to do much when you take great beef, great pork, or a great chicken. Sometimes, all you need is just salt and pepper. Keep it simple, find the best ingredients, and don't overcook it.