On the Line with Chef Andrew Dodd of Stagioni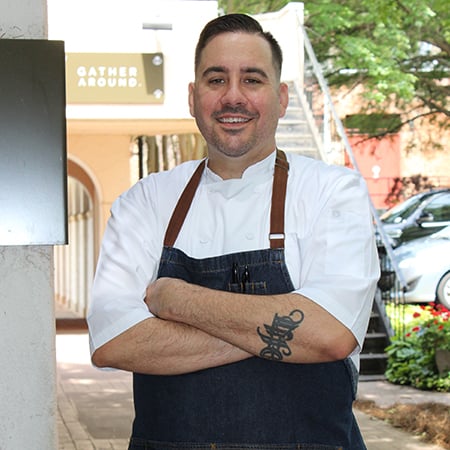 Executive chef since: 2009
Age: 36
Previous restaurants: Georges Brasserie, Ratcliffe on the Green, Lava Bistro
Favorite sports team: Tennessee Titans
Relationship status: Married to Wynn Dodd
Pets: Roxy (bulldog) and Brutus (miniature dachshund)
Neighborhood: Myers Park (three blocks from Stagioni)
What national chef do you admire?
Massimo Bottura
​If there's something you could mandate people try at your restaurant, what would it be?
Octopus
What food or dish are you craving right now?
Just raw tomatoes—anything that has raw tomatoes. We do a really simple panzanella salad with burrata and peaches and it just hits the spot every time. It's one of those dishes that I can't walk by without tasting.
What's your favorite food city?
It has to be Nashville. There's a lot of stuff there that's new and cool because I haven't lived there in so long, but there's also those flavors I grew up on, those restaurants I grew up on, the places that, you know, as soon as I get to town I have to go to. … It's pretty wild to see Nashville develop. I left Nashville because I felt like it wasn't really a food town and now it's awesome, and tons of chefs are moving there.
It's Saturday night. The kitchen's shut down. What's your spot for a late-night beer and bite?
We go to Moosehead. It's kind of the meet-up place for the Moffett group (Stagioni, Barrington's, and Good Food on Montford), if you will. So I'll go meet chef Larry (Schreiber, executive chef of Good Food) and a lot of his line cooks. I don't necessarily eat there but we definitely end up there. You know, I haven't ever worked in such a closeknit restaurant group so to be able to have relationships with Larry and his sous chef and to be able to have someone to bounce ideas off of, it's a really, really cool thing to have.
Charlotte has seen significant growth in the last few years. How do you feel about the changing landscape of the local restaurant scene?
I'm enjoying it. I think that there's a lot of really cool chefs here now and a really good network of chefs. And there's also a really cool network of farmers. I feel like it's a lot easier to get access to other ideas. That whole 'collective mind' thing is cool to watch happen. I feel like it's not going to be one chef that brings up Charlotte. It's going to be a bunch of chefs. Each person kind of taking it up a notch. And then the next person coming along and going a notch above them.
If you were visiting Charlotte and had a 24-hour layover, where would you eat?
I'd probably do breakfast at Sunflour bakery—get the pop tart. Lunch would definitely be Le's Sandwich Shop. For a first timer, I'd recommend the grilled pork bánh mi; I think it's the number 6. And dinner, that's a hard one. I'd have to say Stagioni or Barrington's. It would have to be one of those two, one of the mainstays [laughs]. Maybe Soul for drinks. I love the energy of that place. You can't walk in there and not feel like you're at a party.
What's one piece of knowledge you'd pass along to a newly enrolled culinary student?
I think to focus on the basics. A lot of people get ahead of themselves and culinary school is a hard one because you are paying so much money, you want to walk out and be able to pay back these loans and make that investment make sense. But it's one of those things where you really just need to go in and start from the bottom. And I would say one of the most important things you can do is probably an internship.