On the Menu: Food News (February 2017)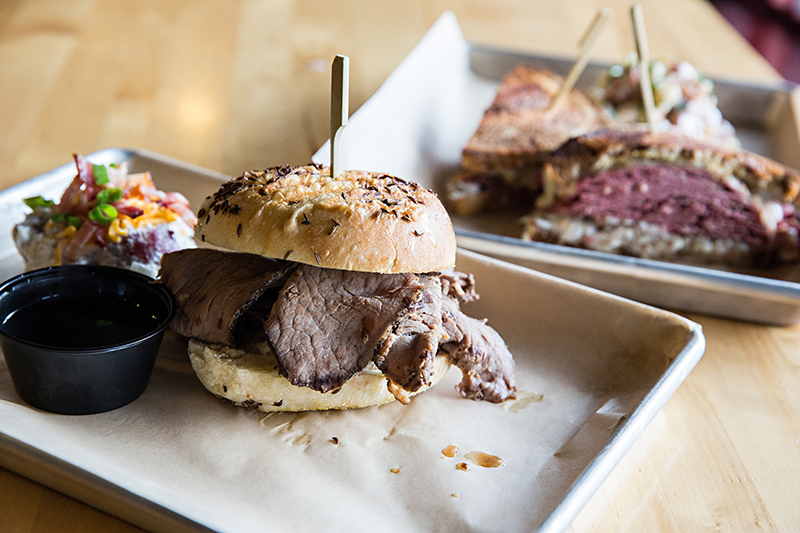 Loft & Cellar is Coming Soon
Chef Nicolas Daniels' first restaurant has been under construction for nearly a year and is scheduled to open this month. The three-story space near Romare Bearden Park will be divided into three experiences: The ground level, called The Cellar, will hold the kitchen and a private dining room, separated from the kitchen with walls of wine. Guest will enter directly into the main dining room through the Poplar Street-level entrance, and the top floor will be a Prohibition era-style bar with cocktails and live music. The menu is playful and innovative, bringing together international flavors—many from Daniels' native Chile and his extensive travels—in creative small plates, as well as large meat portions.
305 W. 4th St.
La Madeleine Franchise Expands to Charlotte
This French-inspired café chain opened its first location in Charlotte in December near Northlake Mall. Franchisee Kyle Hakim says guests at existing locations across the country—many in Texas and the D.C. area—were polled to see where the next store should open. The number one answer? Charlotte.
10224 Perimeter Pkwy.
Flipside Group Grows
Jon and Amy Fortes, owners of Flipside Café in Fort Mill and Flipside Restaurant in Rock Hill, weren't planning to open a sandwich shop just yet, but when the corner restaurant on Main Street in Pineville became available, they moved up their plans and opened Flipside's Corner Grind. Native Northerners, the Forteses wanted to bring the sandwiches they grew up with—grinders, as they're called up there—to their Southern home. The menu has a beef on weck, inspired by Amy's hometown of Buffalo, New York, and a lobster roll with Jon's New England influence. There's also a small market area for local goods in the front of the store, and the lunchtime crowd often includes members of the Pineville
Fire Department.
333 Main St., Pineville
OTHER NOTES:
The owners of Yama Izakaya and Yama Asian Fusion purchased BAKU restaurant in SouthPark in December. Husband-and-wife team Birdie Yang and Janine Lu updated the interior and menu, but the name and style of the restaurant will remain mostly unchanged for now.
Say goodbye to the 12-course tasting menu at Heirloom Restaurant. Chef and owner Clark Barlowe has a new business parter: Frank Scibelli. Read more on page 68.
Chef Cody Suddreth has moved from The King's Kitchen to become executive chef at another Jim Noble concept, Rooster's, in uptown.
The Porter's House, an addition to the Rare Roots Hospitality roster that includes Dressler's Restaurants and Dogwood Southern Table + Bar, will open this month in the Waverly development off Providence Road in south Charlotte. Expect a modernized steak house with small plates and local sourcing, stellar service, and an impressive cocktail and whiskey program complete with a tasting room.