One Charlotte Woman's Struggle With the 'Getting Ahead' Myth
For generations, economists, pundits, and holders of public office have told the poor that pulling themselves out of poverty was just a matter of acquiring the right skills, making the right choices, and having the right attitude. In a city where getting ahead is practically a religion, Cheryl Potts has done a lot right—and she hasn't gotten far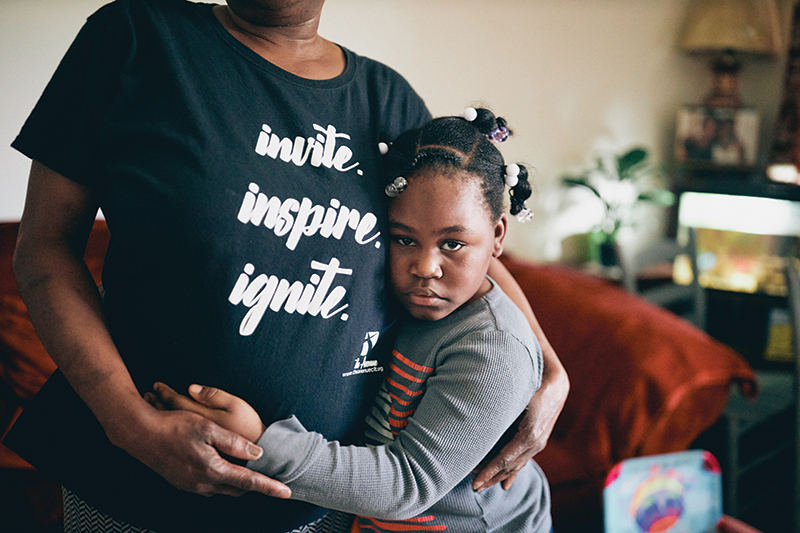 ON A WEDNESDAY MORNING in 2016, in the "Getting Ahead in a Just-Gettin'-By World" class at Southside Homes, a dozen women made a list of daily challenges. As they chimed in about job stress and transportation difficulties, child-care costs and crime, Wanda Anderson, their facilitator, scribbled responses onto a poster labeled, "What's It Like Now."
The list grew bleaker with every term Wanda added—grief, loss, domestic violence, health issues, depression. One woman was in recovery for addiction. One had lost a lung but couldn't quit smoking. Another, Cheryl Potts, described how she hid bouts of sadness from the three-year-old niece she was raising: "I go into the house and take a shower so the little one won't hear me crying."
Southside Homes was the oldest public housing left in Charlotte, with nearly 400 red brick apartments on 41 acres. It opened in 1952, when segregation was Charlotte's official policy. A Charlotte Observer story from the time described the new South Tryon Street development, two miles southwest of downtown, as a "low-rent housing project for Negroes."
More than 60 years later, its surroundings had changed. Luxury apartments stood in nearby South End. The Harris Teeter on South Boulevard offered a wine bar. Lenny Boy Brewing, with craft beer and organic kombucha, operated next door. But Southside Homes was much the same. Nearly all of its residents were black. Of those able to work, only 23 percent had jobs. Many came from families who'd lived in the city's poor, black neighborhoods for generations.
The "Getting Ahead" class was part of Jobs Plus, a federally funded program run by the Charlotte Housing Authority, now named Inlivian. It aimed to move residents into jobs and out of public housing. As a journalist focused on the challenges that face poor people, I'd received permission to observe some of the class to try to understand generational poverty and why it's so hard to escape. That question has shadowed Charlotte since Harvard economist Raj Chetty's 2014 study ranked the city's level of economic mobility last out of 50 large U.S. cities. A child born poor here was likely to stay poor, the study found. But why?
Some blame the poor themselves, for bad decisions or moral failings. But poverty researchers point to social structures: low wages, high rents, inadequate public transportation and, in black communities like Southside, systemic racism, beginning with slavery and continuing through centuries of government policies that thwarted the ability of black families to accumulate wealth.
Southside's program took a middle road. It acknowledged structural inequality but focused its efforts on habits that individuals can change. The premise of the "Getting Ahead" class was that people who lack adequate resources—not just money but assets like good health and emotional strength—live in survival mode, "the tyranny of the moment," as Wanda described it. They often act on immediate needs and feelings instead of planning for long-term goals. In survival mode, a supervisor's criticism is countered with an angry outburst. An income tax refund gets spent, not saved. These kinds of behaviors make escaping poverty even harder. The goal of the class was to help participants understand and follow achievement-focused middle-class habits, what the "Getting Ahead" curriculum called "the hidden rules of economic class."
Cheryl Potts had signed up, figuring she had nothing to lose. She was making $8.50 an hour as a home health aide, working too few hours and struggling to support herself and her niece Jameelah. Though she'd worked most of her life, something always set her back—an illness that kept her out of work, an unexpected car repair, a medical bill. Perhaps the biggest obstacle was her paycheck. Even when she had full-time work, her jobs seldom paid enough to live on. The Jobs Plus program would pay $20 for each class she attended and freeze her monthly rent at $75 through 2019. It also offered a range of services, like job fairs, GED classes, child-care subsidies, and transportation assistance, to help residents find and keep jobs.
The program took aim at appropriate behavior, too. One day, students discussed proper responses when someone made them angry. Robin Anthony described a recent experience in a department store. This was just a day after the violent protests that followed the fatal police shooting of Keith Lamont Scott in September 2016. The white store clerk had ignored her, she told the class, while she urged a white customer to stay safe.
"She kept going on, 'Now you be careful!'" Robin recalled. She felt hurt that the clerk was unconcerned about her safety, she said, but refrained from cursing the clerk out.
"You handled it really appropriately," Wanda told her. "You could have started an argument. You were using the middle-class hidden rule—the future is most important."
Such restraint was especially important at work, Wanda said. If you've got a beef with your boss, take it up the chain. And if you can't resolve it, look for a new job.
"If I get it," Wanda asked, "do I slap her then?"
Women replied in unison: "No."
The class ended in December 2016 with a fried chicken lunch. Wanda snapped group photos. Had there been awards, Cheryl might have won Most Likely to Succeed. She'd landed a full-time, $10.85-an-hour food service job at the airport. She'd already made Employee of the Month. I could have written about Cheryl then. Readers like happy endings.
One of America's enduring national myths holds that anyone can succeed if they play by the rules, make good choices, and work hard enough. In fact, research shows that you've got a better chance of escaping poverty if you live in Canada or Australia or most other developed countries, where citizens benefit from universal health care and more robust social safety nets. But this myth was Cheryl's operating premise. When the class ended, she committed to working and saving in an effort to better herself.
Over the next three years, I followed her progress. As we both would learn, when you live in survival mode, a single mistake or plain bad luck can derail even the most dogged attempt to get out of poverty.
***
CHERYL WAS 49 when we met. She wore her hair short and tidy. A gold decorative crown framed her right front tooth, and it gave her smile a sparkle.
She'd arrived in Southside in 2007 with her daughter, Shcrissony; a television; and little else. She'd been living with relatives, so having her own two-bedroom apartment was a step up, even though it was nearly empty. Members of her church donated a mattress and box spring, which she and Shcrissony shared until she could get a second set.
Now it was 2017, and her once-empty living room was full. An aquarium with goldfish bubbled in a corner. Her niece Jameelah's pink training-wheel bike sat beside the red sofa. A table displayed a smiling photo of Shcrissony wearing a church-league basketball uniform, a ball at her hip.
Cheryl's daughter had been gone for nine years. Crit, as Cheryl called her, was 13 on May 23, 2008, when she went out on her bike to buy candy. Crossing South Tryon Street, she rode into the side of a school bus. One minute, Cheryl was watching television. The next, a neighbor was banging at the door, yelling about someone getting hit. A police officer drove Cheryl to the hospital. There, a paramedic assured her that her child hadn't suffered.
Ever since, Cheryl had struggled through what she calls "times when the devil takes over." Bouts of depression left her wondering if she should even be alive. She credited prayer with helping her push on and her niece Jameelah for giving her new purpose. When her late brother's daughter needed a caregiver, Cheryl had taken her in. Before long, the toddler was calling Cheryl her mama.
Jameelah cuddled Cheryl as we talked. Seven months had passed since the "Getting Ahead" class. Her job was going well. She worked a 1-to-10 p.m. shift at a pizza restaurant on Concourse E, picking up overtime when she could. She'd bought a car, trading in her 29-year-old Toyota Corolla for a new model. The purchase came with an 18-percent-interest loan, a $419 monthly payment. With her frozen rent and better-paying job, Cheryl reasoned she could afford it.
Also, she had her first 401K. Every two weeks, she added $50, which her employer matched. Her goal, she said, was to leave public housing and find a house with a backyard in a safe neighborhood. She was focusing on the future, just as she'd learned in class. Cheryl smiled, bouncing gently on the sofa as she described this new nest egg. "Last time I seen my check stub, I think it was about maybe $2,000," she said. "And I was like, Wow. It's growing. It's growing."
***
THE GULF THAT DIVIDES this nation's poor from its affluent is so vast these days, programs exist to teach people with money what it's like to live in poverty. Charlotte's Crisis Assistance Ministry offers one regularly, a simulation in which participants try to survive on poverty-level incomes in the imaginary town of Realville.
Last year, I watched a UNC Charlotte MBA class take part in the exercise. Some students played family members who lived in poverty; others served as community members—banker, payday lender, pawnbroker, landlord. During a single intense hour, families scrambled to go to work, buy groceries, and fend off bill collectors.
Afterward, they discussed how costly and time-consuming it was to be poor. When you can't pay cash, high interest rates soak you. If you need help from charitable agencies, you may be forced to miss work to visit during operating hours. Students who'd played family members also described how stressed they'd felt. Crisis Assistance's Bonnie Tiernan, who leads these simulations, hears that a lot. If you're stressed during an exercise, she told the class, imagine how you'd feel when the scarcity never ends.
Some manage to get out. Wanda Anderson, who'd taught the 12-week "Getting Ahead" program at Southside for years, had seen it work. During class, she often offered examples from her own life, growing up black and in generational poverty in Alabama. By age 12, she was helping out her single mom by earning money cleaning houses. By age 15, she was fending off bill collectors. At 18, she joined the Army. That was her ticket out.
As a teacher, Wanda had a go-with-the-flow style, remaining unruffled when someone interrupted or five people talked at once. Sometimes, the class simmered with the intensity of group therapy, as women shared frustrations and sorrows. At other times, the mood was lighter. One day in Cheryl's class, the room erupted in laughter when a young woman, responding to Wanda's directive to make goals to escape poverty, announced her plan: "I'm getting a rich white man."
Often, discussions centered on the differences between middle-class and poverty culture. Middle-class people were taught to prioritize achievement, Wanda explained, while people in poverty focused more on relationships. When you lack money or property, she said, people become your most precious assets. "When you get a windfall, you know it's not enough anyway, and so you'll go and buy the kids things."
"That's me," said a woman who worked at Dollar Tree. "I do that all the time."
I found such poverty hard to imagine. I'd grown up in a middle-class family in Ohio, with parents whose jobs paid enough to cover the bills. In 1958, they bought our 1,400-square-foot house with a federally guaranteed loan that they paid off early. When I went to college, family savings covered most expenses.
Of course, my family had the advantage of being white. Had we been black, my parents probably wouldn't have gotten that loan. Until 1968, the Federal Housing Administration regularly refused to back loans to black people. Also, had my high school-educated parents been black, I suspect they wouldn't have been hired for their jobs.
The results of race discrimination endure. In 2016, the average American white family had 10 times the median wealth of the average black family. In Charlotte, roughly three times as many African Americans and Hispanics live in poverty as whites.
Advantages beget more advantages. My husband and I have inherited money. My children will likely inherit money.
Cheryl's mom, Mildred Potts, born in South Carolina in 1932, attended school for just a few years before she quit to work in watermelon and cotton fields. In Charlotte, Mildred raised nine children on her own; she and Cheryl's father never married. She worked for decades at The Drum, once a popular diner on East Boulevard, where she was known for her scratch-made pies. "She was one of the best cooks I ever had," Drum owner Larry Smith told me.
When Mildred Potts died in 2015, there was little for Cheryl to inherit.
***
CHERYL AND I usually talked over lunch, sometimes at the Steak 'n Hoagie near her apartment. She'd bring Jameelah, and the three of us ordered at the counter, pondering Greek salad or cheese steak or chicken with two side items. Jameelah liked vegetables and knew not to ask for soda. Cheryl didn't believe in soda. "You got to think about your kid's teeth," she told me.
She is a Charlotte native, an East Mecklenburg High graduate. She grew up in Earle Village, a public housing development demolished in the 1990s, and worked more than a dozen jobs over the years: frying KFC chicken, changing diapers as both a day-care worker and home-health aide, selling giant chocolate-chip cookies at the mall, and tagging inventory in a warehouse. The most she'd ever made was $13.50 an hour, working with mentally challenged children. "I think I had to quit," she said, "because I didn't have a car."
While Cheryl and I talked, Jameelah occupied herself with Cheryl's phone or listened to our conversation, resting her head with braided hair in her arms on the table. Her father, James Potts, had died of a heart attack at 47, before she was born. Her mother had struggled to care for her. She was two in 2015, when Cheryl took her in.
Poverty wasn't Cheryl's only burden. She took prescription medicine to control sarcoidosis, an inflammatory disease. The ligaments in her right knee were damaged, and her right ankle, broken several years before, was held together with a plate and screws. Both swelled when she stood for too long.
She also fought depression. During one rough patch in 2017, she'd been talking to a friend on the phone and questioned whether she'd be better off dead. The friend, fearing Cheryl was suicidal, called 911. After a hospital evaluation, she went home, still depressed and with a $473 ambulance bill she couldn't pay.
In spite of everything, Cheryl often expressed gratitude—for Jobs Plus, which had helped her find the airport job, and for her church, Seigle Avenue Presbyterian. She loved her siblings, her nieces and nephews. She appreciated Johnny Hall, Crit's father. They had never married, but they remained close friends, calling to check on each other most days.
"Before I go to bed, I get on my knees in my bedroom and pray," she told me. "I pray throughout the day. I thank God so much. I been through a lot. For him bringing me this far."
***
FOR MOST OF 2017, Cheryl's financial fortunes seemed to improve. But in September, she abruptly quit her job. She was fed up with several young supervisors she believed played favorites and addressed her disrespectfully. She had taken her grievances to a higher-up, she told me, as Wanda had suggested in the "Getting Ahead" class. But nothing changed. "It just wasn't fair," she said. "I hated to give up like that, but I was hating to go to work."
In the unemployed weeks that followed, family and friends helped with bills. She liquidated her 401K. She netted less than a thousand dollars, not as much as she'd expected, but enough for two car payments. "I didn't have no other choice," she said. "I just didn't want to see my car go back." At Southside, a Jobs Plus caseworker helped her line up interviews and sent her to Dress for Success, a nonprofit that supplies professional clothing to women. During interviews, employers commented on how nice she looked. "I said, 'Thank you, Jesus, for Dress for Success,'" she told me.
By Thanksgiving, Cheryl had a 30-hour-a-week cashier job at the Morrocroft Village Harris Teeter. Starting pay was just $9 an hour, but it was income. She'd worked in the store's deli before, and she tried to look on the bright side. "Once you become part of the team," she said, "they're like family." Soon, she'd won the store's award for excellent customer service. Her photo joined those of other monthly winners near the entrance.
"I try to be nice to everybody," she said. She had special affection for several co-workers with mental disabilities who'd jockey for the chance to bag groceries at her register. "Oh, my God, I just love them to death," she said. "It be a lot of happy and joyful."
***
AS MONTHS PASSED, she remained at Harris Teeter and at Southside. In 2018, when Jameelah started kindergarten, Cheryl changed her hours so she could drop the child at school before work. On nights when sounds of gunfire sent Jameelah into bed with Cheryl, they'd pull up the covers and watch television, waiting for the shooting to stop.
In January 2019, after she'd again fallen behind on car payments, a repo man drove away with Cheryl's Toyota. She'd been so consumed with worry about the debt, she said, that the repossession was almost a relief. She began borrowing Johnny's car for work. The logistics were complicated, but she managed. Briefly, she considered training to be a customer service representative at the grocery store. It would be a step up, with higher pay. But she decided against it, convinced the job was too stressful. "It was just too much," she said.
Before Thanksgiving, she telephoned with news. After months on a waiting list, she'd received a Housing Choice voucher, a federal subsidy designed to cover 70 percent of her rent. She hoped it would be her ticket out of Southside Homes and into a house—nothing fancy, but something with a backyard in a safe neighborhood.
Her monthly share of the rent was likely to be at least $250, which she believed she could handle. But there were other difficulties. She still didn't have a car. She'd need to pay a security deposit, which the voucher didn't cover. And she needed a landlord who accepted vouchers.
***
SOUTHSIDE HOMES has changed since Cheryl's "Getting Ahead" class in 2016. That year, it became the city's last public housing property to enact a work requirement. Employable residents were now expected to spend at least 20 hours a week working, taking classes, or caring for a child under a year old. Those who didn't meet the requirement would eventually see their rents rise to market rate. As of January 2020, 77 percent had jobs, up from 23 percent in 2016.
Work can provide benefits beyond income: skills, friends, dignity. But it wasn't providing Southside residents enough income to cover market-rate rent. Pay for residents with part-time jobs averaged $8.54 an hour, according to Inlivian. Full-time workers averaged $9.71. In Mecklenburg County, a living wage, the minimum hourly pay required to cover necessities, is $12.58 for a single adult and $24.69 for an adult with one child, according to the MIT Living Wage Calculator.
The stock market is high. Unemployment has dipped to record lows. Yet 44 percent of all U.S. workers aged 18 to 64 qualify as low-wage, with median pay of $10.22 an hour, according to a Brookings Institution analysis. Forty percent of Americans say they'd struggle to cover an unexpected $400 expense, a 2018 Federal Reserve survey found.
Wanda Anderson, the teacher who led Cheryl's class, still believes in the "Getting Ahead" curriculum, but she says low-wage jobs make it nearly impossible to escape poverty. The women she teaches are "pushed into low-income jobs, and so they go to work," she said. "But they're not going to benefit from the money, because their benefits will be cut and rent will be raised based on their income increase."
They aren't getting ahead.
I recalled Cheryl's classmate, the one who'd joked that her poverty-escape plan was to find herself a rich white man. It was sounding like a better idea all the time.
***
CHERYL'S HOUSING VOUCHER, which she received in November, would expire in six months. So on a Saturday in January 2020, we met at her apartment to scout possible rentals. We began by perusing a website Inlivian had recommended—gosection8.com. It had fewer than 50 Charlotte listings, most in low-income neighborhoods with low-rated schools.
It was hard to know where to start. Cheryl had resolved to find work that paid more than the $9.60 an hour she now made at Harris Teeter. She had a line on a day-care job. We agreed it seemed unwise to choose a rental until she knew where she'd be working. So we dropped our plan. Instead, we had lunch and talked. I asked Cheryl about getting ahead—what did that mean to her?
"Getting ahead, for me," she said, "is owning my own home. My own car." If she were getting ahead, she said, she'd never put off paying a bill. She had come to regret leaving her airport job. "That's my fault, because I do believe I'd still have my car if I was still there," she said. "But today is a new day, and I'm just looking forward to continuing to move forward."
After lunch, we drove to pick up Jameelah, who'd spent the night with an aunt. The rainy morning had turned sunny. Now, as the three of us headed back to Southside on Interstate 77, storm clouds rolled in from the west, menacing the blue sky.
In the back seat, Jameelah announced that she'd spotted a rainbow.
"It's following us!" she said.
"We need to find the end of it," Cheryl told her niece, "get us that pot of gold."
As she pulled out her phone to snap a photo, we hit a stretch of highway flanked by noise walls. The rainbow disappeared behind one, gone before Cheryl could take a single shot.
Pam Kelley, a Charlotte journalist, is the author of Money Rock: A Family's Story of Cocaine, Race, and Ambition in the New South.
---
UPDATE: This story was written before the effects of COVID-19 were felt in Charlotte. The author reached out to Cheryl Potts in late March.
I catch up with Cheryl Potts on March 24, the day Mecklenburg County issues its stay-at-home order to curb the spread of COVID-19. She's just finished her shift at the Morrocroft Harris Teeter, where she spent part of her day wiping down shopping carts with sanitizer.
Before the pandemic, she decided to train as a Harris Teeter home shopper, gathering groceries for online orders. The work would pay more than her current $9.60-an-hour cashier job. But the outbreak put her training, and her search for a new home, on hold. She tells me she hopes she'll get an extension on her Housing Choice voucher, which expires in May.
Because she has sarcoidosis, an inflammatory disease that can damage the lungs, Cheryl is at increased risk if she contracts coronavirus. Just before the virus hit Charlotte, she spent three nights in the hospital with pneumonia. She doesn't have paid sick leave. The illness cost her more than a week's pay.
She worries about getting the virus. "I wear gloves, keep them on every day. I try to keep my distance from people," she tells me. But as long as she's well, she'll keep working. She can't afford to stop.