Opinion: Scenes From a 'Day Without Immigrants'
Embrace patriotism and realize there's not much the city can do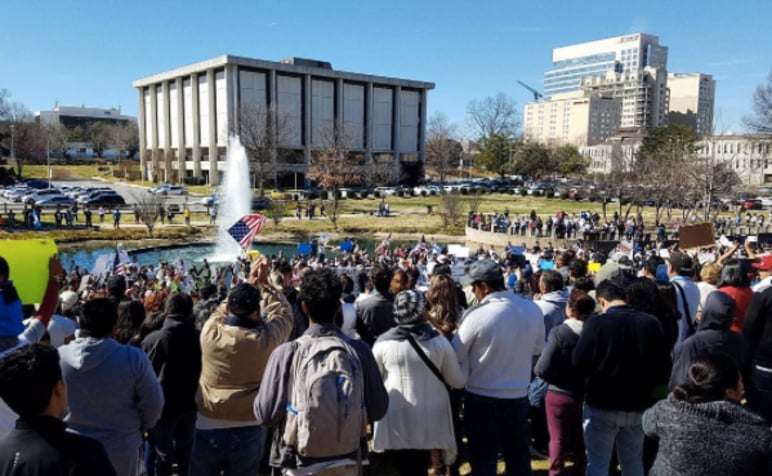 A few observations from the "Day Without Immigrants" rally and march Thursday afternoon in Charlotte:
It was heartening to see so many people carrying American flags and, toward the end of the march, chant, "U.S.A.! U.S.A.!" That's the whole point, isn't it? These are people who chose to come to the United States, taking more steps to become American than anyone born here. That ought to be recognized, and demonstrators on the political left might want to take that lesson to heart: Make your case not just as angry protesters but as patriots who won't sit quietly as something essentially American is under attack.
Unlike the post-Keith Scott protests, this one actually was peaceful, even joyful. The chants of "¡El Pueblo Unido, jamás será vencido!" ("The people united will never be defeated!") and "Sí, se puede" sounded more spirited than threatening. The Square at Trade and Tryon was shut down briefly, but that was more a byproduct of sheer numbers than any attempt to disrupt. Of course, if ICE arrests continue, we'll see how placid things remain.
The rally and march coincided with President Trump's farcical, absurdist news conference. If American public life at the moment were set to music, it'd sound like cacophony, the pre-concert jumble from an orchestra before the conductor walks onstage—but played at top volume. It's gone mad.
Charlotte's city government is in a horrible position—powerless to prevent any action by the state or federal governments and the direct target of community activists who think Mayor Jennifer Roberts in particular isn't doing enough to stop the recent Immigration and Customs Enforcement arrests. ("ICE OUT OF CHARLOTTE MAYOR ROBERTS STEP UP," read one sign, as if Roberts, who has minimal control over the City Council, could magically eject a federal law enforcement agency from the city.) And this city statement released Thursday afternoon, basically telling everyone to just calm down, isn't going to help.
Nonetheless, there's some misunderstanding in the community about just what the city can and can't do. The formal organizer of the rally Thursday was a Latino community organization in Charlotte called Comunidad Colectiva. The group's spokesperson, Stefania Arteaga, passed out a release that outlined a list of demands, all aimed at a city government that can't prevent ICE from arresting people anywhere or the state from defining Charlotte as a "Sanctuary City" and using that as license to withhold millions in tax revenue.
I was discussing this with Arteaga in Marshall Park when the rally began. She insisted that the City Council could do more. At that moment, up walked City Councilwoman LaWana Mayfield, on her way to join the march. She'd heard what Arteaga said. "Now," Mayfield asked her, "What does that look like to you?"
Arteaga responded: Terminating the 287(g) program, a longstanding Mecklenburg County Sheriff's Department initiative that allows deputies to serve as de facto immigration officers.
That's the Sheriff's Department, Mayfield said. That's not city. "Trust me," she said, "I asked the same question."
The City Council could pass a resolution of support for Charlotte's immigrants, Arteaga said.
Resolutions have no power, Mayfield replied.
"What about an ordinance?"
"You remember what happened last time we passed an ordinance?"
The conversation ended without resolution, and the march was starting anyway. Mayfield passed her business card to Arteaga and told her to get in touch. But before she did, Mayfield gave the younger woman something else to think about. "I represent District 3, which has about 3,000 registered Latino voters," she said. "In the last off-year election in 2013, one of them came out to vote. One.
"So it's great to have your voice heard like this," Mayfield said, sweeping an arm toward the marching crowd, "but you have to back that up with your votes."