Our Love-Hate Light Rail Debate
Ten years ago, we were arguing about the Blue Line. As its extension is delayed, what's changed?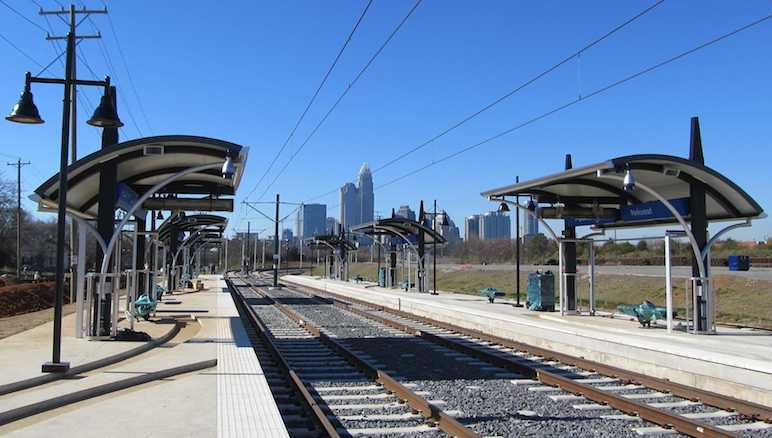 They called it a boondoggle, a sham, the most egregious form of government waste. No one would ride the toy train, they said. They pinned a pejorative to it: The McCrory Line.
This was about a decade ago, in the spring and summer of 2007, and it seemed all Charlotte could talk about was the city's first light rail line. Construction on the Lynx Blue Line, from south Charlotte to uptown, started in 2005, but opposition to it really gathered steam two years later.
A coalition of conservative activists—most of whom lived in the suburbs—gathered 48,000 signatures in order to place a referendum on the November 2007 ballot to repeal Mecklenburg County's half-cent transit tax, much of which supported the Blue Line. Eliminating the tax, which voters approved in 1998, would have crippled Charlotte's light rail system before a train ever left the station. Business and government leaders lined up for a "vote against repeal" campaign.
Cost overruns didn't help their cause: CATS initially estimated the 9.6-mile Blue Line would require $225 million; it ended up costing about $475 million.
Talk show hosts, WBT's Keith Larson chief among them, burned the airwaves for months ridiculing the rail line and the transit tax. At one point, Larson asked then-Mayor Pat McCrory to come in for an interview to defend the transit plan. The interview deteriorated into a shouting match, Larson joked about the "McCrory Line," and the mayor stormed out of WBT's studio, never to appear on Larson's show again.
I thought about all this last night, when CATS announced the opening of its Blue Line extension, from uptown to UNC Charlotte, would open March 31, 2018, instead of this August—a nearly eight month delay. The transit system blamed the late opening on "construction coordination challenges, required testing, and safety reviews."
The announcement came days after CATS CEO John Lewis (No. 38 on our 2017 Power List) floated an ambitious, $6 billion proposal to build three additional light rail lines—to Matthews, Iredell County, and the airport—at once. Doing so would almost certainly require a supplemental transit tax, which will be a tough sell with north Mecklenburg voters, who have been paying the extra half-cent since 1998 with nothing to show for it, and who are increasingly frustrated with transit-related decisions from Raleigh and Charlotte. (Toll lanes, anyone?)
It's not ideal timing: If CATS can't deliver the one line it's building on time, why should taxpayers expect the transit agency to be able to handle three projects at once? I covered the last train funding debate as a radio news reporter, and can almost hear the word "sham" on the tips of critics' tongues this go-round.
One letter to state legislators in 2011, when McCrory sought funding for light rail expansions in Charlotte, sums up how many still feel. "It does not help to tighten the state's budget belt when it continues to fund this boondoggle promoted by Charlotte's erstwhile tax-and-spend phony 'Republican' mayor," wrote a retired engineer. "NC also cannot afford to spend one cent of the taxpayer's money on this latest monument to government waste."
So here we are, exactly a decade after the original McCrory Line kerfuffle, preparing to (maybe, probably) debate taxes for light rail once again.
The 2007 referendum failed. In a 70-30 split, voters rejected repealing the half-cent transit tax. And we know what happened afterward.
The Blue Line opened that fall. Ridership was weak at first, but it picked up eventually. Today, the light rail cars are standing-room-only during rush hour and uncomfortably full on Panthers game days. I live in a South End apartment building that likely wouldn't have been built without the Blue Line; in case you haven't heard, there are a few other buildings like mine in the neighborhood.
Transit—where it goes, who it serves, how to pay for it—will be one of the dominant challenges for our community in the next decade. The debate shouldn't be a surprise, but critics will have to find a new nickname: The McCrory Line is so 2007.