Our Most Memorable Eats of 2015
Here are the dishes that stand out in a year full of fine food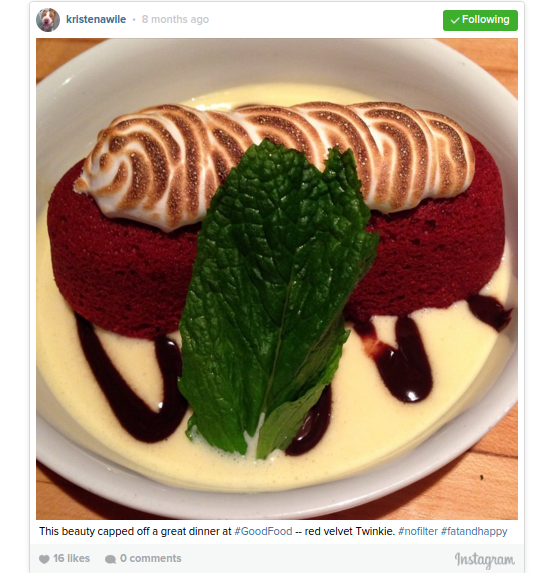 Some dishes bring memories flooding back to your taste buds, even when you think about them months later. I've had many of those moments this year, eating my way through this wonderful city I'm lucky enough to call home. Here are the moments that still make my mouth water.
This tuna from RockSalt is a great example of what the restaurant's about: fresh seafood served in a way that doesn't hide the ingredients. Marinated with Asian flavor, including ginger and sesame, this tuna scooped onto the crispy chips makes for delightful bite.
---
The red velvet twinkie from Good Food on Montford. Do we need to say much else? Red velvet + Twinkie. Yes, please.
---
The first time I ate at Evoke, I wasn't expecting anything extraordinary. It was a hotel restaurant, after all. Instead, I was blown away. Those rainbow heirloom carrots are something I'll never forget; simply and beautifully prepared. The steaks were wonderfully seared, and the tray of salts served with them make the meal interactive and unique.
---
Heirloom's monthly artisan dinners are a wonderful way to learn about where your food comes from. This dinner, for the restaurant's first anniversary, was a seven-course journey that started with a salad with foraged chicken of the woods vinaigrette and ended with smashed acorn cheesecake. We also got to taste chef Clark Barlowe's liver and onions, which he chose to cook on Beat Bobby Flay.
---
Hungry? Don't look at these pictures of Yafo, a Middle Eastern concept opening in SouthPark https://t.co/wopGSoFLct pic.twitter.com/XwGOLRmPOl

— Kristen Wile (@kristenwile) October 27, 2015
Yafo may be one of the openings we're most excited about next year. Tasting chef Shai Fargian's menu was definitely a highlight of this one, too.
---
Courses three and four @asburydunhill — if only you could smell this pork belly dish. pic.twitter.com/gY9cyEpGhb

— Kristen Wile (@kristenwile) October 19, 2015
Chef Chris Coleman's dinner centered on sweet potatoes showed the talent that's in this kitchen, from Coleman to Sous Chef Matthew Krenz and Pastry Chef Jossie Perlmutter. Textures, flavors, surprises—all using one, down-to-earth ingredient. (Get it?)
---
Finally! A return to @FutoButaRamen for bork buns. pic.twitter.com/Br5nMWY9Mc

— Kristen Wile (@kristenwile) May 22, 2015
It's a toss up as to what we like better here: the Lowcountry smoked pork bun or the rice crispy squares. Both take classic Asian flavors and add a modern twist, and we'll take them both.
---
.@thekingskitchen is opening a bakery counter. Tried the croissant monsieur, it is wonderful http://t.co/W0ndnHqkco pic.twitter.com/NgYIincUVC

— Kristen Wile (@kristenwile) April 23, 2015
I've always loved bread, so when I got to stop by The King's Bakery and sample their new European grab-and-go counter's goods, I was thrilled. It didn't disappoint; if I could have one thing for breakfast every day, it would be the croissant filled with ham and cheese.
---
Whole pig on the smoker. Very cool to taste all the different parts at @NCBBQASSOC cooking school. pic.twitter.com/o4kUNIIeDp

— Kristen Wile (@kristenwile) March 28, 2015
This was a great experience. Mac's Speed Shop hosts classes for those who wish to compete in or judge North Carolina BBQ Association-sanctioned events. The crew set up a whole hog on the smoker the night before, and around 10 a.m., they cut the skin off and let us pick meat right off the smoked pig, pointing out where the money muscle is, what pieces are best to use in competition, and where bacon comes from.
The Fig Tree Restaurant hosts some of the best wine dinners in the city. This dish, a pea soup with a lobster cake, from their Hall dinner, was one of my favorites. The way each pairing influences the taste of the dish or wine is really exciting to experience.
And, of course, just about everything I've eaten at Heritage, the number one restaurant on our Best Restaurants list (check that out here). If I had to pick one thing, though, it was a foie gras with muscadines and peanut butter powder, a stunning combination that surprises the palate with its depth in flavor and textures.
So thanks, Charlotte culinary scene, for a wonderful year and a few extra pounds. Here's to 2016.
---