Panthers Linebacker Shaq Thompson Talks Tough Year, On and Off the Field
"We've got to keep going."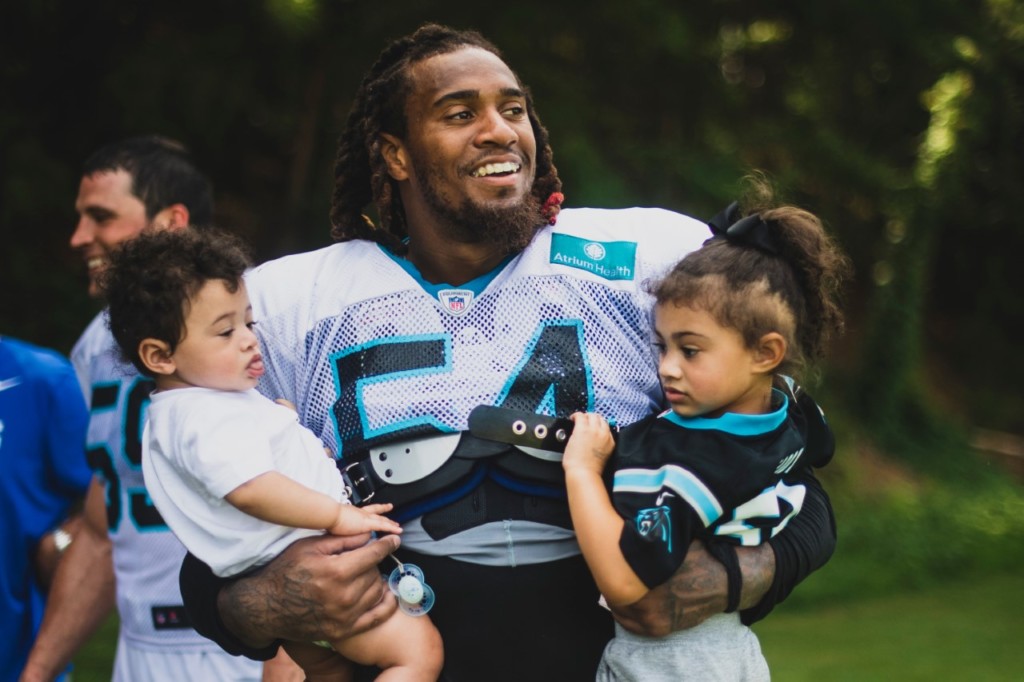 This has not been the easiest of years for Shaq Thompson. The Panthers linebacker has had to adjust to a season without the team's injured star quarterback, Cam Newton. He's weathered heartbreaking losses, like the just-a-kick-away one Sunday against the New Orleans Saints. And in mid-October, the day after the Panthers played a game against Tampa Bay in London, his mother died at the age of 57.
Through it all, he's remained steady. He's third on the team in tackles, with 85 through 11 games. He celebrated the first birthday of his son, Myles, a few weeks ago, and cared for his ill 3-year-old daughter, Kya, earlier this week. He has not missed a single game, not even the one the Panthers played just 14 days after Patty Thompson died.
But when the realization hit the Sacramento native that he wouldn't see his mom as he'd planned at the Panthers' game in San Francisco on Oct. 27, that's when Thompson wavered.
And it's when he turned to another part of his family that has often helped keep him above water—his teammates.
"This team, they're my brothers," Thompson says. "I treat them just like family in everything."
Family is big for Thompson. He likes that he's played each of his five NFL seasons in Charlotte because it's a "family-oriented city." He revels in the time spent with Myles and Kya — especially watching his daughter "trying to figure out who she is, her character." He bought land in Charlotte recently and is working on building a new house from the ground up, choosing designs and knobs and colors.
And he loves nothing more than gathering with his fiancee, Gabby Wagonblast, their children and a plate of barbecue. Except he still is searching for the best place in Charlotte, he admits.
"I haven't found one yet," he confides, explaining that he's looking for "something that I can eat that just falls off the bone. The taste, the texture—all that type of stuff."
Thompson says, though, that when he's in Charlotte, he's "focused on ball." He spends more time with his family-away-from-family teammates, striving to return the Panthers to the Super Bowl-level achievements they displayed during Thompson's 2015 rookie season.
He does a lot of listening—and showing his skill on the field rather than talk about it.
"I like to lead by example. I'm not a big talker," Thompson says. "Our captain is Luke (Kuechly). Guys like him and (defensive end) Gerald McCoy, guys surround themselves around them, and that's who we all look to. But when it's all crunch time, we look to each other and say, 'Let's go.' I can say we're all leaders."
They're the rocks he leans on during trying times, even moreso when he can't get back home to be with his three older brothers as they continue to grieve the loss of their mother.
"I gotta keep going," Thompson says. "I can think about it and grieve after, once the season is done. I know she'd want me to keep going."
Family is big for Thompson. That's why through it all, he tries to lift his Panthers brothers up as much as they raise him.
"It's not an easy job, or else anybody and everybody would be able to play this sport," he says. "But there's some stuff we can control out there that we can do better and just not put ourselves in certain situations for where we've got to climb out of it. It's stuff like that. That's what our season's been like, just up and down. We've got to keep going, and everybody's still positive about everything."