Panthers' McDermott Awaits Next Big Hit
He was a champion wrestler in high school. But he loved football. Now, Sean McDermott is on the verge of claiming some of the NFL's biggest prizes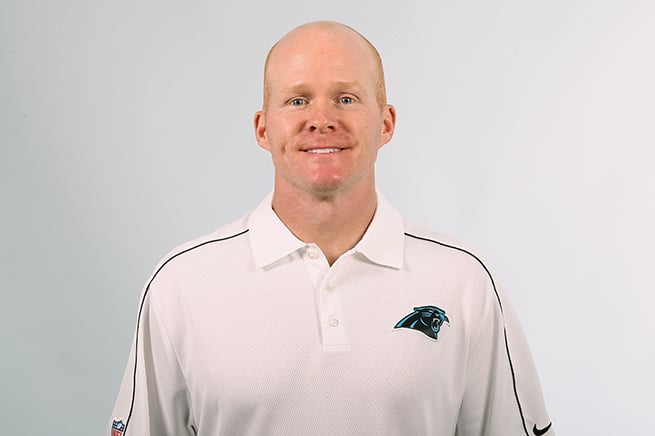 Of all the stupid, smart, boring, or crazy things athletes have said to me, none has stayed with me longer than an answer I got almost two decades ago when I asked a college safety named Sean McDermott why he liked playing football:
"There is no better feeling—no feeling in the world—than hitting somebody and lifting him off his feet. It's almost just like a numb feeling. If it's a bad hit you get that slot machine in your eyes going.''
That was 1997. McDermott was a senior at William and Mary, where he'd worked his way up from walk-on to starter, playing next to Darren Sharper, who would go on to make five NFL Pro Bowls. McDermott was no Darren Sharper. He was an undersized kid from Philadelphia who in high school turned down an offer most Philly kids would have called a golden ticket: a wrestling scholarship to Penn State. Instead, he walked on at William and Mary, where I was the beat writer for the local newspaper, the Newport News Daily Press, during his senior year.
From there, our paths diverged. I spent the next eight years in the United States Air Force, much of it in Afghanistan, before settling with my wife in Chapel Hill, just two hours north of Charlotte. McDermott, of course, has become the defensive coordinator for the Panthers, directing the unit that is perhaps the biggest reason the city of Charlotte is hosting an NFC playoff game this weekend against the 49ers.
I drove down to Bank of America Stadium this week to see how McDermott has changed in the 17 years since I covered him at William and Mary. What I found was a man who, in many ways, is no different from a typical uptown overachiever, working 80-hour weeks in a huge Third Ward building named after a bank. In three years with the Panthers, he's produced arguably the NFL's best defense, allowing fewer touchdowns this year than any other team. But he still has that spark.
His players see it every day.
"Just the other day he was like, 'It's not the size of the fight in the whatever, the size of the dog, whatever,' " says linebacker Luke Kuechly, who set an all-time (though unofficial) NFL record this year with 26 tackles in a game. "He's always talking about that."
William and Mary is a small place, with about 6,000 students, in Williamsburg, Virginia. And it's not exactly known as a hard-nosed football factory, despite several years of sustained success in the program.
McDermott, though, was different. So much so, he still shows the Panthers tape of his playing days. "He pulls out the old videos every now and then, back in his meathead days," says Panther safety Quintin Mikell, who has played for McDermott for 10 years. "He wasn't the fastest guy, couldn't cover, but he'll definitely come hit you."
Safety Mike Mitchell says McDermott, now 39, occasionally even jumps in and plays during practice.
"He's always trying to be scout team receiver, going hard on us," Mitchell says. "Coach is in ridiculously good shape." Mitchell balls his fists, as if starting a fight. "You don't quite know if you can whoop him," he says, shaking his arms, as if wrestling an unseen opponent, "but he's smaller than me so I think I can. But you don't know."
***
Like most of us reaching out—or, in my case, reaching back—to slap a high-five on 40, McDermott has put on some weight since college. But unlike others, McDermott appears to have added nothing but muscle since Williamsburg. "He's in the gym all the time," Kuechly says.
McDermott's journey to the NFL's No. 2 defense was, for a long time, an unblemished success story until it hit a snag a few years ago. While still at William and Mary, he interned with the Philadelphia Eagles, his hometown team. After graduating, he spent a year on the Tribe's coaching staff, then moved back to Philadelphia for good to take an entry-level scouting job with the Eagles. From there, he started a steady climb through the team's coaching tree, first as assistant to the team's head coach, Andy Reid, then on to the defensive coaching staff under coordinator Jim Johnson. The staff was one of the most stable in professional football, staying together for about a decade.
In 2009, Johnson was diagnosed with cancer and, soon after that, he passed away. Reid named McDermott, then 35, to head the defense as Johnson's replacement. He was barely older than some of the veterans he was suddenly in charge of, many of whom had known him since his days as a low-level assistant. Accustomed to the methodical Johnson, who was in his mid-60s, some players chafed at McDermott's high-speed personality. The team made the playoffs in both years that McDermott ran the defense, but under a toxic culture. Reid fired McDermott after the 2010 season.
The timing was serendipitous for Charlotte. The Panthers had just hired one of McDermott's former Philadelphia bosses, Ron Rivera, as head coach. Within days, McDermott was a Panther, and the hard-charging style that had worked against him in Philadelphia has been a success in Charlotte.
"Sean's a tough Philly guy," Rivera said this week. "There's a toughness about him, and there's also a cerebral-ness to who we are. He's got a lot of pride, and he works very hard, and those guys reflect who he is.
"I was in Philadelphia for five seasons," Rivera says, "and I won't say he's a typical Philly guy. But he's a typical Philly guy."
***
He may be a Philly guy, but McDermott's in the right place now. He's a below-the-radar person, who shoots his players straight.
Last week, he interviewed for the Redskins head coaching position, and he told his team that he was going to the interview. It turns out, he didn't get the job. The Redskins hired Jay Gruden on Thursday.
McDermott called me around 5 p.m. that night, at about the same time Gruden was finishing up his press conference in D.C. McDermott, meanwhile, was in between meetings with his current team, preparing for a playoff game. We didn't talk about the Redskins, or missed opportunities. Of course there's a question of the next step—he'll be a head coach one day; it's only a matter of where. But when we talked, we talked mostly about the past and the present. As always, with McDermott, he just hits the targets he can see.
On Friday, I went online and read the Philadelphia Daily News. A writer there—an old co-worker of mine—had come to Charlotte to do the same thing I did, just to catch up with him, to see how time might have changed McDermott. What we both found was the same person, at the core, only a little bigger, and now with a family (McDermott and his wife have two children).
"I'm extremely proud of how we handled that situation as a family, and we're extremely happy to be living in Charlotte, North Carolina," McDermott told the Daily News. "I sit here with a smile on my face, because we are so happy."
When I read that, I remembered once again his quote about hitting someone: "There is no better feeling in the world…" And I was happy that he's been proven wrong.
Matt White is a freelance writer based in Chapel Hill.