Panthers' Stadium Hopes on the Bubble
As a new practice facility is unveiled, owner David Tepper still eyes bigger prize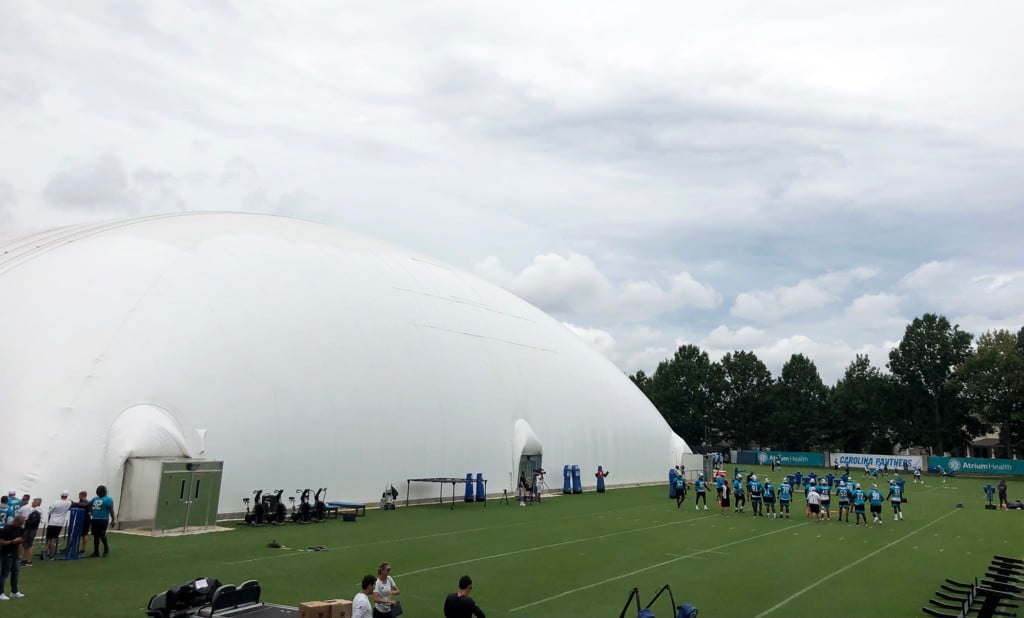 RAINDROPS STARTED FALLING about 30 minutes after Panthers practice started Wednesday. Nothing torrential or even enough to soak the field just outside Bank of America Stadium—just scattered splotches here and there. So the team practiced on to prepare for Thursday's preseason game against the New England Patriots.
If it had been worse, the Panthers could have ducked inside the new practice bubble a few yards away, safe from soaking rain or any other inclement weather. At long last, a welcome shelter.
It seems remarkable that in the year 2019, an NFL team would get its first indoor practice facility, but that's where we are with the Panthers under owner David Tepper. Before his acquisition of the team in 2018, the Panthers were one of seven out of 32 NFL teams not to have an indoor practice facility. Until now, Carolina held practices in the Charlotte Convention Center ballroom when weather was too bad for outdoor practice.
On Tuesday, the Panthers spent half their practice inside the bubble, giving players and media a first look at the interior of the marshmallow-like structure, which at only 60 yards of turf long was a bit cramped with the current, pre-cut 90-player roster. It was also about 30 degrees cooler than the stifling humidity outside.
"Now to have this, obviously during the season its big," tight end Greg Olsen told reporters. "But I think in the … early offseason when the weather here is still not very good, to be able to come in here, I just think there's going to be a ton of benefit to a facility like this."
It's a temporary solution before a permanent, mixed-use practice facility is built in Rock Hill. That project recently was approved, with ground-breaking expected in April and the completion anticipated in August 2022.
But the ultimate goal still awaits.
Major League Soccer announced expansion to St. Louis on Tuesday, as the franchise became the 28th team in the league. MLS has said it would like to expand to 30 teams, in all, and Tepper wants Charlotte to be one of those remaining slots.
The holdup? A stadium.
Judging by its current teams, MLS likes soccer-specific stadiums or behemoths with retractable roofs. Something in the mold of Atlanta's Mercedes-Benz Stadium.
That's what Tepper has said he wants—but he says he needs funding. Mercedes-Benz Stadium, which opened in 2017, cost about $1.6 billion, with $200 million coming from taxpayer funds.
But University of Michigan urban planning professor Judith Grant Long has extensively studied sports venues, and found hidden costs added an average of 40 percent to the public's official price tag. One estimate says that Atlanta stadium actually will cost the public $700 million.
How much is a new Charlotte stadium—with not only the potential for an MLS franchise and a possible Final Four host site, but a sparkling upgrade for the Panthers—worth?
"It's not like idle chatter; it's something I'd really like to see done," Tepper told reporters during Panthers training camp early this month. "To say that I'm going to do it in the next year, that's not true. But to put something out in the future—say hey to the governor of North Carolina, to the mayor (of Charlotte), we need to be aspirational because this is a great area. We need to realize how great it can be. …
"Charlotte is destined to be the sports-and-entertainment capital of the Carolinas. It's in the center of the Carolinas, it's untapped territory and we're starting to move that way. When you see (the land under) that bubble, think secondary convention space (in the future). It's a space as big as any (near) the convention center … A 10-minute walk from the convention center, as fast as any with absolute safety. It's an interesting idea. If we have that bubble there for three years (while the York County training facility is completed), we'll have something else there eventually."
The bubble might be the first step in a decade-long plan for a new stadium and all that it can bring Charlotte. But in the short-run, at least, it's a pretty good rain shelter for the Panthers whenever they need it.