Park Road's Place
Down at the corner of Park and Woodlawn, a shopping center still stands as a symbol of old times. But now that it's under new ownership, what's next?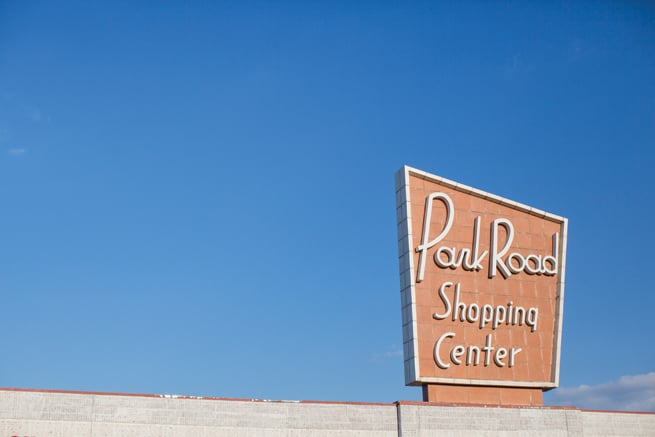 November 15, 1956. The largest open-air shopping center between Washington, D.C. and Atlanta opens in Charlotte in grand style. And in a surprising location. Before this, most shopping in the city was done uptown at Belk or Ivey's or other stores. To open a shopping center this large this far out in the suburbs is a big deal. Technically, it isn't even in Charlotte: The center stands 100 feet beyond the city limits, at the intersection of Park and Woodlawn roads. Like much of the land around it, this land was recently part of a dairy farm, but not just any farm: It belonged to Frank Graham, and it's where he raised his son, Billy.
The surrounding land is a hub of construction. As Charlotte homebuilding booms, 60 percent of it happens within four miles of this spot. Just across the street, homes begin to appear on the old Ashbrook dairy farm. They join the new, brick ranch homes of Madison Park, built two years earlier across Woodlawn Road. A few miles south, the family of former governor Cameron Morrison begins to sell pieces of its 3,000-acre farm, and the family's hogs, sheep, and chickens make way for the suburban frontier. The new families moving in offer prime shopping demographics, earning an average annual salary of $6,375—21 percent above the national average. And at the center of these new neighborhoods, a large, beige sign now towers near the intersection of Park and Woodlawn, beckoning these new suburbanites to spend some of those dollars at Park Road Shopping Center.
Charlotte Mayor Phil Van Every hails the new shopping center as nothing less than "a symbol of the free enterprise [system] which makes our country so great." The star guest is a man named J.C. Penney, who is opening the latest branch of his department store here. "I never expected to see what I've seen here this morning," Penney says, "and I've been to a lot of openings." Charlotteans are here in full force, not so much to witness history as to satisfy a more simple desire: free stuff. On a day when each of the 22 stores has a simultaneous ribbon-cutting ceremony and Penney shakes hands with customers for two hours, guests have a chance to win $30,000 in prizes, including three 1957 Ford cars. One customer tells a reporter, "I went into the post office, but they weren't giving anything away, so I left."
During the next half-century, the world around the shopping center will change. Charlotte will expand. The city limits will creep farther and farther south, to the point where the shopping center will be nearly six miles inside the city limits. In the coming decades, a larger, more modern mall will open a few miles south of here, on the very land where Morrison's livestock roamed. It will be called SouthPark. Penney's store will move out of the Park Road location. 1957 Fords will become classics. And so will Park Road Shopping Center.
On an afternoon in late-summer 2013, kids holding cased instruments run in and out of Howren Music. Three generations of a family window-shop while waiting for a table at The Flying Biscuit Cafe. Everywhere, people dash around, checking off their to-do lists while holding bags of free popcorn from Blackhawk Hardware.
At a table on the patio of McCranie's Pipe and Tobacco Shop, Bill Mitchell is puffing a cigar. McCranie's is a small building outcrop in the middle of the parking lot, and Mitchell finds it to be a prime spot for people-watching. "This is the best place to sit," he says. "You've got a women's shoe shop right there, a woman's clothing shop right there, and a jewelry shop just across the way. This is a great patio. Great view."
Mitchell has been coming to Park Road Shopping Center for 17 years. The place is 25 miles from his house in Steele Creek, and he passes three other tobacco shops on the way. "[Park Road] reminds me of my childhood," he says. "If you come here, you're not looking for a big, fancy mall. You'll see a lot of older people, remembering how it used to be. It hasn't changed. That's what's great."
The scene around him tells a slightly different story. Parts of the parking lot are blocked off with orange cones. Landscaping crews are digging up the lane dividers.
After 44 years with the same beloved owner, Porter Byrum, Park Road Shopping Center is now owned by Edens & Avant, a property management company out of Columbia, South Carolina. Edens & Avant has begun fixing up the old property, updating the façade, changing traffic patterns, and adjusting store operations. The new owners want better pedestrian and bike access, longer store hours, a smarter footprint. Regardless of the merits of those goals, some longtime customers—people who've seen Charlotte move quickly in the name of progress—are worried that their island of nostalgia might become just another strip mall. They see the new, whitewashed brick, the exposed-beam columns, and the wood paneling outside, and they wonder how far it will go.
Cal Dellinger, who lives in Charlotte, has been coming to the shopping center since he was a boy.
"I remember when Santa was the big draw down at J.C. Penney." — Cal Dellinger, longtime shopper
"I remember when Santa was the big draw down at J.C. Penney," Dellinger says. "And over the years, it's had its upgrades and changes, and it's still maintained its character. And I hope that it will after this, too."
Jodie McLean, president and chief investment officer of Edens & Avant, says the company doesn't intend to overlook the concerns of people such as Dellinger. The center will retain its integrity, McLean says, if for no other reason than this: It's good business.
"It attracts three generations of customers that have proven loyal to Park Road," McLean says. "This is a great opportunity for us to author the next chapter of this center's history. We've approached it with a lot of respect."
From his seat on the patio at McCranie's, Mitchell can see his life. Howren Music Shop? That's where his daughter learned to play piano. The Carolina Soda Shoppe? That's his favorite lunch spot. And McCranie's? That's his favorite tobacco store, his favorite patio. In the evenings after the shop closes, you'll often find Mitchell here with the staff and other customers, gathering to enjoy cigars and conversation.
"This is the kind of place I want to support. It's not a corporate place," Mitchell says. "I'm all about supporting the blue-collar guys, and that's a lot of the people here. They're little, independent owners trying to make it in the world."
From Mitchell's seat, he can see that large, beige Park Road Shopping Center sign. It's the same one that stood above the center during its grand opening in 1956. Even though the neighborhoods around the sign are established and the farmland is long gone, even as the center underneath it endures a transformation, the sign remains untouched.
Blackhawk Hardware represents a lot of things in the modern world—the little guy, the defender of days gone by, the place that stands up to Lowe's and the Home Depot, the place where service still is most important—but it's also just a place to find unusually good popcorn.
The family-owned store has offered free bags of popcorn to guests for 20 years.
"It's literally the second thing mentioned about us. It's first, 'You know, there's this hardware store,' and then, 'They've got free popcorn,'" owner Jim Wilkerson says. "I did the math and realized that we've given away about $55,000 worth of popcorn over the past 20 years. That's a lot of money for popcorn."
When Blackhawk opened, Park Road Shopping Center brought large national chains such as J.C. Penney and Woolworth's to south Charlotte, but the small, local businesses gave the center its loyal customer base. They still do. Park Road offers chains such as Harris Teeter, Caribou Coffee, and Michael's Crafts, but the local businesses still give the center its heart.
At most of those local places, the people who greet you are often the owners. If not, they're longtime employees. At Blackhawk Hardware, for instance, the average employee has worked there for 12 years.
"We're selling time, rather than hardware," Wilkerson says. "We have a lot of professionals who come in the store who have more money than they have time, and they know that they can go to Lowe's and save 40 cents, or they can go to Blackhawk, where people know what they're doing and can help them do a job right the first time."
The shopping center, somehow, has preserved places such as this. And places such as this, somehow, have preserved the shopping center. At Howren Music Co., musicians regularly stop by on their lunch breaks to play. Instruments line the floor. "We're the only small, independent music [instrument] store left in Charlotte," says Julie Howren, daughter-in-law of Jack Howren, who began the business uptown in 1950. It's been run by the family ever since. "It's either us or a chain store. And for music, you want someone who's going to spend time with you."
A few doors down is Park Road Books. Just as Howren is an anomaly among music stores in this town, Park Road Books—formerly Little Professor—is Charlotte's only independent, full-service bookstore. It's been open since 1977. The shelves are lined with books, a good portion of which the employees have read. Sally Brewster has owned the store for 14 years, and she reads about six to seven books each week. One of her employees, Trudy Young, has been there for 26 years and humbly admits to reading "only" three books every week. Brewster and her employees love to offer reading advice, love to try to predict what a reader's next favorite book will be, based on his or her previous read. And in some cases, they've even met the author. Local and regional writers who come through Charlotte on book tours often choose Park Road.
"People can sit at home in their underwear and shop [online]," Brewster says. "But we [the people on staff] read. We all read. Almost everyone here has previous experience in publishing or in bookstores. Most of us have been doing this all of our adult lives. Shopping here is about the camaraderie. You can have good conversations here, good political dialogue."
At Blackhawk, the equivalent of author readings or music lessons might be pinewood derby cars.
Wilkerson proudly points at the case of cars hanging on his wall. They're cars he or his staff helped build, filling an old-school need in the modern family. "Years ago, all fathers had wood shops, and now they don't," Wilkerson says. "So when the Cub Scouts need to carve a pinewood derby [car] and they don't have the tools to do it, they can come here and we'll help them out."
When Jim Wilkerson first opened Blackhawk, he didn't have enough money to get started. He went to the Park Road Shopping Center owner, Byrum, and asked him for help.
"I won't let you fail," Byrum told him. "I'm going to help you out."
If you ask the business owners how Park Road maintained the same feeling for so long, they'll all point to Byrum.
Byrum bought the shopping center in 1967, and in the coming decades, he won fans for his management style and personal generosity, if a line existed between the two.
"He's an old Southern gentleman," Howren says. "He kept rents affordable for independents to do well here. They don't make people like Porter Byrum anymore."
For more than 40 years, Byrum was a familiar face at Park Road Shopping Center. His office was there. He lived nearby. To many, he was the soul of the center. But in 2011, Byrum donated the shopping center to three North Carolina universities—Queens University of Charlotte, Wingate University, and Wake Forest University. Those universities then sold it for $82 million to Edens & Avant.
One of the first things McLean and others at Edens & Avant did was talk to Byrum.
"I promised him we'd take good care of this place," McLean says. "He loved this place like his family."
Although some customers are leery of the changes, most of the owners say they're excited. "Some people will always have the reaction that 'change bad, same good,' " Brewster says. "But we've needed a little sprucing up." Howren says, "It's nice to see some upgrades. Always nice to have a fresh coat of paint."
It's a tricky maneuver Edens & Avant is attempting: It must renovate a shopping center in which the very appeal of the place is that it's a throwback. In modern city planning, the design of the center betrays many guidelines of smart growth, guidelines that reduce footprints by stacking shops into stories and parking into decks, guidelines that put retail facing the street for easy pedestrian access. But Park Road Shopping Center was created at a time when land was cheap, parking lots were long and wide, and cars were king.
McLean says her company wants to make the center more of a destination. Edens & Avant plans to brighten the arcade with more natural and under-canopy lighting and bring new restaurants with outdoor seating. Other plans include tearing up strips of asphalt between the movie theater and the main plaza and replacing them with landscaped areas. In the future, Edens & Avant also wants to connect the plaza with the Little Sugar Creek Greenway, which runs just behind it and continues toward uptown. So several things will change.
But the famous sign? That stays.
"We want to celebrate the mid-century history of this place," McLean says.
Down at the hardware store with the popcorn, those are welcome words.
"I think things are going back to the neighborhood shopping center," Wilkerson says. "They want things to look like downtown areas, giving shopping centers streets and sidewalks. It's funny how the old things tend to come around again."