Passion8 Chef Creating Courses Inspired By Art
Passion8's Luca Annunziata and artist Alexandra Loesser are working together for a charity dinner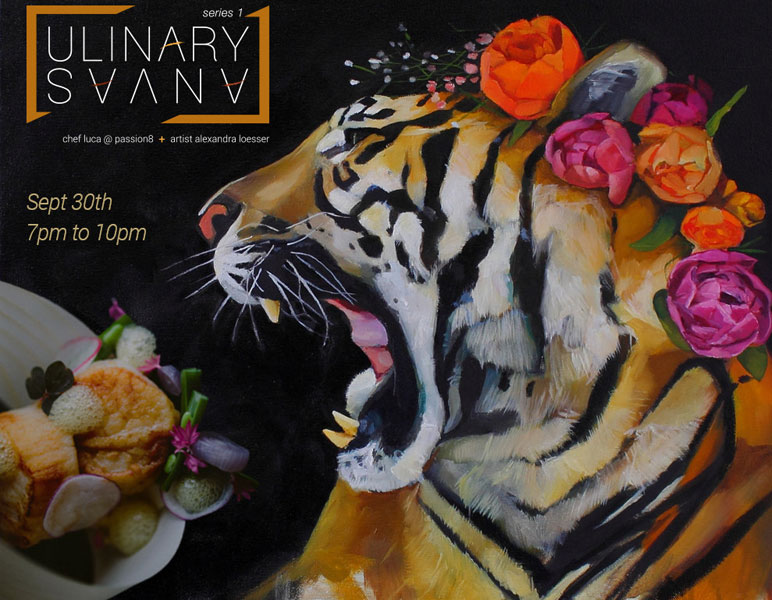 Food and wine pairings aren't unusual. Even beer has been paired with seven-course dinners at the best restaurants in Charlotte. At an upcoming event benefiting Friendship Gardens, however, there will be a unique but fitting pairing of art and wine. Chef Luca Annunziata of Passion8 and artist Alexandra Loesser will work together to create a unified experience of paintings and platings at Culinary Canvas, hosted by CLTure at C3 Lab on Sept. 30.
"The first time I saw Alexandra's exhibit at Twenty-Two [in Plaza Midwood], the first thing that came out of it was that everything was very animalistic, super appeasing to the eye—all the colors," Cameron Lee, founder of CLTure, explains. "I had the same reactions to Luca's food that I had to her art. So it just made sense. Very rarely do you think this person would be great with that person. It just worked."
Loesser describes her paintings as direct, with bold colors accenting nature tones. Chef Annunziata describes her work as carnal, which helped him conceptualize the five-course dinner. He's also focusing on the colors Loesser uses.
"There's a lot of thought behind each dish," Annunziata says.
That's something that Loesser pointed out, too, when looking at the menu, and something she says is similar between the two of them.
"It's really, really complex, which is great because some of the paintings that I have, there's a lot of elements, and there's a lot of elements in each of (Luca's dishes)."
The entrees include a red beet ravioli and a surf and turf dish that uses a tomato jam for the pop of color found in Loesser's art. Annunziata will bring in much of his own equipment, and staff from Passion8 will be on hand to help with the service. There will also be some volunteers.
The dinner will take place in C3 Lab's art studio, where a DJ will provide music and TOPO Distillery's owner Esteban McMahan will be mixing up cocktails. Loesser will also be painting during the event, and her work will be up for sale.
Tickets to the dinner are $75, and most of the proceeds will go to Friendship Gardens, a network of farms that works to supply healthy food options to those in need.
"I think more people need to know about them," Lee says of the organization. Learn more about Friendship Gardens here.
The 7 p.m. event will be capped around 60 people, and they're approaching that number, so sign up soon to experience the unique pairing of art and food for a great cause.