Pewter Rose Bistro's Secret to Golden Butterscotch Scones
The bistro shares tips and a great recipe that serves up perfection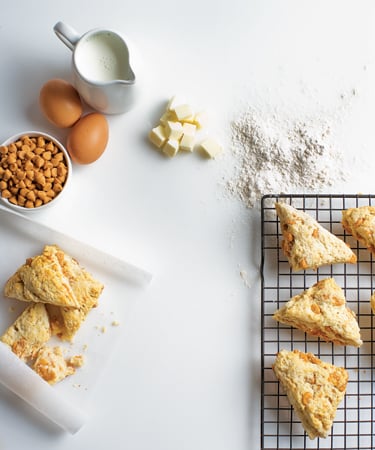 "A scone should be light and fluffy inside with a golden crust outside," says Pewter Rose Bistro executive chef Brent Martin. He should know: The kitchen bakes an estimated 1,500 of the restaurant's signature butterscotch scones each week. For twenty years, the scone has been a staple of the restaurant's popular brunch, delivered gratis to each table in the sunny dining room. Now, the barely sweet treat is available at the restaurant every day. In your kitchen, the simple recipe will come together quickly—and the scones will disappear just as fast.
Butterscotch Scones
Makes 12 scones
1¾ cups all-purpose flour
1 tablespoon plus 1 teaspoon baking powder
½ teaspoon kosher salt
4 tablespoons unsalted butter, frozen
1 large egg
⅓ to ½ cup whole milk
⅓ cup butterscotch chips
Heat oven to 375 degrees. In a bowl, combine flour, baking powder, and salt. In a measuring cup with ounce markings, lightly beat egg and add milk to total 5 ounces.
Finely chop frozen butter. Cut butter into flour mixture using a fork. When the mixture resembles breadcrumbs, add milk mixture, reserving 1 teaspoon of milk mixture. Stir gently to combine. Add butterscotch chips and stir gently, working the dough as little as possible.
Turn dough onto a lightly floured surface and fold it a few times. Using a rolling pin, roll dough about 1 inch thick. Cut into 2-inch triangles. Transfer scones to an ungreased cookie sheet. Brush top of each scone with reserved milk mixture. Bake until lightly browned, 10 to 11 minutes. Serve while still warm.
Tip: "You can never have too much butterscotch," says Chef Martin. "I've been known to double the amount for my friends."
Tip: Brushing a little of the milk-and-egg mixture on top of the scones helps the outsides brown.
Tip: "The secret to a fluffy scone is to keep the butter as cold as possible for as long as possible," says Chef Martin. He's serious: he chills his knife before chopping the frozen butter and wears gloves so the knife doesn't conduct the heat of his hands.
Tip: Flour the counter very lightly to avoid incorporating too much additional flour into the dough. Too much flour means a dry scone.
Tip: The heat of your hands can melt the butter. Work quickly, folding the dough in half away from you, then folding the sides into the middle. Repeat six times to fully incorporate the ingredients.
Tip: A little bit of salt brings out the flavor of the butterscotch.
Tip: Sometimes Pewter Rose offers "scone specials," adding chocolate chips, roasted almonds, raisins, or coconut to the recipe. But nothing has ever been as popular as the original butterscotch.