PHOTO PREVIEW: Bulla Gastrobar Now Open in SouthPark
Spanish tapas are served by Chef Mathew Turney at new Centurion Group restaurant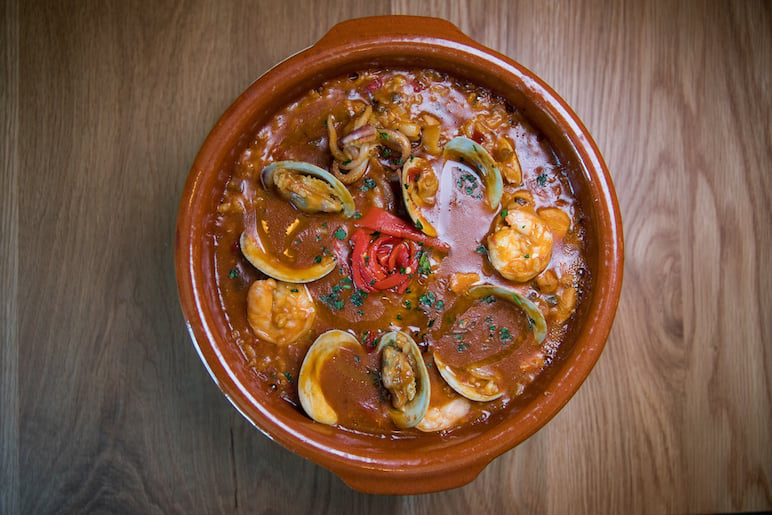 Bulla Gastrobar opened their seventh location in the Southeast and first in Charlotte today in SouthPark. The Spanish tapas restaurant, owned by restaurateur Carlos Centurion of the Centurion Restaurant Group, is led by chef Mathew Turney and features a modern spin on traditional tapas as well as a full cocktail program. Between small plate options and "platos familiares," or larger dishes, diners are encouraged to share with their table.
A selection of meats and cheeses with toasted ethereal bread. Prices are per meat and cheese selection, starting at $6.50.
The Lemongrass Collins cocktail with cucumbers ($11).
This roasted kale and brussels sprout salad is topped with a lemon maple dressing ($9).
Piquillo peppers, caramelized onions, tetilla cheese, and a honey thyme glaze complete the 'Bulla' Burger ($15).
Bulla's paella includes Valencia style rice, calamari, prawns, clams, shrimp, red sofrito, and saffron ($39).
Chef and partner Mathew Turney.
Copa Bulla dessert with dulce de leche, strawberries, Granny Smith apples, and Greek yogurt ($8).
Inside Bulla Gastrobar, dishes are intended to be shared.
The large wrap-around bar supports the restaurant's full cocktail program. Highlights include their sangrias, the Bullfighter (a bourbon- and Aperol-based drink), and the Lemongrass Collins, pictured above.