Picking Wine Storage That's Right For You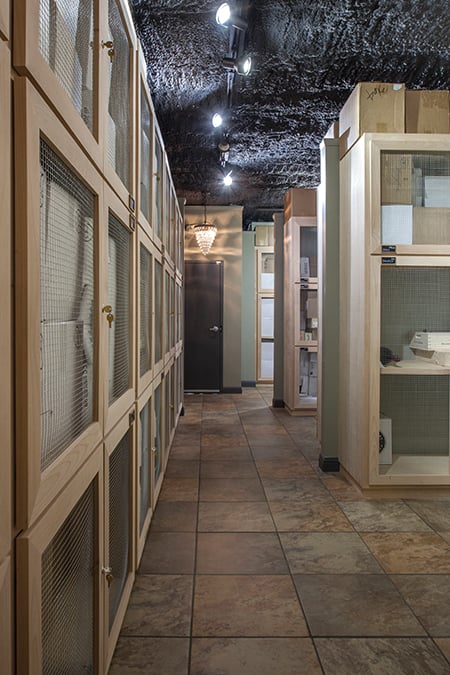 THE OWNER of Petit Philippe, Mark Meissner, was leasing some storage and prep space at New World Olive Oil, down the street from his Selwyn Avenue wine shop, when he learned the food store was shutting its doors. Instead of losing the extra square footage when a new tenant moved in, Meissner decided to lease the entire space and create a wine storage facility. La Cave at Petit Philippe opened last October, and its personal cellars are nearly all rented, stocked with cases of wines, including big-name, cult cabernets from California, neatly stacked behind chicken wire locker doors.
Customers choose to keep their wines here in part to ensure that the wine is stored properly. The temperature doesn't fluctuate more than a few degrees, which keeps air from flowing through the cork. The dimly lit cave is protected by a multi-level security system, and only accessible with a member of Petit Philippe's staff.
That staff is another reason clients prefer to store their wine here instead of at home: Meissner, who made wine in California before opening his shop in December 2010, will help collectors decide what to order and what to drink when. Of course, you can always start with a wine fridge at home for a fledgling collection. To decide what's right for you, he says, consider: What am I cellaring? How much am I cellaring? And how do I organize my cellar? Here are three reasons folks start a wine collection, and how to store wine in each category.
---
FOR THE DISCOVERY // Part of learning about wine, Meissner says, is tasting how it evolves over time. Purchasing a case of wine and a drinking bottle every few years lets you find a wine at its best, when its tannins and acidity have settled and the fruit gives way to more nutty aromas. Take notes each time you open a bottle to help remember the nuances. If you want to ensure the wine is aging properly, cellaring—whether at a place like Petite Philippe or in your own wine fridge or cellar at home—is key. "It has to be done carefully," Meissner says. "And that's why cellaring is so important, and having consistent temperature in your cellar so that it can age gracefully." When you notice a wine is starting to lose its intensity, it's time to drink the rest of the case and make room for something younger.
FOR SPECIFIC TASTE // Love Oregon pinot noirs? Cellaring helps you purchase the wines you want to drink on release and age them, saving the cost of purchasing a vintage bottle that has no guarantees of its provenance, or how it was stored. Different years' harvests don't always age at the same rate, so you may be drinking your 2011 wines long after your 2012s. Purchasing and storing every vintage from your favorite wineries ensures something is always ready to drink, and keeping them at places such as La Cave comes with the guidance on what to buy and when to drink.
FOR TROPHIES // Trophies are wines you hold on to for vanity, resale value, or simply emotional reasons. Vanity wines tend to be big-name collectables, such as rare Bordeaux and Burgundies. These bottles are tough to track down, and often require loyalty to a specific merchant, but they're also certain to impress a dinner party. The right bottles can significantly increase in value over time, though investing in wine is tricky. And if you're too afraid to open that valuable bottle, you may never get a chance. "Life will pass you by, and your wine's going to go to someone who may not care about it as much," Meissner says. "Do you really want to let that happen, with all the time you spent, and money and effort and emotion collecting?"