Playing Architect
A homeowner has a modern vision for a traditional home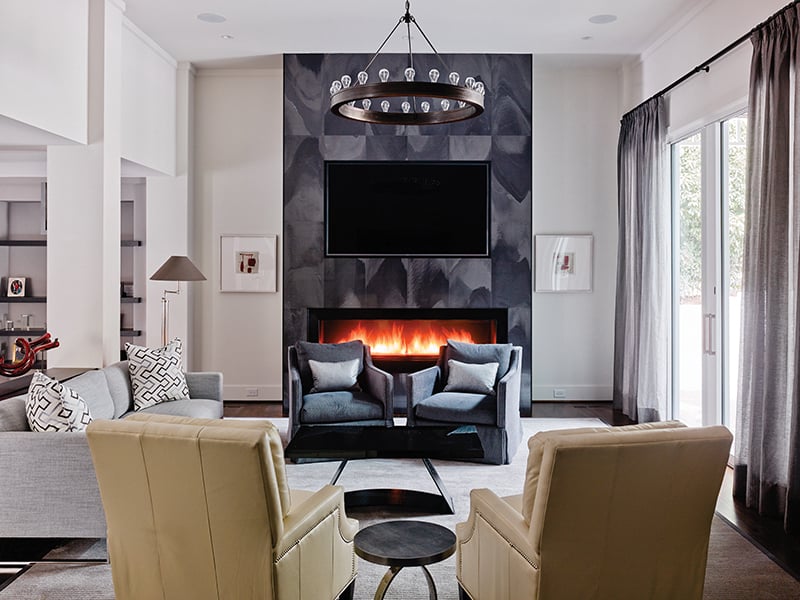 WAYNE SMITH'S BUCKET LIST was modest, with one peculiar item: He wanted to buy an older house and remodel it to be supremely "Wayne." See, Smith is particular about what he likes, and his eye for design is keen. So, what does a "Wayne" house look like?
Sleek, modern, and open.
The exterior of Smith's home—a two-story structure in Myers Park, built in 1951—is still as traditional as ever, a quaint façade dressed with quintessential Southern window shutters. The home's interior was just as traditional until Smith purchased it in August 2014. The Charlotte native had spent a year searching the city for a home with all the right features—a solid structure being one—for his grand bucket list remodel, and he fi nally found his Cinderella.
Smith is the chairman of his family's business, Smith Turf & Irrigation, but "I like to think I'm an architect," he jokes. It's not just his imagination, though; he's got the talent to back it up. Walking through Smith's 4,600-square-foot home, he'll tell you exactly how each feature came to be: "Well, I just wanted it. I had a vision for it." Of course, his visions couldn't become reality without an actual architect, so he called in the help of architect Sam Greeson of Meyer Greeson Paullin Benson and project manager Bryant Rogers of Andrew Roby. Greeson is a friend of Smith's—they attend a weekly dinner club together—so Greeson is familiar with Smith's quirks and vision for design.
Before the overhaul, the home had small, dark spaces and Spanish arch-style entryways, "which I hated," Smith says. Just about every change he implemented had a common goal: to create a more open, natural-lit atmosphere. Most of the renovations were on the fi rst fl oor of the home; the second fl oor has two sizable guest bedrooms that received little tweaks. Smith began by shaving down an overhang above the front door that loomed over the entrance. He then tackled the archways, replacing the curvatures with larger, squared-off openings. From there, he just kept on going.
What started as a simple project soon expanded. Rogers says that as plans developed, Smith's ideas kept on fl owing. "Everything caught his imagination. … It was a yearlong process of changing and getting exactly what he wanted."
During their Wednesday dinner club, Smith and Greeson would occasionally discuss new house ideas and call Rogers on Thursday morning with plans and drawings. These plans included a slew of contemporary updates to modernize the home. Features such as a marble fireplace, chrome stair banisters, funky light fixtures, and lacquered kitchen cabinets are just some of the modern adjustments Smith made.
Using the space with intention was a big component of Smith's vision. He removed kitchen cabinetry to make the window behind the sink larger, and he even nixed cabinet pulls. Instead, you push on a cabinet door, and it opens gracefully. Smith employed this same technique for hidden storage cabinets and pop-up electrical outlets that fold out from the kitchen countertop. Because of these small details, the kitchen is pristine and futuristic. "We have a lot of automated stuff in the house," Rogers explains, "a lot of stuff you just push buttons for," such as the shades over the kitchen window.
***
SMITH REALLY ENJOYS his gadgets. Beneath the kitchen bar, lights illuminate the area where guests' legs would hang from barstools. To add to this playful feature, there is a remote control for changing the light colors. Red, Panthers blue, and green hues begin to appear as Smith demonstrates.
The house was "chopped up" beforehand, as Rogers describes it, so a middle entryway was changed and a full bathroom was replaced with a half-bath. Smith then created his master suite along the side of the house, with the bathroom and closet outfitted with designs by Hans Krug —a European cabinetry company whose contemporary style can be spotted throughout the house, including the kitchen cabinetry.
Family and friends refer to his home as a "party house," though Smith didn't intend for it to be that. "They'd come in and say, 'So, when's the party?'" he recalls.
You can't blame people for asking. A more open floor plan allows for company to flow from room to room with ease. The original structure included neither the large living room nor the covered patio connected to it—a wall was knocked down to build out this room. With vast, glass doors reaching up to the new, lofty ceiling, the space opens up for a dramatic visual that can be seen from the entryway. The patio is made for entertaining, with couches, a TV, overhead heaters, and a fireplace. The strip of grass next to it has a putting green. According to Rogers, the unplanned patio was another one of those "curveballs" Smith threw at Rogers and Greeson as renovations were underway.
The house is complete with intriguing artwork, sculptures, and stylish furniture; you'd think an interior designer was called in to decorate it. However, Smith just likes what he likes, and what he likes just happens to be trendy. He practically furnished his entire living room while visiting High Point Market with Greeson, and thanks to his recent interest in traveling, handpicked paintings from France hang with panache.
It's the home Smith always wanted—and the final checkmark on his bucket list.