Playing Chef: Aaron Rivera
His transformation from kid in chef's whites to restaurateur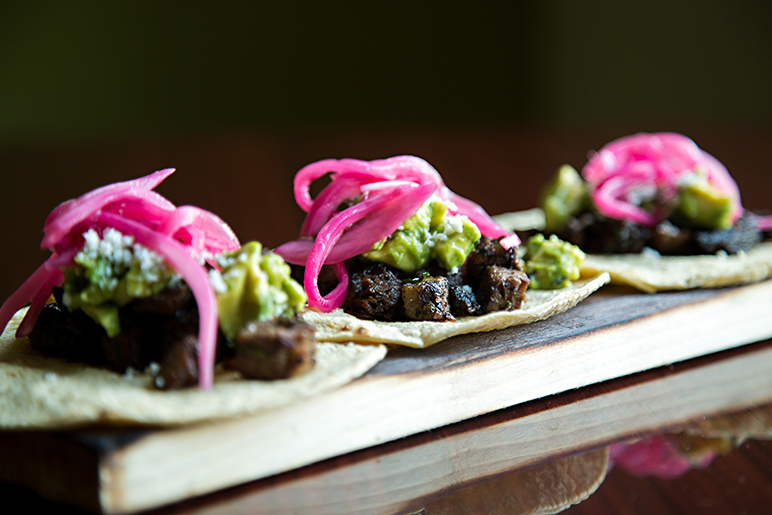 WHEN CHEF Aaron Rivera was a kid, his school bus picked him up and dropped him off at the biggest building on his bus route. It had a beautiful pool, too, surrounded by flowers and palm trees in Scottsdale, Arizona. You could even see the mountains from this address. But Rivera couldn't call this place home. His mom, Sara, worked in human resources at the Hyatt Regency Scottsdale, and she gave the school the hotel's address so her son could attend school in a better neighborhood than the one he actually lived in.
"I would get there probably about 3 o'clock or so, and the [hotel's] chef would find me there every once in awhile," Rivera says, recalling photos of himself in chef's whites before he was a teenager. "And every time he would see me, he'd pull me into the kitchen at 12 [years old], and so when I needed a job at 14 or 15, he got me a job working there. I was a dishwasher there."
That started Rivera's career in the food service industry. He mostly ate typical American cuisine—pizza, spaghetti—in his younger years. But when he moved in with his grandparents as a teenager, Rivera began cultivating his taste for Latin cuisine, starting with the Honduran dishes they'd cook at home. As he moved up in the food world, colleagues in restaurant and hotel kitchens introduced him to the flavors and food traditions of even more countries: Guatemala, El Salvador, Mexico, Cuba—a mix of which you'll find at his new restaurant, Tapas 51, in Fort Mill.
In 2009, Rivera was working in Las Vegas as the executive sous chef at the Bellagio when he decided to move to Charlotte to be closer to his mom, who lives here. He entered the Charlotte food scene in restaurants owned by Xenia Hospitality Group (Nolen Kitchen, Ilios Noche, and Big View) before deciding to buy his first Chrome Toaster bus in 2011. He didn't have the money or good credit needed to buy an equipped food truck, so he bought an old bus and went to work.
He used Google and friendly clerks at home supply stores to guide him through the bus renovation. He painted that first bus silver, and began serving street sandwiches around
Charlotte when the bus was ready in September 2013. That bus would eventually burn down, but not due to his craftsmanship, Rivera says, remembering the time when he was driving the bus and saw flames in his side view mirror. And he built a second Chrome Toaster, which now sells pupusas and tacos.
When he began thinking about opening a stand-alone, brick-and-mortar restaurant, the food truck helped him calculate the cost. To operate a food truck in Charlotte, you need a prep space to start and end each day. Instead of renting one in Charlotte, Rivera realized he could open a restaurant in Fort Mill and run the Chrome Toaster for free out of that kitchen. He signed a lease on the former Passion8 location and began putting his renovation skills to work again, this time in a space that wasn't on wheels.
Passion8's interior was dark, with a red-and-black color scheme that went along with its name. Rivera needed four coats of paint primer to cover the former colors before even starting on white paint, which took another four coats. Although the new restaurant doesn't move, there's continuity with the Chrome Toaster, with glistening silver light fixtures and chairs. Behind the bar, two televisions are tuned to a soccer game. You won't find anyone drinking high-fructose corn syrup here; Tapas 51 sells only Coke products imported from Mexico in glass bottles.
The food is fresh and light, the menu is small, and everything is cooked to order. It's tough to decide between dishes such as Colombian chorizo sliders or the flavorful octopus and shrimp ceviche, seasoned with aji panca, a chili popular in Peru, and topped with popcorn, just like it would be in Ecuador. The flavors are bright; most dishes are seasoned with spice, but not the kind that burns your mouth. Rather, it adds to the taste of the dish. In this small restaurant in Fort Mill, you'll find inspiration from across Latin America.
At the grand opening at Tapas 51 in May, chefs such as Jon and Amy Fortes of The Flipside Cafe and Luca Annunziata of Passion8 came to see how their friend was doing. And there to greet them when they walked in the door was Sara, proud mom of the executive chef, taking names with a smile.
Kristen Wile is senior editor of this magazine. Reach her at kristen.wile@charlottemagazine.com or on Twitter:
@kristenwile.