Plaza Midwood Dining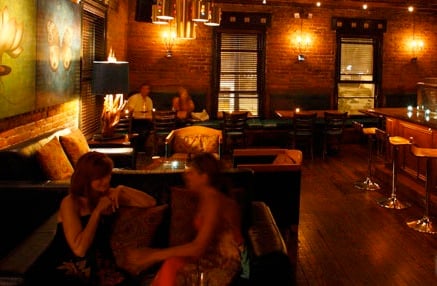 This weekend I returned to two relatively new restaurants in Plaza Midwood. My first stop was for lunch on Saturday at Cafe Central (1401 Central Ave.). It opened a few months ago and serves lunch, dinner, and late night, as well as Sunday brunch. I tried it a few weeks ago and really enjoyed it. They've got a great patio that's far enough off of Central to keep it quiet and a simple menu with a few interesting variations. Unfortunately, my lunch experience this time was disappointing. The smoked salmon sandwich came with very little salmon and the sweet potato fries weren't fully cooked. My companion's turkey burger lacked flavor and the cottage fries were cold. They do have an upstairs bar area though with an impressive view of the skyline that looks like a fun place to spend the evening.
And speaking of skyline views, Soul Gastrolounge (1500-B Central Ave., pictured) just keeps getting better. Saturday night was my third trip and each time I've enjoyed it more than the last. This might explain why it is always packed. The wait for a table was an hour and a half. However, you can order food at the bar while you wait—and you definitely should. Specifically, you should order the sashimi tuna tacos (three marinated diced tuna in fried wonton tacos drizzled with sirachi mayo, $8) and the guacamole stack (a stack of sliced avocado, red onion, cilantro, and fried garlic chips, $5).
Just under Soul, Twenty-Two Gallery (1500 Central Ave.) opened earlier this month. Right now the art gallery and wine bar is exhibiting colorful works by Mike Watson and Nick Bloomberg. The cozy space features large windows facing the corner of Pecan and Central, and a bar in the back offering wines, beer, sake, and coffee drinks.
Around the corner, Creation (1221 The Plaza), which served a variety of Asian dishes such as curry, pad thai, and spring rolls, has closed.
For more Plaza Midwood dining options, check out our November issue. You'll find Lulu in our Where to Eat Now guide and in the city's great brunches.