Please and thank you notes
When it comes to wedding etiquette, writing thank you notes is essential.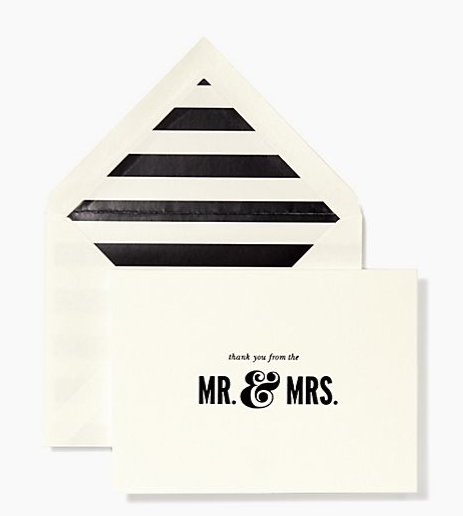 When I first got engaged, two days later I received a perfect set of Tiffany champagne glasses as a congratulatory gift from my fiancé's aunt. I eagerly pulled out my Kate Spade thank you notes and crafted an articulate thank you note that would make my mother proud.
As news of our engagement spread, the gifts quickly appeared on my doorstep.
They didn't stop for nearly 10 months (I'm not complaining!).
Eager to rip off the Pottery Barn wrapping paper, I soon realized my list of thank you notes to write was growing… and growing… and growing.
The process of planning a wedding is sprinkled with gifts over the course of your engagement, and even in the weeks after you're a newlywed. One of the most essential parts of being a bride, and a gracious gift-receiver, is writing a thoughtful and personalized thank you note. Sure, your hand will seem as though it's in a permanent cramp at times, but the thoughtfulness behind an articulate thank you note is always appreciated.
Are you a bride drowning in thank you notes? Here are our top tips to make it easier.
Do it together. Who says the bride is responsible for writing all the thank you notes? Have your hubby-to-be pitch in and write a few notes for family members on his side of the family. You'll relax knowing you're not in it alone.
Make it a party. Treat thank-you-note-writing as a stay at home date night. Plan a Friday night in to order pizza, pop open a bottle of bubbly and tackle that growing list. Play some fun music and take a break every 10 minutes to practice your wedding day dance moves.
Write as gifts arrive. It's tempting to put off writing a note until after your wedding, but you'll hate coming home to a list of 100 notes to write after a relaxing honeymoon. Aim to write your thank you note within a week of receiving a gift to keep your list manageable. Your guests will appreciate your promptness.
Make it sincere. Keep things interesting by avoiding following a generic template. Make each note personal by mentioning why you love the gift, as well as why the giver matters to you.
Pretty paper matters. It sounds silly, but you're more likely to be prompt when writing a thank you note if you're composing on paper you find stylish and fun. Keep a stash of three or four different notes to avoid boredom from the same print.