Popular Doughnut Pop-Up Opening Shop in NoDa
Joe's Doughs grand opening is June 18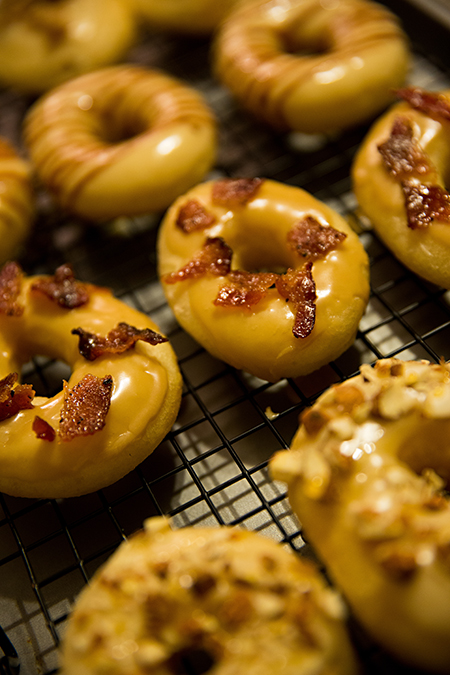 Joe's Doughs is opening a brick-and-mortar shop next week—and it will be run entirely by a female staff.
Joe's Doughs gained a loyal following as a pop-up doughnut shop, frequently selling out only minutes after setting up in places such as The Daily Press and Atherton Market. Joe Pepe and his fiancée had planned on moving to Los Angeles, though, and the popularity of his doughnuts didn't change that. His investors, however, thought a Joe's Dough's storefront would be a successful business (and the social media response shows they're not wrong).
Pepe moved to L.A., but Joe's Dough's will still open on North Davidson Street, run in part by Pepe from a distance. Jaclyn Parzygnot, a Johnson and Wales graduate, will run the day-to-day operations of the shop.
Sitting on the patio of what will become Joe's Doughs, Parzygnot is wearing all black—the only additional color she has on is curly, black hair that turns to a vibrant green. She graduated with a pastry arts degree last year, but speaks with the confidence of someone who knows what they're doing. She'll be general manager, with a staff of five more between the front and back of house—all women.
"We're kindof a girl-run doughnut shop," Parzygnot says. "It happened accidentally, but I don't see that in a lot of restaurants or kitchens or bakeries. It's a very male-dominated industry."
And Pepe is happy to have the help of someone so talented. Parzygnot worked at 5Church as a pastry assistant before signing on to work with doughnuts.
"I love doing the recipes, I love doing all the glazes, I love coming up with the flavors," Pepe says. "Getting up at three o'clock in the morning is not my strong suit."
The new, permanent iteration of Joe's Doughs will sell juices, teas, and smoothies, and have a self-serve coffee station—Pepe doesn't want to step on the toes of his former hosts, mostly coffee shops. The interior will have a modern industrial look, with an open kitchen where guests can peek in on the baking process. There will be bar seating in the window, looking out onto a patio, as well as couches and more comfortable seating for longer visits.
There will be 15 donut flavors in rotation each day, ranging from $2 to $3. Classics such as vanilla glazed and maple bacon will be $2, while specialty flavors, such as the goat cheese-strawberry-balsamic and peanut butter and jelly doughnuts, will cost $3. Parzygnot won't be messing with the recipes for Joe's Dough's beloved favorites, but will be adding her own into the mix, such as a basil-pineapple-pistachio doughnut. Even guests can help create new flavors, with a chalkboard that asks guests to write their suggested flavor combinations. The winning flavor via a social media vote will hit the menu.
Parzygnot will also be cooking vegan and gluten-free donuts.
"I don't want people to … say, 'Oh, I don't want to go to Joe's Doughs because I can't have something there,' " she says. "It's something so simple—to have a treat, to have a dessert—it's just a simple joy. I would hate to have someone, because of a dietary restriction, not be able to come in and have something like that."
The grand opening will take place June 18, but Joe's Doughs will start making and delivering donuts to nearby businesses as an introduction in the coming days to prepare. There will be contests for giveaways—including a doughnut art competition—free t-shirts, and stickers for opening day.
Hours are 6:30 a.m. to 3 p.m. during the week; 7 a.m. to 3 p.m. on weekends. The hours are fixed, meaning the staff will be cooking doughnuts all day, not baking dozens in the morning and closing when they sell out. What's leftover, Parzygnot says, will be donated locally. Knowing how much Charlotte loves its Joe's Doughs, however, that won't be much.