Posh Planners
Add some flair to your daily schedule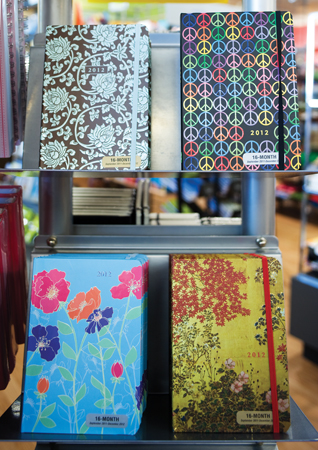 With holiday hoopla revving up and next year's schedule already in the works, it's time to start filling in your calendar. We've found three local spots with some of the city's most stylish planners.
Paper Twist
6401 Morrison Blvd.
704-366-3100
Vibe: This vibrant shop features a vast spectrum of lines and colors to choose from when it comes to personalized stationery, planners, and desk accessories.
The goods: Look for lines like Russell + Hazel, Semikolon, Lilly Pulitzer, Dress the Desk by M. Middleton, and more. Plus, pair your planner with stylish, yet functional, recipe cardholders, printed rubber bands, desk pens, or chic portfolios, with prices ranging from $7.95 to $120.
Paper Skyscraper
330 East Blvd.
704-333-7130
Vibe: This Dilworth favorite is filled with an eclectic selection of trendy, humorous, and stylish gifts including books, glassware, frames, planners, journals, toys, and more.
The goods: Look for desktop, pocket, or spiral editions of a number of planners by vendors like Moleskine, My Agenda, and Mom Agenda. And don't forget to accessorize your refrigerator with Umbra magnets and bulletin boards or your desk with a toy-like pencil sharpener and paper clip holder.
Paper Source
6800 Phillips Place Ct., Ste. A & B
704-552-2220
Vibe: Filled with rows and tables of fine and artisan papers, stationery, calendars, notebooks, and more, this premier Phillips Place store is the source for composition books, letter press kits, stickers, and pens.
The goods: Find the perfect handcrafted journal or accordion file tote to keep your thoughts, notes, or bills in place. Choose from lines like Snow & Graham, DIY, Cavallini & Co., Jonathan Adler, and Papaya, with prices ranging from $12.50 to $169.