Q & A with Byron Baldwin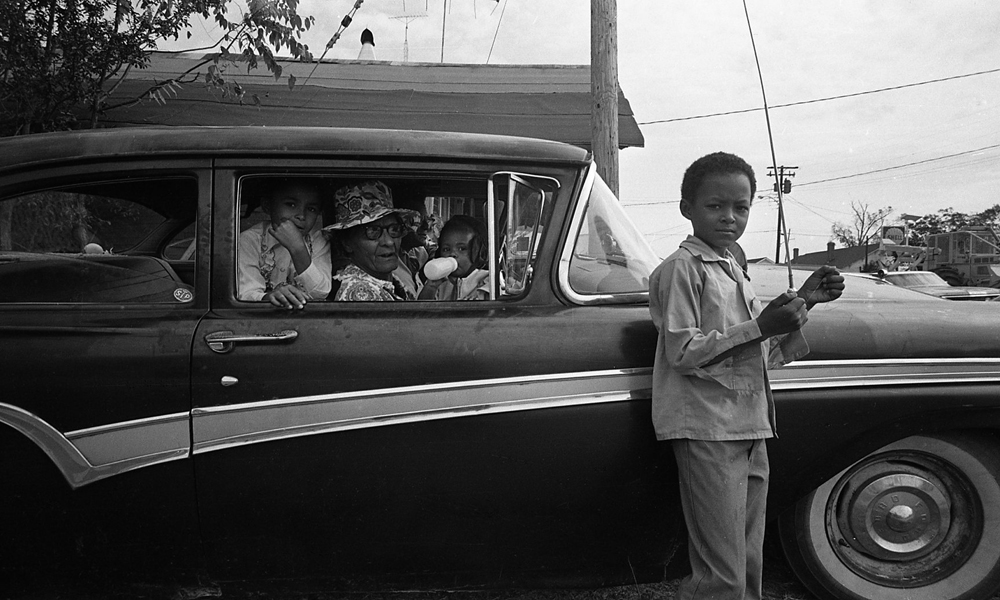 From 1972 to 1982, Steve Perille was a staff photographer for the Charlotte Observer. He captured the city before the Bank of America building changed its landscape, and before we even had a football team to cheer for. His astute eye for photographic moments won him the Southern Photographer of the Year award in 1975, but after he left the Observer in 1982, his work fell out of the public eye. Byron Baldwin is a fine arts photographer (his work appears in the Hodges Taylor Gallery), a retired high school photography teacher, a part-time instructor at CPCC, and a friend of Perille's. Baldwin was the guest curator for The Light Factory's new exhibit, Steve Perille: Unfiltered, which appears as part of the museum's annual "In Our Own Backyard" series. He selected approximately 70 of Perille's shots to be on display until January 30, 2011, and we sat down with him to find out a little more about the mysterious Charlotte shutterbug, and the work that's been collecting dust for too long.
Revue: So which parts of Steve's extensive portfolio will be part of this exhibit?
Baldwin: This is a very tiny portion of the work he did in Charlotte in the 1970's, along with a few shots from his work from St. Louis, where he was before he came to Charlotte. When Steve had assignments for the Observer, he would use it as an opportunity to go out and find his own shots. For the most part, these are ones that he did on his own, and not from the work he did as a photojournalist. But again, this is a small portion of those. I flipped through 4,000 prints to choose 70 shots for the exhibit.
Revue: How did you decide to pick the ones that you did?
Baldwin: I tried to find the ones that represented his unique vision, the ones that were his view of Charlotte's social landscape in the 1970's. Steve is one of the best photographers I've ever known, and what distinguishes his work is that he sees pictures in the most common, ordinary situations. Technically, he was very good. He was very fast with his camera, and a great printer, but it's his vision that's the most important. So I tried to pick shots that weren't obvious, the ones that no one else would have seen. At that time in his career, he was hungry for images. One that I picked was taken at a 7-11, where he had gone for a six pack of beer, he told me. It's a vertical shot, and it's of a guy on a front porch with his head in his hands, and a "Men's" sign over him. He said he saw it, took out his 500 mm lens, and shot the picture.
Revue: Tell us about Steve. How do you know him?
Baldwin: In 1973, I had some of my own pictures on exhibit at a gallery downtown. He seemed to like my work, and showed me some of his stuff. I really liked his work, and we've been in touch, ever since. He's sort of a strange guy. He has this sort of "out there" personality. Among some of the photographs that didn't make it into the exhibit are some of disabled people around Charlotte. He would just go up to them, and ask them, "what happened to your legs?" He would start a conversation, get them laughing, photograph them, and go on his way. He could create those very real moments with his subjects. But I think he probably thinks less of his work than other people do. He parted ways with the Observer in 1982, and hasn't done much photography since then. He lives out in Union County, now, with his horses and dogs.
Revue: How did you get started on this project?
Baldwin: Well, I've long admired Steve's work, but he's not one to really promote himself or his work. He had all these prints sitting in boxes in his house, and every now and then he would show me a recent series that he had done. I couldn't believe how good they were. I was worried they would get thrown away, and it inspired me to get an audience for them. I told him that we really needed to do something with all these prints, so I collected them, brought them back to my studio, and started to shape the exhibit. I approached The Light Factory about showing Steve's work, and it ended up filling the "In Our Own Backyard" series slot. I've been telling Steve for years that his work is too valuable to just sit there, that he ought to have it donated or something. When I told him this idea, I think he liked the idea that someone would appreciate his work. Again, though, Steve's a strange guy. I'm not sure he realizes his work is all that important. I hope this exhibit demonstrates to him that a lot of people value what he's done.