Q&A: Artist and Muralist Tommie Robinson
His long career primed the city for a new wave of color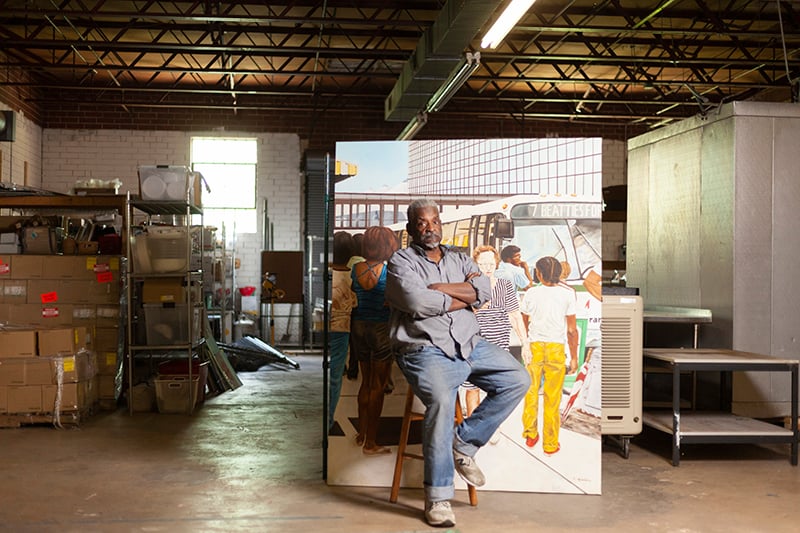 THE HALLMARKS of Tommie Robinson's career are hard to miss: Included in his long list of public and private art projects and exhibitions are two 24-foot-tall murals next to Spectrum Center's escalators. The 72-year-old, who has been painting nearly everything (and on nearly everything) in Charlotte for more than 50 years, has made historic works, especially oversized ones, his calling. "It's just one of the specialties that I have," he says. "I can paint large, and I know a lot of history."
It's no wonder the Arts & Science Council and alumni of Second Ward High School tapped Robinson to capture the school's history in paint when the building was renovated last year. He produced two murals, "We Too, Shall Rise" and "Go Tigers!" that were installed on the gymnasium's walls in February and embody the spirit of Charlotte's first all-black public high school, a place long closed but that now serves as a community rec center.
---
Charlotte magazine: You're a self-taught artist. How did you first begin painting?
Tommie Robinson: I was fortunate enough to have my own room when I was a kid. My mother would allow me to draw or paint on any wall in my room. I couldn't go beyond my door. As long as it was in my room, I could do what I pleased. I did a lot of murals. When I was in elementary school, I just wanted to be an artist. I didn't know what they made (as a salary) when I was seven or eight years old. But I had a very innovative mother. She thought we could achieve anything.
CM: How did you first start making money as an artist?
TR: When I was in the military, I made more money than my commander because I did portraits of other soldiers' family members—their wives, their babies, their moms, their dads. I did quite well. As a young black man, I didn't know anything about the arts until I went to Europe, and one of the of the art instructors in Germany told me artists made money.
CM: It sounds like you didn't know a legitimate career path was out there.
TR: One of the biggest problems in lower-income communities, especially black communities, is they don't know what's available to them. If you go into any school and ask black people what they want to do, they'll come up with the same four or five careers. 'I want to be a teacher. I want to be a doctor. I want to be a lawyer.' You never hear them say, 'I want to be a pattern maker. I want to cut patterns for the fashion industry.' There's so much opportunity available to us that we don't know about, so many jobs that we don't know about. I think exposure is one of the main factors in black development.
CM: That's a good segue to your most recent work, the two new murals inside Second Ward High School Gymnasium. How did you research that project?
TR: I'm not a historian, but I do history projects. I thank God for the Carolina Room in the library. With those particular murals, I was dealing with academics. It was the first black high school in Charlotte. If you wanted a high school education and you were black, you had to go to Second Ward. So I started by listing the communities that catered to Second Ward. What really puzzled me was what happened to all these black people, these black communities. Third Ward, First Ward, Second Ward, Cherry, Brooklyn. What happened to all these communities?
CM: Is that why the murals focus so much on people?
TR: You can't do history without doing people. I concentrate on their movements, their actions. I try to convey their feelings in the work. People are history.
CM: The murals are colorful, too—any particular reason?
TR: From a distance, you can see those colors. I use paint that's almost squeezed straight out of the tube because, for murals, that's important. If you're in Second Ward (Gymnasium), and you sit on the bleachers, you can see them. Plus, I see color. Even in my personal paintings, I use color. At home, I tend to do watercolor, and I don't use washes at all. I don't use opaque colors. I use the paper as the white; that's my base. It's kind of an opposite way of painting, but it works.
CM: What will you work on next, commissioned or otherwise?
TR: If you're 72 years old and don't know you're dying, you're crazy. You're a fool. I'm 72, and I'm doing my personal paintings. I might take commissions every now and then, but not like I used to. I'm just tying things up. I'm trying to leave something. I have two children. I'm trying to leave them a legacy.