Q&A: Cristina Rojas-Agurcia, 'The Batchmaker'
She still sells out of her signature treats since she expanded from home to brick and mortar alongside LaCa Projects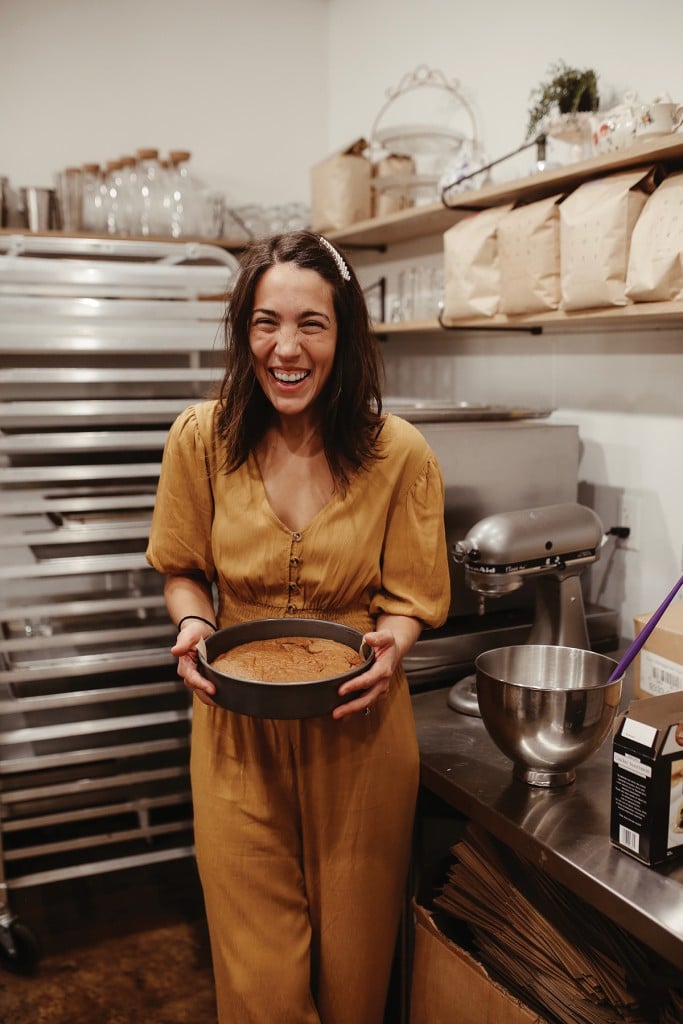 Age: 33
Family Status: Married for 8 years to husband, Pablo, mother to Josefina, 4, and Joaquin, 2
Hometown: Tegucigalpa, Honduras
Currently lives: Highland Creek area
Currently reading: Untamed and Eleanor Oliphant is Completely Fine
Where does your love of baking come from? Everything that's on the menu is because I've craved it and thought it through while I was running. My love for baking comes from my love of food, and I'm so lucky it makes sense in my head what ingredients work together.
When did you realize you had a gift for baking desserts? I'm still waiting for the "I'm good at this!" moment (laughs). The community I've found is probably my favorite part of it all. I realized how special they are when people showed up with cream cheese because I mentioned I couldn't find any. Things like that happen so often.
How long was The Batch House a dream for you? I was baking from home, and it was becoming too popular for me to keep doing it from my house. I started looking for places and stumbled upon the opportunity to take over a coffee shop that had closed. It's located in a gallery building that showcases a ton of Hispanic artists, and it's kind of cool being a part of that as well.
What's your favorite thing to bake? Brownies or apple crumble. The second the air outside starts to feel and smell like fall, I hit the oven for an apple crumble and top it with ice cream.
What's one recipe you'd still like to master? Pound cake. My mother-in-law makes the best pound cake, and back home in Honduras there's a bakery with the moistest, most amazing pound cake, too (it might be Honduran butter and eggs). Mine are OK, but never like theirs.
What's your kids' favorite treat you make? Josefina loves strawberry cake (because it's pink) or Pop-Tarts. Joaquin loves anything with chocolate—that boy has his mama's love of chocolate down pat.
What's your favorite restaurant in Charlotte? Soul Gastrolounge is up there. I love The Cellar at Duckworth, Dot Dot Dot, Barcelona Wine Bar, and Dilworth Tasting Room, too.
What's your guiltiest pleasure? I don't watch much TV, but I do love cheesy rom-coms, and I'm obsessed with Kevin Hart and The Rock. I'll want to go to the movie theater to watch all their movies as soon as they come out.
What's next for The Batch House? Hiring more help in the kitchen and possibly finding a second kitchen off-site to rent and keep up with production.
---
THE TOUGH STUFF
Chocolate or vanilla?
Chocolate
Coffee or tea?
Coffee! I've been drinking it since I was 2 years old, no joke. It's a Hispanic belief in some countries that it toughens your immune system! And I never get sick, sooooo…
Cake or pie?
Cake! I don't like eating or making pies
Crunchy topping or sweet drizzle?
Sweet drizzle
Ice cream or hot chocolate?
Ice cream all day, every day
Baked or fried?
Fried
Street eats or sit-down?
Street eats
Facebook or Instagram?
Instagram