Q&A: Interior Designer Erin Anderson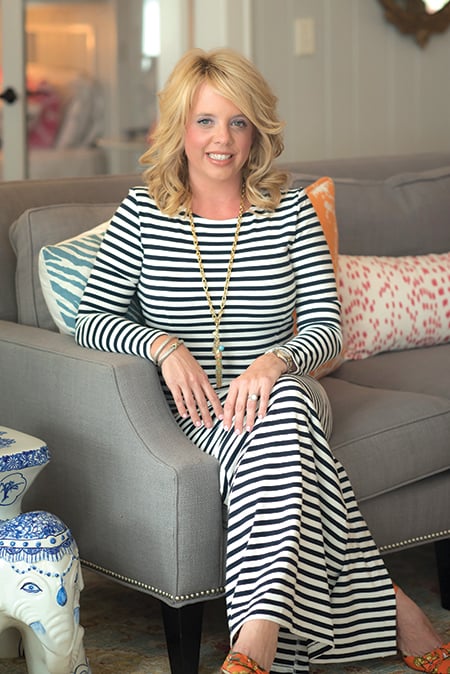 ERIN ANDERSON DESIGN
828-406-3841
Years in business: Established 2016
Hometown: Wilkesboro
Lives in: Wilkesboro
Family: Husband, Steven; daughters, Anna Grace, Lily, and Claire; and a King Charles cavalier spaniel, Julep ("The cutest, sweetest, most spoiled dog on the planet.")
---
Charlotte Home + Garden: What's your favorite color to wear?
Erin Anderson: Black
CHG: Favorite color to design with?
EA: I love color, so really anything not beige.
CHG: When did you know you wanted to be an interior designer?
EA: Since I was a little girl, but it was a long road to make the leap.
CHG: What's your favorite recent design trend?
EA: The return of big glamour: gold and brass, rich velvets, and shiny, lacquered furniture pieces. I have also always had a soft spot for anything chinoiserie, so I'm loving that it is really having a moment.
CHG: What's a design trend you wish never happened?
EA: Shabby chic and chevron. I guess I'm just a glamour girl and love color and shine and lots of bold prints.
CHG: Which national interior designers inspire you?
EA: Mary McDonald, Eddie Ross, and Carleton Varney.
CHG: What about local designers? Who do you admire?
EA: Charlotte Lucas and Holly Phillips.
CHG: What's the best career advice you've been given?
EA: What I always tell my three girls: "She believed she could, so she did."
CHG: Where do you look to find inspiration?
EA: Traveling and Instagram. Living in a small town, I want to expose my girls to as much of the world as possible. I love to see the differences in style and how people live in different regions. I like to study the details of big city hotels; there is always something new to learn and inspiration to find. I love the old charm of Charleston and any little city along the Southern coast, and I always find inspiration when we travel to the Caribbean. We are taking the whole family to the Mediterranean next summer, and I can't wait to see it all through my girls' eyes.
CHG: What are three words that describe when your clients see their completed home?
EA: Excited. Relieved. Proud.