Q&A: Interior Designer Marcie Padgett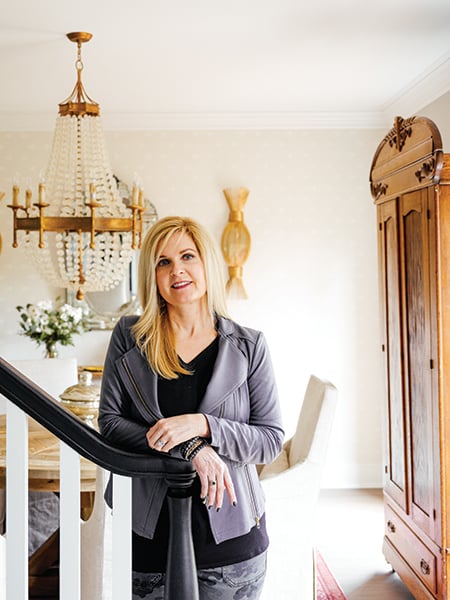 Southern Style Designs
2416 Providence Rd. S., Waxhaw
704-843-4438
Years in business: 10 years; 5 years with a brick-and-mortar store
Hometown: Union County
---
Charlotte Home + Garden: Favorite color to wear?
Marcie Padgett: It's hard to pick just one; sometimes it depends on my mood or the season. One of my favorites is green.
CHG: Favorite color to design with?
MP: We don't have a favorite. It depends on the client and the color that inspires us to visually create their story. I love using pops of color to show personality and create contrast with a neutral background.
CHG: When did you know you wanted to be an interior designer?
MP: I knew I wanted to be an interior designer when I realized my mother and I had very different designing styles and taste. My mom has an eclectic design style and I like symmetry—clean lines and organization. Mom has great style, but at a young age, I realized it was OK to have a difference of opinion.
CHG: Favorite recent design trend?
MP: I love the freedom to use mixed metals and mixed textures. I have always liked to use them, but they were very much front and center when I attended KBIS (Kitchen & Bath Industry Show) this past January in Florida. David Yurman has used mixed metals for years in jewelry design and I am happy to see that in interior design.
CHG: Design trend you wish never happened?
MP: Oh my! Avocado green appliances. I just met with a homeowner that has these and I am itching to tear those out.
CHG: Favorite national interior designer?
MP: It's hard to choose just one. I mean, who doesn't love Joanna Gaines? She has a great eye for a simplistic design that isn't overdone with objects that cover up the true design and style of a space. Another favorite of mine is Jonathan Adler. He is great at mixing color, using clean lines, and adding a "spunk" with interiors that are livable. His prints are so rich in color and pattern, they make art come to life.
CHG: Best career advice you've been given?
MP: Be a good listener. A client may not know their exact design style, but if you listen to them, you will get a good idea of what they like and feel comfortable with.
CHG: Best place to find inspiration?
MP: Art galleries—I like to visit them in person or online. I love to see how an artist mixes color to tell a story and create a vision.
CHG: Three words that describe when a client sees their completed home?
MP: For me, excitement, happiness, pride. For them, shock, relief, and excitement. It's like Christmas for both of us. I feel it is a very precious gift I have been allowed to create for them to unwrap and enjoy.