Q&A: Interior Designer Monica Duncan
Get to know the designer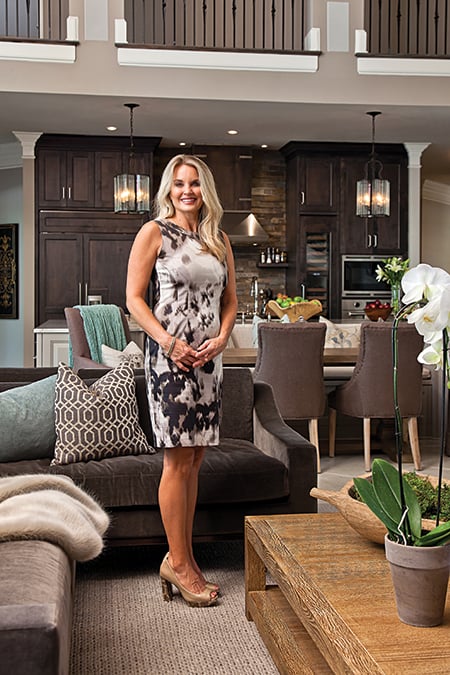 The Duncan House Fine Interiors
443 Landsbury Dr., Weddington
704-321-5121
Years in business: 24
Hometown: I'm a 'Bama girl, but lived in Boston, New York, and most of my life in North Carolina
Years in Charlotte: 26
Charlotte Home + Garden: Favorite color to wear?
Monica Duncan: This week it's blush and taupe…next week is to be determined.
CHG: Favorite color to design with?
MD: Sophisticated neutrals with splashes of color.
CHG: When did you know you wanted to be an interior designer?
MD: I was space planning as a child. I would go in the woods and section off areas in the woods between the trees, you know, 'This is the kitchen; this is bedroom.' My mother really knew before me that I was destined to be a designer. I'm guessing my parents wished that I had taken those early cues rather than spending the first few years at university pursuing a law degree!
CHG: Favorite recent design trend?
MD: Edited interiors that are forward thinking and sophisticated.
CHG: Design trend you wish never happened?
MD: Harvest gold ruffled 'Dorothy's originals.'
CHG: Favorite national interior designer?
MD: There are many elements that I admire in many designers, but I think I would have to say Barbara Barry. She has exquisite restraint, and knows just when to add the right statement piece.
CHG: Best career advice you've been given?
MD: 'If it moves you, it can stay.'
CHG: Best place to find inspiration?
MD: It's corny, but I guess I'm the forever romantic: The soft blush of a sunrise or the magnificence of a bold sunset to the moody, steely gray mist off the pond this time of year. Nature is God's handiwork and I am moved by it and how it is forever changing.
CHG: When you design a room, you start with…
MD: The clients. I observe the way they dress, the way they live, and ultimately the way they dream.
CHG: Three words that describe when clients see their completed home?
MD: I hope that when I complete a home and the client lays first eyes on it that they are awed, moved, and genuinely happy, as simple as that sounds. Tears of joy are always a good thing!